For the fourth time this season, the Chicago Blackhawks and Nashville Predators will face off against one another. As it stands, the Blackhawks hold the series lead at 2-1. The series has been close, however, with the Blackhawks only edging the Predators 10-8 in goals and with two of the games in the series being decided by just one goal. For the Blackhawks, this will be an opportunity to make even more ground on a division rival. For Nashville, this game is a chance to build confidence in search of a wildcard position.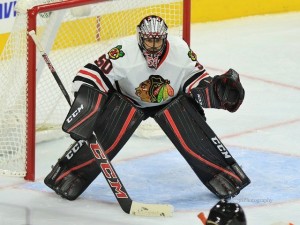 Both starting goaltenders are expected to play in this game after receiving nights off in their respective teams' previous games. Corey Crawford has compiled a 14-8-3 record with a 2.34 goals against average and a .925 save percentage this season that was hindered by an emergency appendectomy. His record against the Predators is 13-9-1 with a 2.52 goals against average and a .913 save percentage in his 23 games against them. For the Predators, Pekka Rinne will be in net. The 34-year-old is 14-10-6 this season with a 2.45 goals against average and a .918 save percentage. In the series against the Blackhawks, Rinne is 17-15-4 with a 2.50 goals against average and a .918 save percentage in 37 games.
The Predators have gone just 2-3-2 in their last seven games. A win against the first-place Chicago Blackhawks would be huge within the division, especially on the road, for Nashville. The Blackhawks have shown in recent days that they can win the games they're supposed to when facing off against bottom-10 teams in the standings. They're last two games came against the Buffalo Sabres and Carolina Hurricanes – though they were both close than the team would have liked, the Blackhawks came through with the victories and will look to make it three-straight with a win against the Predators.
---
Nashville Predators at Chicago Blackhawks
United Center – 6:00 p.m. CT on Sunday, Jan. 8
Broadcast channels –WGN, FS-TN
2016-17 Season Series: 
Oct. 14 – Blackhawks 2 – Predators 3
Oct. 15 – Predators 3 – Blackhawks 5
Dec. 29 Blackhawks 3 – Predators 2
Nashville Predators – 17-15-7 – 41 points
Away Record: 7-10-2
Hot Players: Filip Forsberg
Key Injuries: P.K. Subban, James Neal, Viktor Arvidsson, Colin Wilson (Game-Time Decision)
Projected lines:
Forwards:
Filip Forsberg-Ryan Johansen-Calle Jarnkrok
Austin Watson-Mike Fisher-Colton Sissons
Kevin Fiala-Mike Ribeiro-Craig Smith
Harry Zolnierczyk-Vladislav Kamenev-Frederick Gaudreau
Defense:
Roman Josi-Ryan Ellis
Mattias Ekholm-Matt Irwin
Pontus Aberg-Yannick Weber
Starting Goaltender:
Pekka Rinne
[irp]
Chicago Blackhawks – 25-12-5 – 55 Points
Home Record: 15-4-4
Hot Players: Artemi Panarin, Duncan Keith, P. Kane
Key Injuries: Marcus Kruger
Projected lines:
Forwards:
Artemi Panarin-Artem Anisimov-Patrick Kane
Vinnie Hinostroza-Jonathan Toews-Marian Hossa
Ryan Hartman-Tanner Kero -Richard Panik
Andrew Desjardins-Dennis Rasmussen-Jordin Tootoo
Defense:
Duncan Keith-Trevor van Riemsdyk
Michal Kempny-Brent Seabrook
Brian Campbell-Niklas Hjalmarsson
Starting Goaltender:
Corey Crawford
---
Game Notes
[miptheme_dropcap style="normal" color="#222222″ background=""]1)[/miptheme_dropcap]Duncan Keith has the second-most assists among defensemen this season with 27. The only defenseman with more is Tampa Bay's Victor Hedman, who has 29. Keith is currently on a three-game point streak and would love to push that total to four Sunday night.
[miptheme_dropcap style="normal" color="#222222″ background=""]2)[/miptheme_dropcap]Without P.K. Subban in the lineup, the Predators have struggled this season. Unfortunately, they may be without him for an extended period of time, though there have been conflicting reports on how severe his injury is and how long he may be out.
[miptheme_dropcap style="normal" color="#222222″ background=""]3)[/miptheme_dropcap]The Predators hold a 46-45-12 record against the Blackhawks, including a 20-26-6 record on the road. An important thing to note is the fact that the Predators have earned at least one point in 10 of their last 14 games in Chicago.
[miptheme_dropcap style="normal" color="#222222″ background=""]4)[/miptheme_dropcap]The Chicago Blackhawks have won two-straight home games and will look to make it three against the Predators who have been abysmal on the road this season – though better as of late with their last five road games being far more productive.
[miptheme_dropcap style="normal" color="#222222″ background=""]5)[/miptheme_dropcap]The Nashville Predators just signed defenseman Matt Irwin to a one-year contract extension after the veteran defenseman proved his value to the team – especially with the depth he's provided in the absence of P.K. Subban
---
Despite the Predators struggles this season both home and on the road, they could catch the Blackhawks by surprise Sunday. Nashville's road record is currently 7-10-2, though they've been significantly better as of late. In the Predators' last five road games, they've gone 4-1-0 and have made serious strides in that department. Fortunately, the Blackhawks are 15-4-4 at home this season and are coming off of back-to-back wins at United Center. Divisional games always mean more, and though the Predators are floundering near the bottom of the league, there is still a lot of time for them to climb the standings and make the postseason. Similarly, the Blackhawks cannot get complacent at this point in the season, especially when divisional games mean so much.