It's been 10 games since the lowly Vancouver Canucks and the mighty Pittsburgh Penguins faced off. Their records over the last ten games clearly indicate the direction of both teams heading into Saturday night's match-up. The Canucks are 3-4-3, while the Pens are 6-3-1.
On a night where the Canucks were missing both Bo Horvat and Brandon Sutter, the Penguins walloped the Canucks 4-0. The game was indicative of the Canucks season, even if they were down two key players. For 40 minutes, Vancouver battled and hung in there with the defending Stanley Cup Champions. Eventually, the Penguins poured on the offence in the third period, in another game where Ryan Miller faced 40+ shots.
If there's anything working in the Canucks favour, it's that Pittsburgh spent last night playing a heated affair in Edmonton. Connor McDavid tried to steal a victory for the Oilers, but goals from Sidney Crosby and Phil Kessel in the shootout propelled the Penguins to victory.
It's not quite McDavid vs. Crosby, but Bo Horvat will be the focal point against the Penguins tonight. He's easily been the best Canucks skater this season. His line with Sven Baertschi and Reid Boucher had a solid game against the New York Islanders on Thursday. With all due respect to the Sedins, Horvat's will likely give the Canucks their best chance at victory tonight.
---
Pittsburgh Penguins at Vancouver Canucks
Saturday, March 11, Rogers Arena, 7:00 p.m.
Broadcast Channels: CBC, SN, ROOT
2016-17 Season Series: Feb. 14 – Canucks 0 – Penguins 4
Pittsburgh Penguins: 42-16-8, 92 Points, 3rd in Eastern Conference
Hot Players: Evgeni Malkin (9 points last 4 GP), Conor Sheary (14 points last 12 GP)
Key Injuries: Patric Hornqvist, Kris Letang, Trevor Daley, Olli Maatta, Bryan Rust
Projected Lines
Forwards
Jake Guentzel – Sidney Crosby – Conor Sheary
Carl Hagelin – Evgeni Malkin – Phil Kessel
Chris Kunitz – Nick Bonino – Scott Wilson
Tom Kuhnhackl – Oskar Sundqvist – Carter Rowney
Defence
Brian Dumoulin – Justin Schultz
Mark Streit – Ron Hainsey
Ian Cole – Chad Ruhwedel
Starting Goaltender
Matt Murray
[irp]
Vancouver Canucks: 28-30-9, 65 Points, 11th in Western Conference
Hot Players: Bo Horvat (12 points last 12 GP)
Key Injuries: Brendan Gaunce, Nikolay Goldobin, Loui Eriksson, Jacob Markstrom, Jack Skille, Anton Rodin, Erik Gudbranson, Derek Dorsett
Projected Lines
Forwards
Daniel Sedin – Henrik Sedin – Markus Granlund
Sven Baertschi – Bo Horvat – Reid Boucher
Joseph Cramarossa – Brandon Sutter – Jayson Megna
Alex Biega – Michael Chaput – Alex Grenier
Defence
Alex Edler – Troy Stecher
Luca Sbisa – Chris Tanev
Ben Hutton – Nikita Tryamkin
Starting Goaltender
Ryan Miller
---
Game Notes
[miptheme_dropcap style="normal" color="#222222″ background=""]1)[/miptheme_dropcap] Nevermind Crosby versus Horvat, maybe the player the Canucks should be focused on is Evgeni Malkin. He has been one of the hottest players in the NHL since the All-Star break. He has nine points in his last four games, and 17 points in 12 games since the All-Star break. Even with the Penguins depleted defence, their one-two punch of Malkin and Crosby automatically makes them a threat.
[miptheme_dropcap style="normal" color="#222222″ background=""]2)[/miptheme_dropcap] Life with Crosby is a peach, isn't it? Talented young players such as Jake Guentzel and Conor Sheary are having fantastic seasons playing with one of the best players in the league. Can you imagine if guys like Reid Boucher or Nikolay Goldobin got a shot on Crosby's line?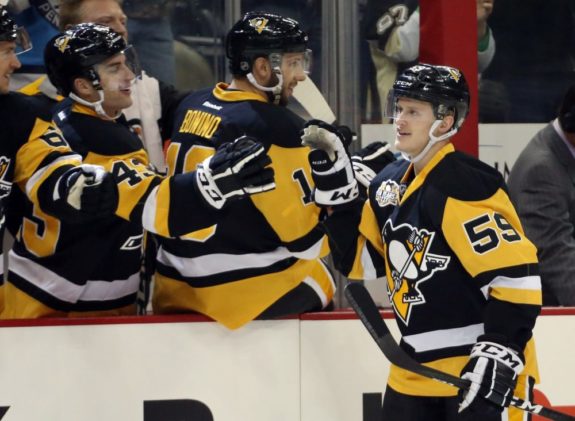 [miptheme_dropcap style="normal" color="#222222″ background=""]3)[/miptheme_dropcap] The Penguins don't boast a lot of depth on defence, but it's a blessing that Matt Murray is playing lights out hockey for them. He should get the start in net tonight for the Penguins. Murray's definitely an underrated candidate for rookie of the year. After looking at the Penguins patchwork defence, maybe Murray should be getting more love for the Calder. He has faced an average of 30 shots per night, and still holds a .923 save percentage on the season.
[miptheme_dropcap style="normal" color="#222222″ background=""]4)[/miptheme_dropcap] One Canuck who won't get any Calder love is Troy Stecher, but that doesn't mean he hasn't had an impressive rookie season. He was the Canucks best player against the Islanders on Thursday and he continues to show an incredible amount of poise for a rookie. Stecher thinks the game well, and that's something you can't often teach players.
[miptheme_dropcap style="normal" color="#222222″ background=""]5)[/miptheme_dropcap] As great as Horvat and Sven Baertschi have been this season, they continue to get drilled possession-wise in their own zone. Since Jan. 1, the duo sits last on the Canucks in terms of shot attempts against. Horvat's shot attempts against is at 42.7%, while Baertschi is at 42.3%. They are two of the most exciting Canucks to watch, but their defensive game still needs polishing.