The Chicago Blackhawks and New York Rangers will meet for the first time in the 2016-17 season Friday at the Madhouse on Madison. Both teams will be without some of their top players, however, as injuries have been a constant theme for both clubs so far this season. In addition to the already large list of players that were set to miss the first tilt between the two powerhouse clubs, Brent Seabrook and Rick Nash were also recently added to the growing list of stars set to watch the game as fans.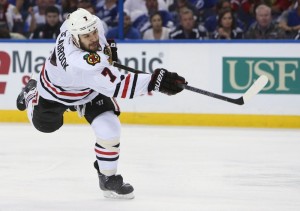 Injuries are a regular and expected part of professional sports, but there's still no denying the fact that both Chicago and New York are among the teams that have been hit the hardest so far this season. Still, both teams remain competitive in their divisions while other players have stepped into key roles to help fill the void until a time when some of the bigger stars can return.
The Blackhawks and Rangers have consistently been two of the best teams in the NHL over the last few seasons, and this game, though hampered by injury, will mean a lot to both teams. Winning within the division and conference is important, but evaluating how a team stacks up against the top teams in opposing conferences is just as important. For Chicago and New York, this game will be the perfect opportunity to gauge where their teams are while looking to earn some highly coveted points in the process
---
New York Rangers at Chicago Blackhawks
United Center – 7:30 p.m. CST
Broadcast channels – CSN Chicago, SN, NBCSC, TVAS, MSG 2
2016-17 Season Series: First Matchup of the Season
New York Rangers – 18-9-1 – 37 Points
Road Record:8-5-0
Hot Players: Chris Kreider, Mats Zuccarello, Kevin Hayes
Key Injuries: Rick Nash, Mika Zibanejad, Pavel Buchnevich, Jimmy Vesey (Game-time decision)
Projected lines:
Forwards:
Chris Kreider-Derek Stepan-Mats Zuccarello
Michael Grabner-Kevin Hayes-J.T. Miller
Marek Hrivik-Brandon Pirri-Jesper Fast
Josh Jooris-Oscar Lindberg-Nicklas Jensen
[irp]
Defense:
Ryan McDonagh-Dan Girardi
Marc Staal-Nick Holden
Brady Skjei-Kevin Klein
Starting Goaltender:
Antti Raanta
Chicago Blackhawks – 17-8-3 – 37 Points
Home Record: 11-2-2
Hot Players: Artemi Panarin, Artem Anisimov, Patrick Kane
Key Injuries: Jonathan Toews, Corey Crawford, Brent Seabrook
Projected lines:
Forwards:
Artemi Panarin-Artem Anisimov-Patrick Kane
Ryan Hartman-Marcus Kruger -Marian Hossa
Tyler Motte-Dennis Rasmussen-Richard Panik
Andrew Desjardins-Vinnie Hinostroza-Jordin Tootoo
Defense:
Duncan Keith-Brian Campbell
Gustav Forsling-Niklas Hjalmarsson
Trevor van Riemsdyk-Michal Rozsival
Starting Goaltender:
Scott Darling
---
Game Notes
[miptheme_dropcap style="normal" color="#222222″ background=""]1)[/miptheme_dropcap]As the Blackhawks proved against the Arizona Coyotes on Tuesday, they excel while playing at home. Fortunately, Chicago will get a chance to set the tone for the home-and-home set that the Blackhawks and Rangers are slated to play on Friday and next Tuesday, Dec. 13.
[miptheme_dropcap style="normal" color="#222222″ background=""]2)[/miptheme_dropcap]The Blackhawks have been hit hard with injuries to major stars so far this season. They will be without captain Jonathan Toews for the seventh straight game starting goaltender Corey Crawford for the fifth-straight game, and Brent Seabrook, who was injured against the Coyotes.
[miptheme_dropcap style="normal" color="#222222″ background=""]3)[/miptheme_dropcap]The New York Rangers have also dealt with injuries this season and will be without Rick Nash, Jimmy Vesey, Mika Zibanejad, and Pavel Buchnevich. For the Blackhawks, this is an opportunity to take advantage of a Rangers team that is missing some top-end firepower.
[miptheme_dropcap style="normal" color="#222222″ background=""]4)[/miptheme_dropcap]The New York Rangers are coming off of a 2-1 win over the Winnipeg Jets on Thursday. The Rangers capitalized on the man advantage, tallying two power-play goals – one in the first period courtesy of Chris Kreider, and one in the third period courtesy of Kevin Hayes.
[miptheme_dropcap style="normal" color="#222222″ background=""]5)[/miptheme_dropcap]Brandon Pirri, a former second-round draft pick of the Blackhawks, will be returning to play against his former club. Pirri was a member of the Blackhawks organization from 2009 until the 2013-14 season. While with the 'Hawks organization, Pirri played in just 35 NHL games and scored six goals and 13 points – he did, however, log 238 games with Chicago's AHL affiliate, the Rockford IceHogs, scoring 68 goals and 200 points.
[miptheme_dropcap style="normal" color="#222222″ background=""]6)[/miptheme_dropcap]This game marks the first time that the Rangers will take on the Blackhawks after signing highly-coveted college free agent Jimmy Vesey. The Blackhawks were reportedly one of the last teams involved in the sweepstakes to acquire Vesey, and though he's unlikely to play in the game, it's still certainly a narrative to watch moving forward.
[miptheme_dropcap style="normal" color="#222222″ background=""]7)[/miptheme_dropcap]Former Blackhawks goalie Antti Raanta is likely to get the start against the Blackhawks after the Rangers played last night in Winnipeg.
---
The biggest storyline going into Friday's game between the Chicago Blackhawks and the New York Rangers is the distinct absence of some top stars. Both teams may be sitting near the top of their respective conference standings, but the injuries to important pieces of their teams will certainly make the game interesting. Both teams will have to cope with the fact that they're missing talented players, and it will be a grind to see who comes out on top in the first meeting in four days between these two clubs.