What else is there to say other than the Philadelphia Flyers are the hottest team in the NHL right now? The Flyers during this run have gained significant ground in the Eastern Conference and the Metropolitan Division.
Speaking of the Metropolitan Divison, it seems as though everybody has been going streaking as of late. Heading into Wednesday's set of games not only are the Flyers hot but so are the Columbus Blue Jackets, winners of seven straight, the Pittsburgh Penguins, winners of six in a row and the Washington Capitals, winners of five in a row. The New York Rangers were even on their own four-game win streak before falling to the Chicago Blackhawks.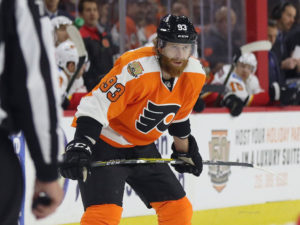 The Metropolitan Division is shaping up to be the toughest in all of hockey as we head towards the halfway mark of the NHL regular season. Thankfully for the Flyers, they have picked up their play during this streak and find themselves in the mix with everybody else. They will look to make it an impressive 10 wins in a row tonight when they face-off against an underachieving Colorado Avalanche team.
The Avalanche find themselves not only at the bottom of their division but also at the bottom of the entire league in points with only 23. The Flyers have had a couple days off now since they last played on Sunday in Detroit, so they should be well-rested and ready to get back at it tonight in Denver.
---
Philadelphia Flyers at Colorado Avalanche
Pepsi Center – 10 p.m. EST
Broadcast channels – NBCSN, TCN-Philadelphia, 97.5 The Fanatic
2016-17 Season Series: First Meeting
Philadelphia Flyers: 18-10-3 – 39 Points
Road Record: 7-5-1
Hot Players: Brayden Schenn, Jake Voracek, Steve Mason
Key Injuries: Sean Couturier (lower body, suspected left MCL), Michal Neuvirth (IR, knee), Matt Read (IR, abdominal area), Mark Streit (shoulder)
Healthy Scratches: Taylor Leier
Projected lines:
Forwards
Michael Raffl – Claude Giroux – Wayne Simmonds
Travis Konecny – Brayden Schenn – Jakub Voracek
Chris VandeVelde – P-E Bellemare – Roman Lyubimov
Nick Cousins – Boyd Gordon – Dale Weise
Defense
Ivan Provorov – Andrew MacDonald
Michael Del Zotto – Radko Gudas
Shayne Gostisbehere – Brandon Manning
Starting Goaltender
Steve Mason
[irp]
Colorado Avalanche: 11-15-1 – 23 Points
Home Record: 4-8-1
Hot Players: Matt Duchene, Nathan MacKinnon
Key Injuries: Erik Johnson (broken fibula), Semyon Varlamov (groin)
Healthy Scratches: Cody Goloubef, Joe Colborne
Projected lines:
Forwards
Gabriel Landeskog – Nathan MacKinnon – Rene Bourque
Mikko Rantanen – Matt Duchene – Mikhail Grigorenko
Blake Comeau – John Mitchell – Jarome Iginla
Andreas Martinsen – Carl Söderberg – Cody McLeod
Defense
Nikita Zadorov – Tyson Barrie
Patrick Wiercioch – Fedor Tyutin
Francois Beauchemin – Eric Gelinas
Starting Goaltender
Calvin Pickard
---
Game Notes
[miptheme_dropcap style="normal" color="#222222″ background=""]1)[/miptheme_dropcap] The Flyers have good news and bad news entering into tonight's tilt. The good (great) news is Calder Trophy runner-up Shayne Gostisbehere will return to action tonight after sitting out Sunday's game due to a hand injury he suffered in Saturday's game. The bad, veteran defenseman and one of the leading point-producers on their blueline, Mark Streit, will be out for the next two weeks with a shoulder strain.
[miptheme_dropcap style="normal" color="#222222″ background=""]2)[/miptheme_dropcap] Looking up from the cellar of the Western Conference, the Avalanche return home tonight, which is usually a good thing for a team. However, the Avalanche have struggled mightily in the Pepsi Center this season with a disappointing 4-8-1 record in from of their home fans. They will surely be looking to come out playing stronger in front of the home crowd.
[miptheme_dropcap style="normal" color="#222222″ background=""]3)[/miptheme_dropcap] Steve Mason returns to the net for the Flyers tonight after taking a breather on Sunday in which current backup rookie Anthony Stolarz pitched a shutout in his absence. Mason will be carrying his own seven-game win streak into tonight and will be eager to get back out there and continue their overall streak as the team.
[miptheme_dropcap style="normal" color="#222222″ background=""]4)[/miptheme_dropcap] The Avalanche are coming off a win in their last game, a 3-1 victory over the Toronto Maple Leafs. However, that win did not come so easily, as it took an impressive 51 save performance by Semyon Varlamov to come away with the two points. Varlamov, unfortunately, for the Avalanche will not be available tonight due to a groin injury.
[miptheme_dropcap style="normal" color="#222222″ background=""]5)[/miptheme_dropcap] Last season the two teams split their season series 1-1, each winning on the road and taking both games into overtime. Also, the Flyers haven't fared very well, overall, when traveling to Denver as they have an all-time record of 3-6-3 to go along with four ties.