After a third-place finish on home ice in the 2011 World Junior Championships, Team USA will be looking for a gold medal this time around. They're considered the favourite to win it all this year, and expectations are already high. The Americans will have one of their deepest talent pools in years to choose from, so there's guaranteed be a lot of firepower in their lineup.
The preliminary roster for the 2012 U.S. National Junior Team came out on Monday, and it was no surprise to see a lot of players from last year's squad on it. Returnees like Jack Campbell, Derek Forbort, Jon Merrill, Nick Bjugstad, Charlie Coyle, Emerson Etem, and Jason Zucker will be counted on to lead the team this year (some of them did last year as well). Losing is not an option for Team USA, especially when they're already being looked at as the team to beat. The bronze medal is not something they want two years in a row, so USA Hockey will certainly be looking to put together a group of offensively dominant players.
Forwards
The American's success in this tournament will largely be determined by their forward group. They'll have some of the top scorers in the tournament on their roster, meaning there should be a lot of high-scoring games when they're involved. Nick Bjugstad and Charlie Coyle will likely lead the group in terms of goals. Bjugstad is a big bodied scorer that attends the University of Minnesota, and was a first-round draft pick of the Florida Panthers in 2010.  Coyle's also a large scoring power forward. He currently plays for Boston University, and is a Minnesota Wild prospect. Team USA will rely heavily on them to provide on-ice leadership in Alberta, and when those two are scoring, they'll probably be winning too.
Make sure to keep an eye on a few other American forwards as well. Etem and Zucker are bound to be productive, however, you should also watch Jared Knight and Brandon Saad. They clearly haven't made the team yet, but there's a pretty good chance they will. Knight plays for the London Knights of the Ontario Hockey League (it's amazing how that happened to work out), and Saad is with the Saginaw Spirit this season. Both are second round NHL draft picks ( Knight to Boston and Saad to Chicago), and they're capable of scoring a whole lot of goals. Saad slipped a bit in the draft last year (at one point he was expected to be a first-rounder), but he's played well this season. Right now, Team USA's forwards might even be better than Canada's and Russia's. It's fair to say that if the American forwards produce as expected, Team USA wins this tournament easily.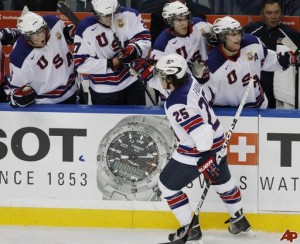 Defence
Team USA's defence is also looking like one of the best in the 2012 World Juniors. The talent and potential of their group is outstanding, and there will be a large amount of leadership on the blueline. Top defencemen from last year Justin Faulk and Nick Leddy have both moved on to bigger and better things (there is still a possibility Faulk gets released by Carolina to play in the WJC), but the high-end talent just keeps on coming. Adam Clendening, Forbort, and Merrill are being expected to lead the defence this year, but there are some newcomers who will also be getting some ice time in key situations.
Watch out for 16 year-old Seth Jones, who was very impressive in the summer evaluation camp. He's already pushing for a spot, and if he continues playing well with the USNDP in the USHL, he may very well make this team. London Knights captain Jarred Tinordi is being expected to make the junior team alongside his teammate in London, Jared Knight. Tinordi was captain of the U.S. Men's National Under-18 Team that captured the gold medal in 2010, and has greatly improved on last years performance with the Knights. At six-foot-seven, Tinordi is an intimidating player to go up against, and he should be able to excel in the physical side of the game for the Americans. Look for Jacob Trouba to push for a spot as well. Trouba's shot up the 2012 draft-rankings this season, and he'll no doubt want to show Head Coach Dean Blais that he belongs.
Goaltenders
For the last few years, the crease has been where Team USA has had some of its best players. Prime example: Jack Campbell. He was the American's saviour in the 2010 tournament, when he entered the gold-medal game against Canada midway through the second period, and earned the 6-5 overtime win. That performance officially put his name on the hockey map, and just to prove 2010 wasn't a fluke, Campbell was named the tournament's top goaltender in 2011. Lucky for the rest of the world, they get to face him yet again in the World Juniors. Now the current Sault Ste. Marie Greyhound is back for more, and since this will probably be his last WJC, expect Campbell to put on a real show. The starting job has all but been handed to him, but the backup goalie won't be as much of a lesser talent than you might expect.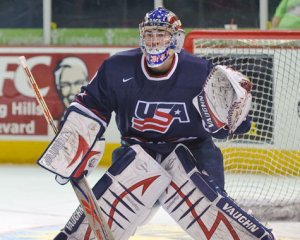 John Gibson is penciled in to be the backup protector of the parted pipes. Gibson is a second round draft pick of the Anaheim Ducks who is currently the starting goalie for the Kitchener Rangers of the OHL. The Pittsburgh, Pennsylvania native was a member of the U.S. Men's National Under-18 Team that won its third consecutive gold medal in 2011, and was the tournament's top goaltender. Andy Iles will be the "emergency goaltender", so he'll only be used as a result of an injury to Campbell or Gibson.
The road to make this team isn't getting any easier, and the real test is just beginning for a lot of players. Both General Manager Jim Johannson and Blais will be watching the candidates intently, but they don't have that long to decide who they want. The group will gather for a camp in Camrose, Alberta on December 17, with the final 22-player U.S. National Junior Team roster expected to be named December 22. For now, we just sit back, wait, and watch the fun begin.