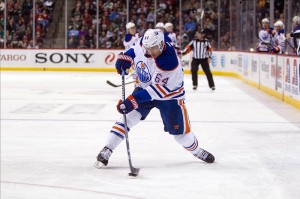 Here is the problem with the Edmonton Oilers. Someone decided it was time to saddle this team with the expectations that this was their year. The Edmonton Oilers, a team that has it's third head coach in three years; a team that started the season without their top two centermen; a team that currently holds the leagues longest streak without a playoff appearance. Those Oilers.
Great Expectations
There's nothing wrong with expectations. For example, teams like the Chicago Blackhawks, Pittsburgh Penguins, Boston Bruins and St. Louis Blues are expected to compete for the Stanley Cup this season. Only one team will win, and it might be none of those teams, but there are certain expectations placed on certain teams. Those teams, however, are expected to win because they already have, or have shown consistent growth. Those teams are expected to win because they have been good for a while and should continue to be good. They have earned those expectations.
Teams like the Philadelphia Flyers are expected to be better, because they are a consistent playoff team. Teams like the Washington Capitals are expected to take the next step, because they've been on the cusp for years. Teams like the Vancouver Canucks are expected to be better because they still have the right pieces in place, players who have been there before.
Teams like the Oilers haven't been good. They haven't been close. They are constantly inserting inexperienced rookies into their lineup, and changing their coaching system. They have been re-building for a while. Here is the problem with the rebuilding. There is no timeline, and there are certainly no guarantees.
The Oilers are Running on Potential
Here is the problem with expectations on the Oilers. They aren't warranted. They are based on "should" be better, "should" make the playoffs, "should" take the next step. Here is the problem with that. Just because something should happen doesn't mean it will. Just because you stockpile three consecutive number one draft picks doesn't mean you are guaranteed success.
The Oilers have played four games so far, and lost three of them. They sit at the bottom of their division. Unlike last season, where there were so few games, this year is back to normal, and there are still 78 more games to play. Can the Sharks keep up their current pace? Will the Flames continue to play over their heads? It's too early to tell.
The problem with the Oilers is that there are a lot of areas of concern. Lack of puck possession, trouble on special teams, inconsistent goaltending, and poor defensive coverage. Then there's the case of Nail Yakupov. In this age of overreaction, Yakupov's lack of production has spawned talk of trading him.
If Yakupov continues his poor play and ends up in Eakins dog house I very well see MacT putting him on the trade block

— Preston Hodgkinson (@CrazyOilersFan) October 11, 2013
We should trade Yakupov

— Gianni Tran™ (@Tran_98) October 11, 2013
@Sportsnet just trade Yakupov for Ryan Miller and let's put this whole Dubnyk as the starter thing to bed.

— Graeme Paterson (@gpat21) October 10, 2013
Too Soon for Trade Talk
After just four games, last year's first overall pick is already on Twitter's trading block. Not a surprise, but Yakupov isn't the source of the Oilers issues. He's in the dreaded sophomore slump, and odds are with all that talent, he will break out at some point. But every losing streak, albeit just a one-gamer at this point, requires some sort of scapegoat, and the easy target is Yakupov.
Dallas Easkins works well with young players. There is no reason to think he won't be able to work with Yakupov and help him improve. It seems tempting to dangle a young talent like Nail Yakupov. He would likely fetch quite a return. An experienced goalie perhaps? A hard-nosed top-pairing defenseman maybe? A much needed centerman would be nice.
Here's the problem with that: one or two new players won't fix this team. The core of this team hasn't learned how to compete at the NHL level on a consistent basis. They can't seem to grind out those necessary wins often enough. They don't provide enough support for their goaltending. And on that subject, we still don't know what Devan Dubnyk can be. Time may be running out, though. How much longer can the Oilers wait to see if Dubnyk can be a starter?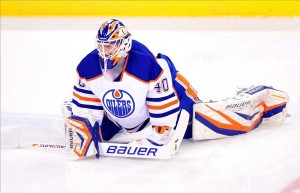 The Oilers are Not Contenders
The Oilers weren't a Stanley Cup contender when the season opened. A playoff contender perhaps, but no more than that. In a hockey mad city like Edmonton, missing the playoffs for an eight consecutive season doesn't sit well with fans or management. But the Oilers aren't the New York Rangers, who are expected to challenge for the Stanley Cup. Panic in New York makes a little more sense, especially considering how many goals Henrik Lundqvist has allowed. But in Edmonton? No one should be crowning this team as true contenders.
Of course teams have to reach high, work hard, and always expect to be the best. Of course they need to challenge themselves to get better, and have a goal in mind to make the playoffs. But the Oilers went from basement dwellers to playoff locks way too quickly. Problem is it didn't happen on the ice, it happened only in people's minds, and that's a dangerous place for expectations to live.
Here's the problem with the Oilers: they need to get better or there may eventually be some wholesale changes. But they have never proved themselves to be a consistent contender. Now isn't time for excuses, though. If things don't at least start to improve there will have to be hard decisions made. Perhaps we just want to see the Oilers do well because they have so many high picks and therefore they are supposed to be good. But perhaps they should at least come close to a playoff spot before they get labeled as underachievers. Getting better is a reasonable expectation. Keeping a coach longer than a year is a good one too. Let's start with that.
Marcy, a former hockey player, is a hockey correspondent on CTV News and TSN radio. She began her career as a Sports Journalist in 2009 and has been part of The Hockey Writers since 2010, where she is currently a senior writer and editor.