It's been a long time in the making, but starting tonight, the Big Ten Hockey conference is finally a reality. The NCAA opens its regular season this weekend, and for the first time, includes 6 teams forming the Big Ten Hockey Conference. As we get ready for college hockey to start again, I preview the 2013-14 Big Ten season. Let's get started with the old – Michigan – and the new – Penn State.
Storylines for 2013-14
Michigan misses its first NCAA tournament in 22 years. Can they rebound?
Red Berenson, entering his 30th season at the helm in Ann Arbor, struggled for 6 seasons before making his first NCAA Tournament in 1990-91. Since then, Michigan had run off 22 consecutive appearances including 2 championships and 9 Frozen Fours.
Unfortunately for Michigan fans, 2012-13 was a different story, and the Wolverines couldn't get things going until it was too late and finishing 7th in the CCHA. The Wolverines had a great run to finish the season, but fell to Notre Dame in the CCHA Championship game and their magical run was over.
Michigan opened up the season last night as they handily beat 4th-ranked Boston College 3-1, with goaltender Steve Racine leading the way. Racine put up 10 straight wins during a stretch at the end of last season, a promising sigh for this season, as goaltending and a fairly young defense will be the keys to Michigan's success this year.
Penn State Opens Pegula Ice Arena
In perhaps the most influential move in NCAA hockey history, PSU alumnus Terry Pegula donated $88 Million (and an eventual $14 million more) to fund a new on-campus arena and the Penn State Nittany Lions were back in the ranks of Division 1 hockey. That set off the chain of events that created Big Ten Hockey, and later the NCHC as well.
Pegula Ice arena is a beautiful 6,000-seat arena set to open tonight, as the Nittany Lions open play against Army. I know I'll be watching the Nittany Lions intently this season to see if they can keep their momentum going from last year – their first in Division I when they went 13-14-0.
Ohio State Has Another New Coach
After firing John Markell after the 2009-10 season, the next hire could have moved Ohio State Hockey to the top of college hockey in Ohio. Mark Osiecki failed in his efforts to build a hockey-specific arena on campus, and more importantly failed to win games, leaving Ohio State as still the third best team in Ohio behind the much smaller schools (in dollars and enrollment), Miami and Bowling Green.
Despite the rough last couple of seasons, new Head Coach Steve Rohlik has some excitement about the upcoming season:
We've got a great group of kids back with our leading scorers, with Ryan Dzingel, Tanner Fritz, and Max McCormick back up front. Certainly going to have to lean on them. The biggest question we'll have is replacing our All-American goaltender, Brady Hjelle. We've got a great locker room, great people, and we've got a ton of support from the administration. I'm really looking forward to the start of this year.
Goaltending will also be a key for the Buckeyes, and they will be tested early, as they start with a home-and-home series with the 2nd-ranked Miami RedHawks this Friday and Saturday.
Michigan State Needs to Score
Head Coach Tom Anastos has some major grooming to do, with 16 freshmen and sophomores on the roster. "We're going to be young," Anastos said. "But I think we did a lot of growing up last year. We still have a lot of growing up to do. We have very strong goaltending coming into the season, which is a good position to be good at, so I think we have a lot to build on."
The Spartan's scored 2.85 goals per game in 2011-12, but just 2.07 goals per game last year en route to a finish at the bottom of the CCHA standings. Jake Hildebrand should backstop them nicely as a sophomore, but they cannot afford to struggle to put goals on the board with high powered offenses like Minnesota, Wisconsin and Michigan staring them down night after night.
Can the Gophers Reload Again?
Despite only losing 1 senior to graduation, Minnesota lost 6 total players last year, as Nick Bjugstad, Nate Schmidt, Erik Haula, Zach Budish and Mark Alt all signed professional contracts and left college eligibility on the table. Incoming freshmen forwards Hudson Fasching, Vinni Lettieri and Connor Reilly will look to shore up some of the scoring and Defenseman Michael Brodzinski will try to fill one of the holes on the blue line. The Gophers have a history of reloading and will need to do so again this year if they expect to earn another #1 seed in the NCAA tournament.
Aging Badgers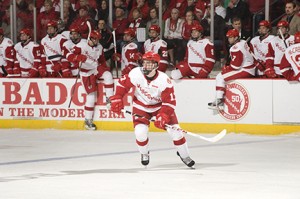 The Wisconsin Badgers have 10 returning seniors for this season, including Michael Mersch, who scored 23 goals last season. Matt Zengerle also scored 50 points as a freshman and 32 more as a sophomore, so both could end up making a whole lot of noise in Madison. Either of these two as well as Junior Nic Kerdiles could end up on Hobey Baker "watch lists" by the end of the season. While 5 freshmen isn't the smallest incoming class, it isn't huge either, and there should be a quick learning curve for the Badgers.
The Coaches selected Wisconsin as their preseason favorite. Head Coach Mike Eaves said "It's almost a natural thing to happen because of the fact that we are an upperclassmen team. "I don't think it changes anything we do in terms of our expectations and the way we want to conduct our business." Those expectations will most certainly be high this season in the Big Ten.
Low Quantity, High Quality?
Last season was a bit of a down year for the members of the Big Ten. Michigan, Michigan State and Ohio State all missed the NCAA Tournament, and we'll give Penn State a break as they were playing Division 1 hockey for the first time since 1945-46. Minnesota was by far the strongest team and was the overall #2 seed in the tournament, but both former WCHA teams would lose their first round matchups: Wisconsin to Frozen Four participant UMass-Lowell and Minnesota to eventual National Champion Yale.
As we head into 2013-14, the old conferences and new conferences create a whole new landscape. The Big Ten wants to be known for their excellence, but will have a lot to prove that they are back in order to make it worth creating the new conference.
The Schedule
The inaugural schedule for the BTHC contains 4 games for every team against every other team in a balanced format. The first conference games aren't until November 29th when Ohio State heads to Michigan for a home and home, Friday/Monday series and Wisconsin goes to Minnesota for a Friday/Saturday series. This will be quite the introduction to Big Ten hockey as these figure to be the two of the bigger rivalries (with Michigan vs Michigan State as a third).
A few mid-season highlights include outdoor games for the Big Ten. First will be the Great Lakes Invitational featuring Michigan (vs. Michigan Tech) and Michigan State (vs. Western Michigan) in Detroit's Comerica Park. Those teams will play on December 28th and the tournament format will have both winners and both losers facing off the next day. After crossing into the new year, Minnesota will host Ohio State outdoors at TCF Bank Stadium in the second annual Hockey City Classic on January 17th.
The Big Ten Network will show 22 games (20 conference matchups, along with the season opening game Friday night (Army at Penn State) and a colossal tilt between Boston College and Minnesota on October 25th. BTN will also cover the Big Ten Hockey Conference Tournament in St. Paul, Minnesota. 2 things I'm concerned with from BTN: First, there are only 3 games in 2013 being televised. I know hockey is not the biggest sport for the Big Ten, but in the inaugural year, don't you want to get fans on board early?  NBC Sports Network also announced that they will be carrying 5 BTHC games, but 4 of the 5 are also after the new year. Of course, Big Ten teams will be featured on other channels throughout the first half of the season, but this is a bit of a miss for the new conference.
Tournament Information
The 2014 Big Ten Conference Tournament will be held in St. Paul, Minnesota at the Xcel Energy Center from March 20th through 22nd. The 3 day tournament will involve all 6 Big Ten schools, with the top 2 teams having first round byes.
Season Predictions
The Coaches took Wisconsin to win the first regular season championship, followed by Minnesota, Michigan, Ohio State/Michigan State tied for 4th and Penn State bringing up the rear. I don't think Ohio State is that good, and despite this being PSU's first season in a conference, I'm taking the Buckeyes finishing last.
I can't help but think that Minnesota's depth will win them the regular season, with Wisconsin taking the tournament championship. Teams 4-6 won't make the tournament again, but I'm excited to see Penn State's program grow towards their first NCAA berth. Here is how I see the conference lining up in the first year of play:
Minnesota
Wisconsin
Michigan
Penn State
Michigan State
Ohio State
Doulas Cutler is a Lead Writer for The Hockey Writers covering the Chicago Blackhawks. Follow him on Twitter at @DougCutlerTHW. In addition, he also writes on The Blog of Brotherhood, dedicated to Miami RedHawks Hockey (www.blogofbrotherhood.com and @MiamiHockeyBlog). LET'S GO HAWKS!