Rankings:
Minnesota
Boston College
Clarkson
North Dakota
Wisconsin
Cornell
Boston University
Mercyhurst
Harvard
Minnesota-Duluth
Game of the Week
#5 Wisconsin at #1 Minnesota, Fri. 10/11 @ 7:07 p.m. EST & Sat. 10/12 @ 5:07 p.m. EST
The Gophers welcome the Badgers to town this weekend in what is always one of the most anticipated match-ups of the season. Minnesota had a shaky start last weekend against Colgate, finding themselves tied 1-1 heading into the third period of the first game with their winning streak on the line, but they managed to pull off the sweep and have since extended their NCAA-record winning streak to 51 games. A couple of things the Gophers are going to learn a little about here against Wisconsin: how strong their goaltending is and how deep their offense will be against a more competitive team. They can't take the Badgers lightly, and they know that; they're going to have to forecheck hard and limit how much and how well Wisconsin can control the puck.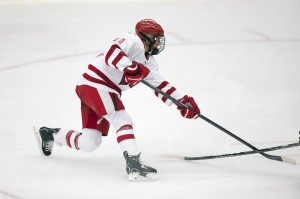 I think the Badgers are definitely coming into this series with a chip on their shoulder. They've got a lot to prove and what better way to start proving it than a series against Minnesota? Wisconsin's Alex Rigsby might be the biggest difference-maker on either roster; even if the Badgers are out-played she'll keep the games tight and give them a good chance to win. Minus goaltending, Minnesota is stronger all over the ice, but this is a hungry Wisconsin team. I expect a great effort from them, and a very intense series overall with the rivalry and historically winning ways of both programs amping things up.
Top-10 Teams in Action
St. Lawrence at #2 Boston College, Fri. 10/11 @ 7 p.m. EST & Sat. 10/12 @ 2 p.m. EST; Wed. 10/16 @ 7 p.m. EST
#3 Clarkson at Syracuse, Fri. 10/11 @ 7 p.m. EST; Syracuse at #3 Clarkson, Sat. 10/12 @ 4 p.m. EST
#10 Minnesota-Duluth at #4 North Dakota, Sat. 10/12 @ 3:07 p.m. EST & Sun. 10/13 @ 3:07 p.m. EST
#7 Boston University at Rensselaer, Fri. 10/11 @ 7 p.m. EST; #7 Boston University at Union, Sat. 10/12 @ 3:30 p.m. EST
#8 Mercyhurst at Providence, Sat. 10/12 @ 2 p.m. EST & Sun. 10/13 @ 1 p.m. EST
What to Watch For
Boston College hosts St. Lawrence for a two-game series this weekend, and it should be a pretty good challenge for the Eagles. The Saints play a great team game, so it'll be interesting to see how well the Eagles can disrupt their flow. St. Lawrence doesn't have the deepest offense, but they do have some good players up front that BC will need to keep tabs on. It should be a decent test for the Eagles' defense without being too overwhelming. Overall the Saints will keep Boston College on top of their game, and they'll be itching for a win after being swept by Clarkson last weekend.
No. 2 BC faces off against St. Lawrence at Kelley Rink tomorrow at 7 p.m. and Sat. at 2 p.m. #WeAreBC pic.twitter.com/QrMoeGP2Js

— BC Women's Hockey (@BC_WHockey) October 10, 2013
Clarkson is on a roll to start off the year, with that blowout win over RIT and a big sweep of an ECAC rival last week. But Syracuse is a sound squad with a very good goaltender, and though the Golden Knights chased RIT goalie Ali Binnington two weeks ago, it would take a lot for them to do the same to Kallie Billadeau. But their top-six is flourishing right now and defenseman Erin Ambrose has had no trouble driving the offense from the blue line. We'll see if they can turn in two more dominating performances once again.
North Dakota and Minnesota-Duluth square off in another huge WCHA match-up. Both teams' offenses were on display last weekend against weaker teams with little depth. Both teams also have very talented rookie classes who are already making big contributions. This is also a big, big series for both; UND needs WCHA points while they have a full line-up, and the Bulldogs need early wins to stay in contention. They've each got plenty to adjust to on the back-end, but North Dakota may have the edge in goal with Shelby Amsley-Benzie. These should be two highly entertaining, back-and-forth games with a lot on the line for both teams.
Boston University opens up its season with road tilts against Rensselaer and Union. Despite those two squads not being the strongest opponents, these are two pretty big games for the Terriers. There are going to be struggles in many areas for them this season, and these two games to start off the year are important for their confidence. Union managed to knock off Providence a week ago, and the Friars, to me, have more depth than BU, so they can't overlook either of these teams. How well the Terriers can take control of the puck and establish some offense this weekend will likely have big implications for the rest of Boston University's season.
Providence plays host to Mercyhurst in what has shaped up to be an important weekend for both teams. Neither squad wants to be swept, but both are also hungry for two wins. The Lakers find themselves with a surprising 1-2 record so far, and the Friars had to settle for a split at Union last weekend, so both teams would like to make a big statement here and get their seasons back on the right track. Both Mercyhurst and Providence will need to see improvements in goal; if one team gets above-average goaltending in this series, it could give them the edge.
Gabriella is now in her third season of covering NCAA and international women's hockey for The Hockey Writers. She is the founding editor of At Even Strength, a website dedicated to providing full-time coverage and analysis of women's hockey. She is currently working towards a degree in Communication at the University of North Dakota, and is also interning with UND Athletic Media Relations. She can be reached on Twitter (@gabfun) or via e-mail (gfundaro10 [at] gmail [dot] com).