In the AHL, there seems to be nothing more valuable to a player than minutes. Regardless of if a player scores a hat trick or has a minus-five rating in a game when AHL prospects are on the ice they are gaining experience and are inching closer towards one day playing in the NHL.
In Grand Rapids it would appear that sentiment may have been forgotten.
As their roster stands right now, the Griffins can have almost half of their roster spots on game day taken up by AHL contract players or players sent down because they couldn't fit in in Detroit. When you consider what the AHL is meant for (player development among other things) and how the Red Wings organization seems to love over seasoning players down there (see Ericsson, Abdelkader, Tatar, Nyquist), this trend really comes as a surprise.
Calder Cup Aftermath
After the Griffins won their first ever Calder Cup last season, it seems much was made to try and defend the title. The likes of captain Jeff Hoggan, enforcer Triston Grant, and assistant captains Nathan Paetsch and Brennan Evans were re-signed to AHL only deals. This core group of veteran leadership was essential to the team's success, and many if not all AHL teams have a group of veterans on their squads to be a mentor of sorts to the young prospects also on the team.
Some deals that could be seen as problematic for the organization as a whole were the signings that came on in the offseason after the Calder Cup win. The number of AHL contracts nearly doubled when forwards David McIntyre and Kevin Lynch signed to deals with Grand Rapids. They were joined by former first round Red Wings draft pick Thomas McCollum, who had lost his grip on the starting job in GR to Petr Mrazek during the cup winning season.
This is as many as seven spots every game that could be taken up by somebody the Red Wings have no rights to and minutes that could be being used towards the growth of the current batch of Detroit prospects.
Rejected by Detroit
Taking in all of those AHL contracts, there is also the matter of Ken Holland's wild and rather questionable offseason when it comes to signings in Detroit. Many people thought that after the Calder Cup campaign it would be time for a changing of the guard. The likes of Tatar, Nyquist, Andersson, Lashoff and Jurco would potentially get a chance to be full time Red Wings and prove themselves in the offseason and in training camps. This did not prove to be the case.
For every player that would walk away from the Red Wings during the offseason a replacement was singed off the free agent market. Filppula left, Weiss was signed. Brunner eventually left, and Alfredsson was signed, the cherry on top of the offseason though was the signing of Daniel Cleary. Many questioned the move, the Red Wings had 16 forwards already under contract at the time of the signing. With these new deals in place, who was set to suffer? The forwards who seemed all but ready to be full time Red Wings.
Tatar stayed on the roster, but found himself struggling to get ice time early in the season. Andersson fit in to the lineup well, but only because Darren Helm was still on the injured list, with Helm back Andersson currently fits in as a 4th line center, which seems to have more job security than his other Griffin teammates. Nyquist was sent down to the AHL because he could be, and up until last Thursday where he made his season debut, he stayed there, much to the dismay of the Red Wings faithful.
The Griffins defense seemingly graduated up though. With Ian White and Carlo Colaiacovo not returning in 2013-14, Brendan Smith and Brian Lashoff found themselves in the NHL full time and the entire young group was asked to step up their roles.
Red Wings Rejects
Eventually Nyquist began to dominate in the AHL and was abundantly clear that he belonged with the big boys in the NHL. So to rectify this situation, Ken Holland tried to accrue as many LTIR credits as possible by putting Darren Helm, Patrick Eaves and now Danny DeKeyser on LTIR  already at some point this season. With the Nyquist call up however, the cap situation had to be remedied by moving bodies. Holland couldn't find any suitors in a salary dump type deal, so he was forced to place Cory Emmerton, Jordin Tootoo, and Patrick Eaves on waivers. All three cleared and have seen time in Grand Rapids during the season.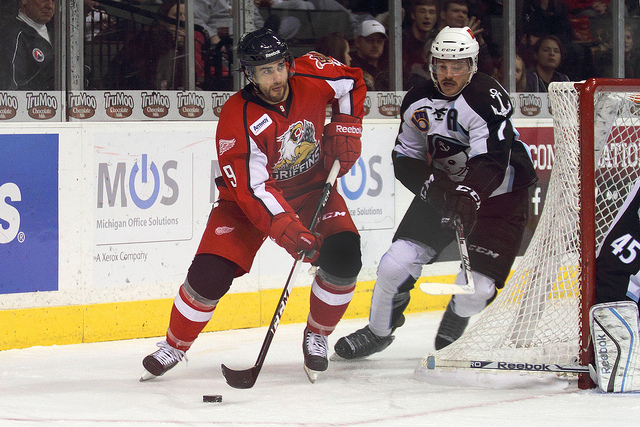 The logjam of forwards seemingly never got remedied it was just passed down to GR. With the three former Red Wings and four AHL contracted forwards in GR or Toledo (Detroit's ECHL affiliate). That's more than half of a forward contingent during a game that the Red Wings either don't have claim on or have simply passed on in lieu of other players. While there are rules to how many "veterans" can dress in an AHL game this still seems to create a problem for future talent.
The best prospects aren't suffering, yet. Tomas Jurco still sees all the minutes he can handle in GR. Eurotwins part three (Pulkkinen and Jarnkrok) also find themselves in the top six and playing lots of power play time. Luke Glendening, while old for a prospect, as even seen time in a winged wheel sweater this season, but the question is what about everyone past that?
Landon Ferraro and Riley Sheahan are the first names that come to mind. Talented and gritty forwards who are in the last year of their entry deals, are seemingly farther back in line now because of the logjam. The odds of keeping them in the system seems slim unless you trim a lot of current forwards in the upcoming offseason.
Past them there is also Mitch Callahan and Andrej Nestrasil, also in their last year of entry level contract. Both have seemingly been bottom six forward types in the AHL their entire careers, but that still doesn't mean there isn't potential there. While maybe they would never find a place in the Red Wings roster, it's a shame the way the Red Wings have put themselves in a situation where they can't give them a fair look. Both players have actually spent extensive time in Toledo at some point in their young pro careers. Obviously not every prospect is going to grow into an NHL talent, but general managers don't draft players that they know will be busts. If you don't give your draft picks opportunities to show their best, are they really busts?
Not Just the Forwards
While the forward situation both now and in the foreseeable future still appears to be murky, that isn't the only position where we see prospects suffering. Defenseman in Detroit's system will have to wait behind a young corps of current Red Wings like DeKeyser, Kindl and Lashoff, but also have to contend amongst themselves for what is right now, only four available defense spots in GR. Paetsch and Evans are rocks in GR and as mentioned before their being on the team shouldn't be frowned upon. Really, the course that may lie ahead for any defenseman in GR is no more difficult there than in any other NHL organization. The current crop of top d-men in GR include Ryan Sproul, Alexey Marchenko, Xavier Ouellet and Adam Almquist, the latter two of which have seen time in Detroit this year.
The goaltenders though have a slight speed bump though, with Thomas McCollum re-signing in GR after seemingly falling out of the Red Wings plans he creates an obstacle in goaltender development. Yes, McCollum is a fan favorite and his one year AHL deal may be an attempt for him to showcase himself for a position somewhere else, but if he stays on longer than that, there could be a problem. Jared Coreau is currently being seasoned in Toledo, because McCollum has the backup gig in GR. One would expect next year Coreau can graduate up to GR and prospect Jake Paterson of Saginaw may work the crease in Toledo next year. That ideal situation though falls upon what Thomas McCollum's future will be.
In short though, what makes these two positions fine in a developmental sense is that the NHL level isn't crowded up, and the potential of prospects is bright. Jimmy Howard's long term deal may keep Petr Mrazek in check for a while before ultimately there could be a passing of the torch. The current crop of Detroit d-men are looking to be a foundation for many years to come. The players I'm referring to have at some point been Griffins and when prospects can see how they made it to the top it provides a healthy developmental system for young players to eventually reach their potential.
Maybe it will have to be a wait and see type thing for Detroit and Grand Rapids fans alike. Ken Holland hasn't kept one of the most prestigious jobs in the sporting world for this long by accident, and it seems most Red Wings fans are content with saying "In Holland we trust" when they don't fully understand a signing or player move.
The lowered salary cap certainly didn't help things either but as that will surely rise, the problems will eventually work themselves out. Either Holland will have the cap space to reward his young players with lucrative contracts to keep them here, or prospects will find other teams who will be willing to pay them for NHL service rather than long AHL stints. Chad Billins from last year's Calder Cup winning team made such an opportunity happen for himself, and good for him to find a spot for himself in Calgary.
The fact remains that professional sports are a business, and in business you do what you have to do to get to the top, both for the brass behind the scenes and the players on the ice.
Zak DeBeaussaert is a Grand Rapids Griffins writer for THW. A broadcasting junior at GVSU, he can also be found on thefarmclub.net where he writes for the Detroit Red Wings and Chelsea FC. You can occasionally hear his voice calling club sports games for the Grand Valley State Lakers on WCKS: The Whale Radio (whaleradio.org)