So that happened.
On Sunday against the Detroit Red Wings, the Sabres debuted something uglier than their season to date. Hard as that is to imagine, you'd understand if you saw their new third jerseys.
All the hooplah that's been made about them since they leaked? Well deserved. More than well deserved. It's actually slightly horrifying that someone not only thought they were a good idea, but thought they were a good enough idea to actually make them. My faith in the judgment of others is a little shaken right now, not going to lie.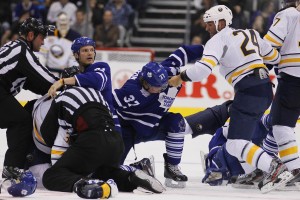 That said, the Sabres have played better of late since Ted Nolan came on as coach. They did the right thing, sent the kids down to Rochester or Juniors, and they're getting back to maximum energy hockey. The wins aren't coming any quicker, but it's not quite as ugly as it was to start the season.
11/27 vs Montreal
The Habs are starting to come on of late, having won three in-a-row. The E-G-G line of Eller – Galchenyuk – Gallagher continues to chub along, led by the sophomore Galchenyuk. He's talented and electric; it won't be long before he's an unquestioned superstar.
P.K.Subban remains the most dangerous man on the ice for Montreal, though, and is having an absolutely wonderful season offensively. He leads the Canadiens with 20 points through 24 games, thanks to 17 assists so far. Funny enough, though, is that there is a bit of a controversy about the amount of ice time he's getting. If the Habs need a goal late? He's your man. If they're tied or leading? He's nowhere to be found despite the fact that he won the Norris Trophy as the league's best defenseman last year. So who knows.
There's also Carey Price to worry about. His stats are much better than his record (9-8-2) would indicate. He's posted a 2.05 GAA and .935 save percentage – outstanding by any account. He's still a workhorse and he's still in the conversation when discussing the best young goalies in the game.
The Sabres will have their hands full with just about anyone this year due to the obvious dearth of talent, but the Habs are the kind of team that can run you out of the building with their speed and talent on any given night.
11/29 vs Toronto
If there is any team that the Sabres will play up to, this is it. I can't explain the history. Maybe it's Ryan Miller's dislike for the team and city, who knows? Regardless, this is the one game the Sabres will undoubtedly get up for.
That said, the Leafs are playing some quality hockey on the whole though they've been a little less than great over their last ten (5-4-1). They sit in a logjam for second in the Atlantic behind the Boston Bruins but are far away from their best hockey.
Part of it is the fact that they're battling injuries down the middle – Tyler Bozak and Dave Bolland have been out awhile now and will miss more time. Still, they're getting a fantastic year out of Phil Kessel and strong overall scoring from their forwards.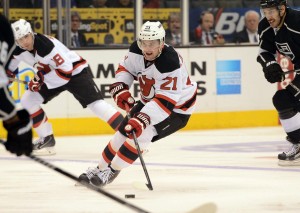 The Sabres will have to contend with a 50/50 crowd on Friday, but this is one of those "upset watch" games.
11/30 @ New Jersey
After an abysmal start, the Devils have come on over their last ten, going 6-4-0. Still, they struggle offensively as they are tied for third from the bottom in the conference in goals for.
Pretty much the only guy scoring is Jaromir Jagr at this point. He's got 9 goals this season and leads the team with 18 points through 23 games. Only two others – Patrik Elias and defenseman Marek Zidlicky – have double-digit point totals this season. The Sabres are one of the few teams having more issues putting the puck in the back of the net right now.
Part of the reason for their recent improvement in play is because of their goaltending. The duo of Cory Schneider and Martin Brodeur has been better than solid despite some misleading records. Brodeur has a 7-4-2 record with a 2.06 GAA and .917 save percentage to go with a pair of shutouts. Schneider, on the other hand, is 2-5-3 but sports a better GAA (1.87) and save percentage (.925).
When the two meet, it will likely be a battle of the goalies and if someone puts a "2" up on the scoreboard, that may very well be enough.
Prediction for the week: 1-2-0
Ryan is a lead writer for The Hockey Writers as well as editor for Mile High Sticking and co-owner of The Farm Club. Follow him on Twitter to discuss all things puck, Bills football, or his hatred of all things Philly.
Check out our partners at TiqIQ for the best deals on Buffalo Sabres tickets for all 2013-14 games.
A long-time (and long-suffering) Buffalo sports fan. Sometimes optimistic, always weary. I write other stuff for a lot of other people.