Another day and more hockey teams have to step away from the ice because of positive COVID-19 tests. One of the NCAA's top programs has postponed a pair of games this week and three more ECHL squads are sitting out the upcoming season. Also, one of the top players from the most recent NHL Entry Draft reveals what he is looking to get better at this season.
Badgers Postpone This Week's Games
The University of Wisconsin hockey team had a big weekend as they split a two-game series with Ohio State. They have won five of their first 10 games of the season inside of a very tough Big Ten Conference.
The Badgers were set to travel to Michigan State for a pair of games on Tuesday and Wednesday, but those games have been called off after a positive COVID-19 test within the program.
"The Wisconsin men's hockey team's two-game series at Michigan State scheduled for Dec. 8-9 in East Lansing, Michigan, will not be played," the school announced in an official statement Monday morning. "Medical officials from each school conferred after a positive COVID-19 test was found within the Badgers' program and decided to postpone the contests."
There have been no makeup dates announced yet for this pair of games. It will be interesting to keep tabs on this situation as Wisconsin's star forward Cole Caufield is expected to head over to Team USA's World Junior Championship camp. He currently leads the Badgers with six goals and 12 points through the first 10 games of the season.
Byfield Reveals His Goals
Quinton Byfield is hoping to see Caufield and the Americans at the upcoming World Junior Championship. He and his Canadian teammates have been in quarantine for the past two weeks after multiple positive COVID-19 tests.
The second-overall pick of the 2020 NHL Entry Draft sat down with CHL Sunday Spotlight to discuss many topics, including this year's big tournament. Byfield disclosed that he wants to take on a bigger role on this year's team. He wants to be a better leader and have a greater impact on the games.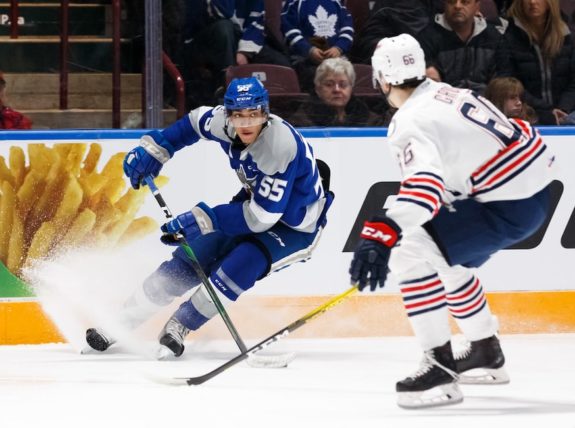 He also revealed exactly what he is looking to improve on for the upcoming season, whether it be in the NHL or with the Sudbury Wolves of the Ontario Hockey League (OHL).
"I think there is a lot of stuff that you can always keep on working on and keep getting better at," he said. "I think you can still keep on developing every part and every aspect of your game. I think, overall, just keep getting better and stronger at all areas of my game. Most importantly, my faceoffs, I think that is a big key. If you want to be out there in close situations, you have to be good on draws and as a centreman, those are very important.
"And in the defensive zone, you can never be the best defensive guy, so that is definitely something important to work on as well. I want to use my physical size more to my advantage, just being more physical and being able to separate the body from the puck and take away that and use my body to create more space for myself offensively."
Byfield has a scary combination of size, speed and skill and with this attitude and work ethic, the Los Angeles Kings may have a future superstar on their hands.
Three More ECHL Teams Suspend Season
At this point, the 2021 winner of the Kelly Cup will be the last ECHL to not suspend operations for the upcoming season. Today, three more teams have decided to opt out of the 2020-21 season; Cincinnati Cyclones, Idaho Steelheads and Kalamazoo Wings.
"This decision for our clubs was immensely difficult amidst the everchanging landscape of the COVID-19 pandemic and the inability to return to play throughout our various jurisdictions," said ECHL Commissioner Ryan Crelin in an official statement. "We look forward to returning fans and ECHL hockey in these great markets as they shift their focus to the 2021-22 Season."
All three teams plan on returning for the 2021-22 season. All players who have signed ECHL contracts with these teams are now free agents and can sign with another team.
This makes a total of 11 teams sitting out this season. Cincinnati, Idaho and Kalamazoo join the Adirondack Thunder, Atlanta Gladiators, Brampton Beast, Maine Mariners, Newfoundland Growlers, Norfolk Admirals, Reading Royals and Worcester Royals in suspended operations. There are 15 remaining to play out a two-tier schedule which is supposed to begin on Dec. 13.
---