Winnipeg Jets' general manager Kevin Cheveldayoff is often heralded for his deftness at the draft table, and deservedly so. Through a patient draft-and-develop strategy, he's turned the second incarnation of the Winnipeg Jets from a team nearly no assets and laughable depth into a legitimate contender.
He's largely avoided drafting busts and many of his picks are now core members of his team, such Mark Scheifele, Adam Lowry, Jacob Trouba, Nikolaj Ehlers, Kyle Connor, Josh Morrissey, and Patrik Laine.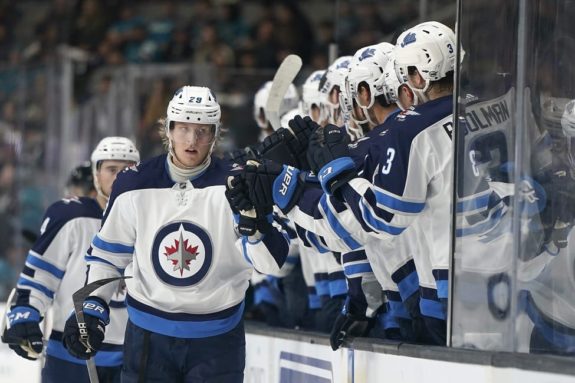 However, many don't remember or acknowledge that the first incarnation of the Winnipeg Jets, who existed between 1979-1996 and are often referred to as the "Jets 1.0," made surprisingly solid and sometimes stupendous draft picks as well. While their three GMS — John Ferguson Sr., Mike Smith, and John Paddock — chose their share of notable busts — their first-ever pick, Jimmy Mann, turned out to be a disaster — and the team never found sustained success, they also selected a number of great players, some of whom are now living legends.
Here's a look at the Jets 1.0 top five draft picks of all time.
5: Nikolai Khabibulin
The "Bulin Wall" was certainly a tough one to get a puck by or through.
A sleeper pick selected 204th overall in the ninth round  (yes, there used to be more than seven rounds) of the 1992 NHL Entry draft by GM Mike Smith, Khabibulin appeared in more games than any other Russian goaltender in NHL history.
Khabibulin got his start with the Jets, playing for them between 1994-96 in their last two years before relocation to Phoenix. While his numbers with weak Jets squads weren't notable, by the late 1990s, he'd developed into one of the NHL's elite netminders and continued to be one through the first part of the 2000s.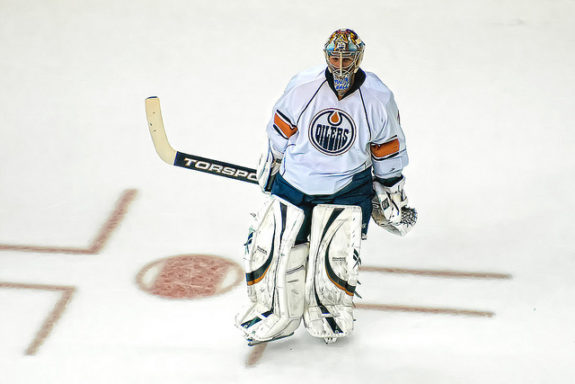 Khabibulin is perhaps best remembered for his years with the Phoenix Coyotes and Tampa Bay Lightning — he led the latter to a Stanley Cup victory in 2004, having a lights-out playoffs in which he won all 16 games, posted a sparkling .933 save percentage, microscopic 1.71 goals against average, and five shutouts, including three in their first-round matchup with the New York Islanders.
Khabibulin also spent five seasons with the Chicago Blackhawks and four with the Edmonton Oilers. A four-time NHL All-Star, he played in 799 contests, racking up 333 wins, a .907 SV%, 2.72 GAA, and amassed 46 shutouts over an 18-year career.
4: Shane Doan
A gritty, rugged right-winger, Shane Doan played just one season with the Winnipeg Jets, but will always be remembered for his contributions to the Phoenix/Arizona Coyotes.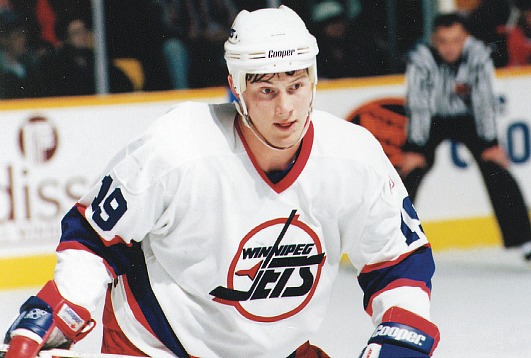 Drafted seventh overall by GM John Paddock in 1995 and their last first-round pick ever, Doan spent his entire 21-year, 1,540 game NHL career with the Jets/Coyotes franchise, tallying 402 goals and 972 points, putting up 60 or more in six separate seasons.
A consummate professional, Doan deserves credit being an advocate and champion of hockey in a non-traditional market that's seen its fair share of poor seasons, ownership problems, and monetary woes. His King Clancy Memorial Trophy win in 2010 and Mark Messier Leadership Award in 2012 are testaments to his leadership and dedication.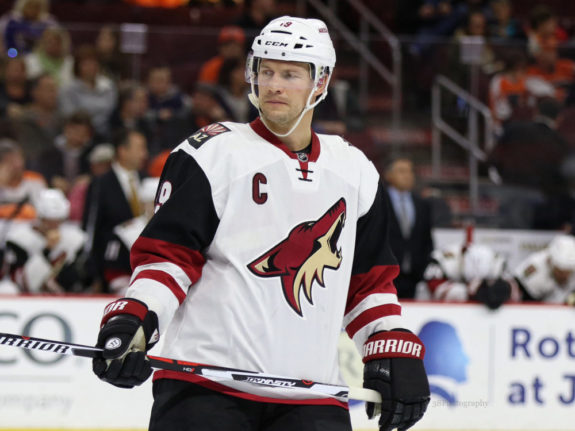 Doan is also notable for being the last active player to have played for the Jets 1.0. The Coyotes will retire Doan's number 19 before their Feb. 24, 2019 game, which is, fittingly, against the Jets.
3: Keith Tkachuk
Keith Tkachuk was a whole-package player — a brash, ferocious, hard-nosed guy who could, score, hit, agitate, and chuck knuckles if needed.
Mike Smith drafted the big left winger 19th overall in 1990. After a 51-point 1992-93 season, he was named captain at just 22-years-old. In the 1993-94 season, he led the Jets with 81 points. He produced 51 in the lockout-shortened 1994-95 season before ascending to new heights in 1995-96, scoring 50 goals and falling just two points shy of the century mark, once again leading the team.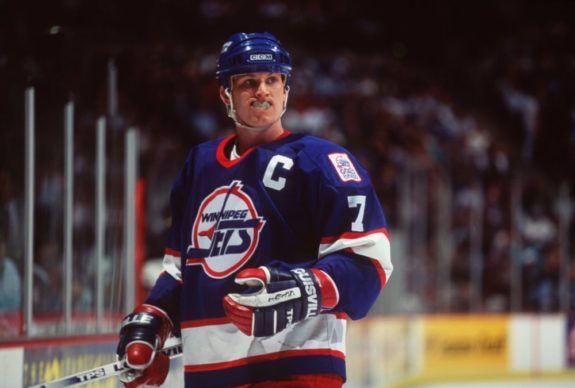 Tkachuk moved south with the Jets after 1996 and played five seasons for the Coyotes, scoring a career-best 52 goals in their inaugural year. In March 2001, he was traded to the St. Louis Blues and played nine seasons there, a stint interspersed with a brief stop in Atlanta.
Tkachuk —one of only five Americans to score 500 goals — found the net 538 times and assisted 527 more twine-ticklers in his 1,201-game NHL career. He also spent a whopping 2,219 minutes in the sin bin.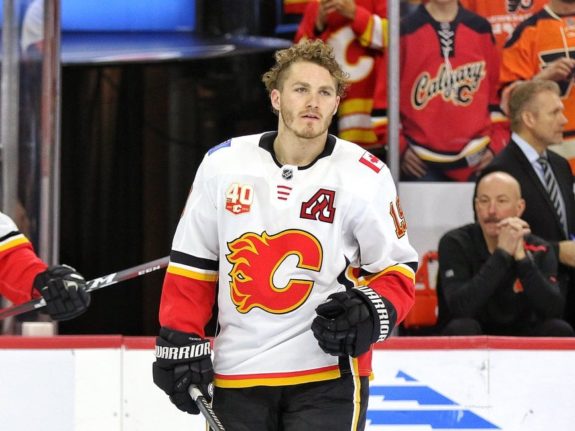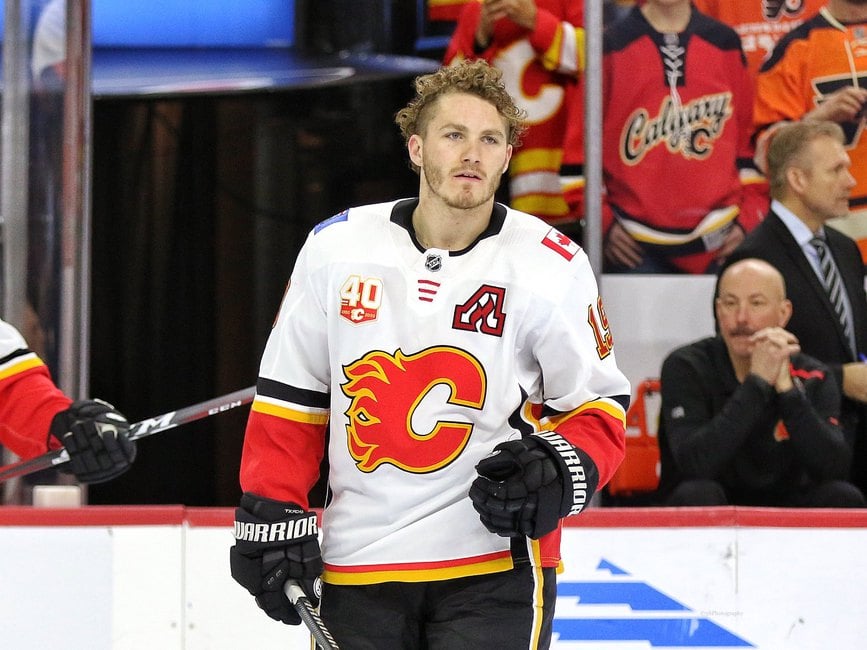 It appears the apple doesn't fall far from the tree. His eldest son Matthew, drafted sixth overall by the Calgary Flames in 2016, has quickly gained a reputation as one of the league's most effective and vexing agitators and plays a similar game to his dear old dad. Keith's younger son, Brady, chosen fourth overall by the Ottawa Senators in the 2018 draft — is reportedly a chip off the old block as well.
2: Dale Hawerchuk
As good as Tkachuk was, another Jets-drafted 'chuk' was even better. The Jets' first and only first-overall pick, Dale Hawerchuk, was a phenom unlike any player Winnipeggers had seen before.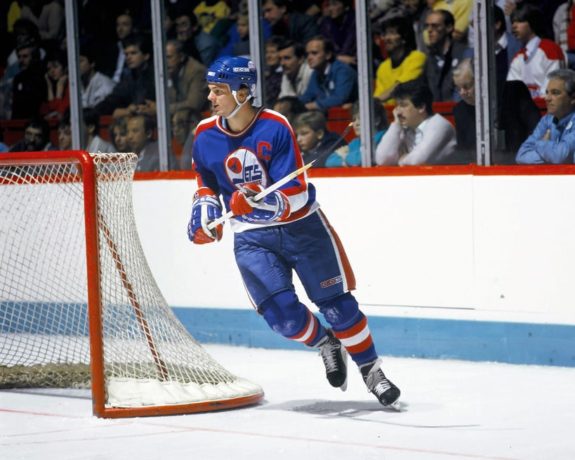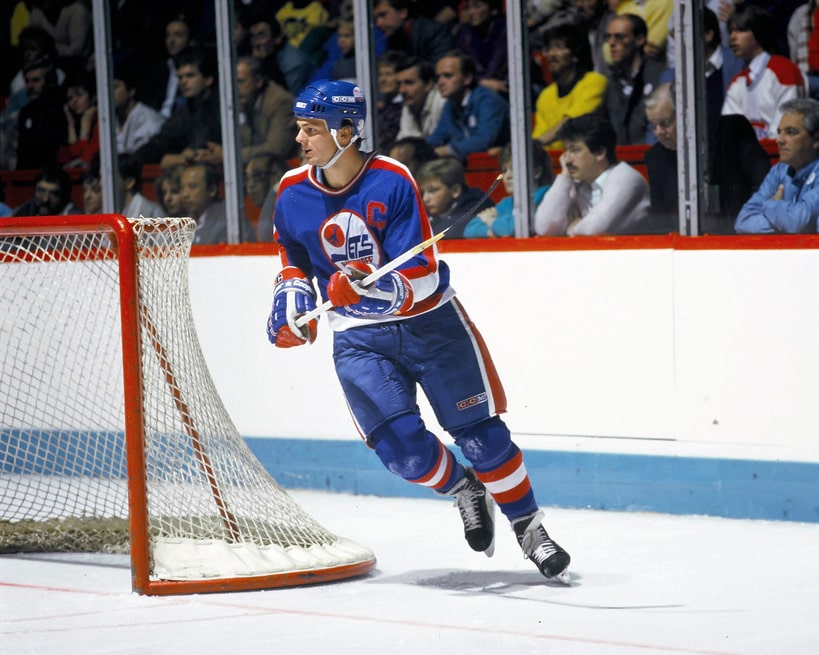 The Toronto-born centre, selected by GM John Ferguson Sr. in 1981 and known as 'Ducky' for his strange stride, registered 379 goals and 929 points with the Jets over nine seasons and became one of the era's most adored and admired players.
Hawerchuk dominated the 80s. He amassed more than 100 points in six separate seasons between 1981 and 1988, notching an eye-popping 130 in 1984-85. His impact on the Jets was enormous, and he also had an impact on Winnipeg as a whole as he became a pillar of the community and the face of the franchise.
"Hawerchuk became embedded in the Winnipeg and greater Manitoba community," wrote Sportsnet's Ryan Dixon. "He saw much of the province either golfing or playing softball and logged as much downtime as possible at his cottage in Gimli, a lakeside community about an hour north of the city."
Hawerchuk was eventually traded to the Buffalo Sabres in a blockbuster deal that "broke the collective hearts of Winnipeg." He went on to tally 1409 points in 1,188 games and was inducted into the Hockey Hall of Fame in 2001.
Although the trade broke many Winnipegger's hearts, 'Ducky' will forever have a space in many, and in Bell MTS Place as well. The new Jets welcomed Hawerchuk — now the head coach of the OHL's Barrie Colts — into the Winnipeg Jets Hall of Fame and raised his name and number to the rafters in 2017.
1: Teemu Selanne
Could such a list end with any other name in the number one spot? It's the obvious choice, but it's the right one.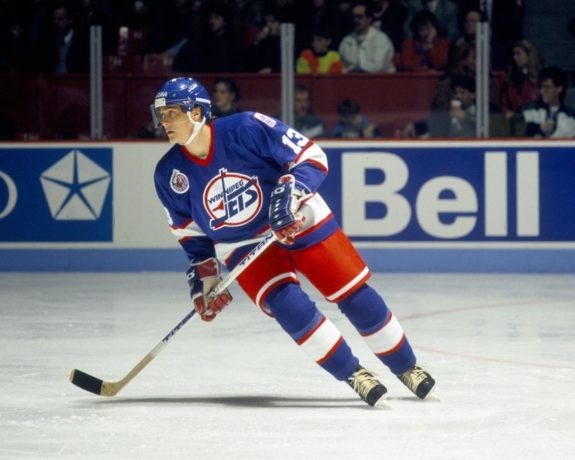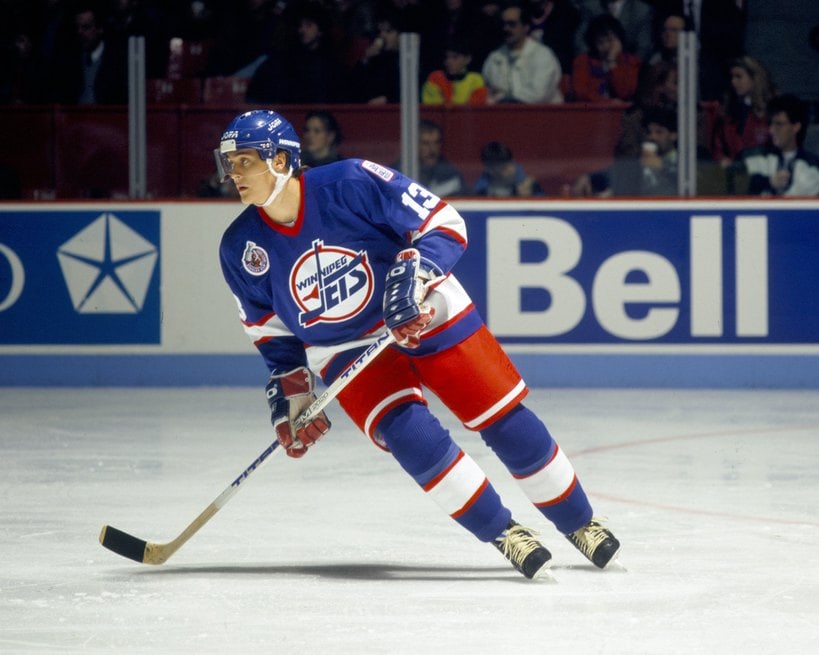 What can you say about the Finnish Flash? The Helsinki-born Selanne is simply one of the most elite goal-scorers in NHL history who turned heads regardless of the uniform he donned.
Heads started turning immediately after Ferguson Sr. selected Selanne 10th overall in 1988 — just a few months before he was succeeded by Smith. In Selanne's unbelievable rookie campaign, he scoffed at Mike Bossy's record of 53 goals and notched an unthinkable, ridiculous 76 — a record that may never be broken.
Selanne had an embarrassment of offensive riches — explosive speed, deft hands, and a lethal shot. The most beloved Jet ever, Selanne put up 147 goals and 306 points in 231 games during four seasons in Winnipeg.
An ageless wonder, Selanne played until he was 43 and skated in more than 1,400 games for the Jets, Mighty Ducks of Anaheim/Anaheim Ducks, San Jose Sharks, and Colorado Avalanche, piling up goals — 684 of them, 11th all time — records, and accolades.
He's won a Calder Memorial Trophy, Maurice "Rocket" Richard Trophy, Bill Masterson Memorial Trophy, and Clarence S. Campbell Bowl. He holds 19 individual scoring records. He's a 10-time All-Star, Hockey Hall of Famer and, most importantly, a Stanley Cup champion.
A "Top 10" video doesn't begin to illustrate even a sliver of what Selanne did in his illustrious career, one that began with a bang in Winnipeg. His legacy will live on in the city forever.
More Stand-Out Jets Selections
There are many other players who didn't quite crack the top five but still had excellent, productive careers. Here's a look at some of them, in chronological order by draft year.
Thomas Steen
An early Ferguson Sr. pick, the Jets drafted the Swedish forward 103rd overall in 1979.
Steen spent his entire 14-year career with the Jets, tallying 817 points over 950 total games. His consistency and durability were his biggest assets — he had 50 or more points in 11 separate seasons and played in at least 73 games in 10 of them. He's the father of Alexander Steen, who, at 898 games played and 578 points, is closing in on his pop.
The elder Steen would stick around in Winnipeg even after he hung up his skates. From 2010-2014, he was a Winnipeg City Councillor representing the Elmwood-East Kildonan ward.
Dave Babych
Ferguson Sr. chose the Canadian blue-liner second overall in 1980.
Babych, who was known for his trademark, soup-straining moustache, played the first five seasons of his career in Winnipeg. He put up 321 points in that span and led their D-corp in scoring for five consecutive years.
Babych played 1,195 NHL games for the Jets, Hartford Whalers, Vancouver Canucks, Philadelphia Flyers, and Los Angeles Kings, appearing in two All-Star games. He was the first player to wear number 44 on a regular basis and also had a small role in the 2002 film Slap Shot 2.
Fredrik Olausson
Ferguson Sr. used his 81st overall selection in the 1985 draft to select the right-handed, Swedish-born defenseman.
Olausson was a mainstay on the Jets' blue line through the 80s and early 90s, playing 496 games for the team over eight seasons. An offensive defenseman, he tallied 335 points with the Jets and 581 in 1,022 NHL games. He spent time with the Edmonton Oilers, Mighty Ducks of Anaheim, and Pittsburgh Penguins before capturing a Stanley Cup with the powerhouse 2001-02 Detroit Red Wings.
Teppo Numminen
Yet another Ferguson Sr. pick, the Jets took the Finnish-born Numminen 29th overall in 1986.
Numminen spent eight seasons patrolling the Jets blue line before moving with the team and spending seven more years with the Coyotes. His career also took him to Dallas and Buffalo. Overall, he played in nearly 1,400 NHL contests, put up 637 points, and had an all-time plus/minus rating of plus-56.
In 2010, the Coyotes retired his number 27 and inducted him into their ring of honour. In a speech, Shane Doan called him the "sexiest man in all of Finland."
---
---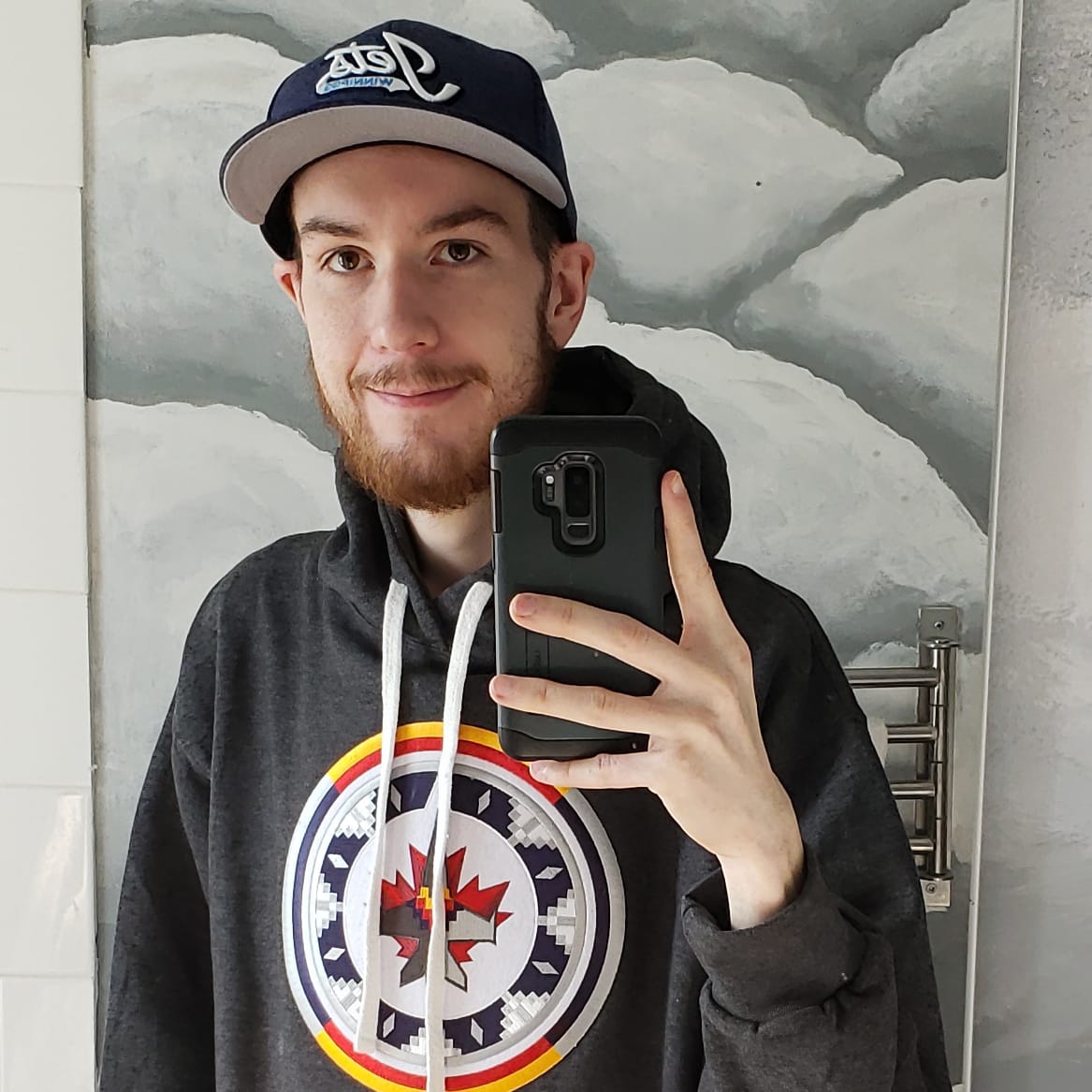 Declan Schroeder is a 27-year-old communications specialist and freelance journalist in Winnipeg, Manitoba. He holds a diploma in Creative Communications with a major in journalism from Red River College and a bachelors in Rhetoric and Communications from the University of Winnipeg.
Deeply rooted in the city's hockey culture, the original Jets skipped town when he was two and the 2.0 version came onto the scene when he was 17.