The Toronto Maple Leafs have played 41 games this season and the halfway point of their 2016-17 season has arrived. With the expansion draft coming at the end of the season, the Vegas Golden Knights have been and will be scouting players that they could take. With every team guaranteed to lose a player in the draft, one has to wonder who the Golden Knights will take from the Leafs.
Here's the thing. No one needs to worry about it. The Maple Leafs' best players are exempt from the draft. Auston Matthews, Mitch Marner, William Nylander and Zach Hyman are all exempt this time around. Now, if there's another round of expansion in a few years, then the Leafs will be in trouble. Not this time, however.
Technically, the Leafs have one player with a no-movement clause in Nathan Horton that they would be forced to protect. Since teams can ask players to waive the NMC's for the purpose of the expansion draft, the Leafs will probably ask him to waive his. There's really no danger of him being picked. Even if he elected not to waive his NMC, there's still not much to worry about.
So let's take a look at each position and who will be protected.
Goalie
Frederik Andersen 
The Leafs signed him to a five-year deal for a reason. He'll be sticking around for a while. Really, the Leafs don't have to worry about the Golden Knights taking any of their goalies. Andersen will be protected, which leaves Jhonas Enroth, Garret Sparks and Antoine Bibeau. Do you think Vegas will be taking any of those three?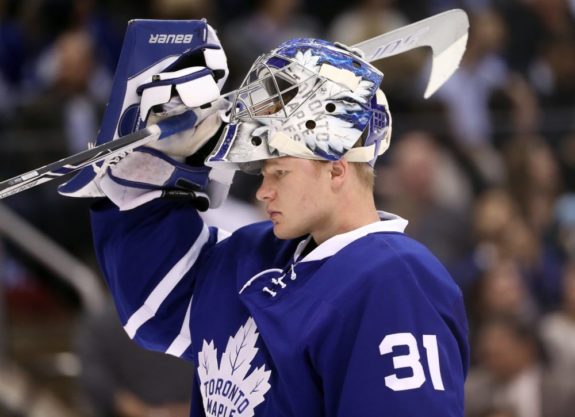 Defense
Morgan Rielly
Is it worth talking about? No. Just what I thought
Jake Gardiner
There was a time a few seasons ago where this might be debatable but Gardiner has developed into a pretty good defenseman for the Leafs. There's still the occasional mistake, but that's way better than what has happened in the past. He'll be a good second-pairing d-man for the Leafs for years to come.
Connor Carrick
With Rielly and Gardiner as locks to be protected, the Leafs have one more spot open to a defenseman if they stick to the seven forwards, three defensemen and one goalie system. Since the Leafs d-core isn't that strong anyway and they don't have to protect Nikita Zaitsev, they will be sticking to three. With the remaining group of defencemen consisting of Carrick, Roman Polak, Matt Hunwick and rarely-used Frankie Corrado, Carrick is the easy choice. Don't even be upset if the Knights take Corrado. He could use a fresh start.
Forwards
Nazem Kadri
Who would have thought that Nazem Kadri would be an above-average defensive forward? On a line with Leo Komarov and Nikita Soshnikov most nights, he usually is put up against the opposition's best players. He famously shut down Connor McDavid pretty well in Toronto's first game against the Edmonton Oilers and has been called the Oilers' superstar's No. 1 enemy at times. Signed to a six-year deal in the off-season, Kadri looks to be a part of the Leafs roster for a long time after years of questions.
James van Riemsdyk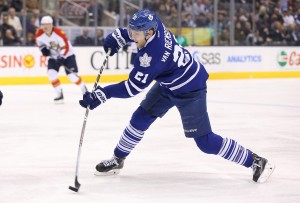 There is a question as to whether JvR will even be a Leaf by the time the expansion draft rolls around. With one year left on his contract after 2016-17, his value might be at its highest at this year's trade deadline. Since the Leafs will have a bunch of entry-level contracts ending around the same time, it might be prudent to trade van Riemsdyk in order to fill a need. That being said, if the Leafs don't trade him at the deadline, he's a sure thing to be protected.
Tyler Bozak
After years of being the Leafs de facto No. 1 center, the pressure is finally off Bozak. With the arrival of Matthews, Bozak gets to shift into a secondary role while still playing with JvR as well as Marner. The great thing for the eighth–year center is that Matthews is usually getting the top defensive players from the other team, freeing Bozak's line for more offense. Already with 28 points on the season, he's sure to surpass his total from last season unless another unfortunate injury occurs.
Leo Komarov
While he isn't producing at the rate he did last season, no one should have expected him too. He's now back where he should be: On an energy line that keeps the opposing team's best players at bay. He still chips in with the occasional goal but now he's back to being that antagonistic pest that made him a fan favorite in the first place.
Connor Brown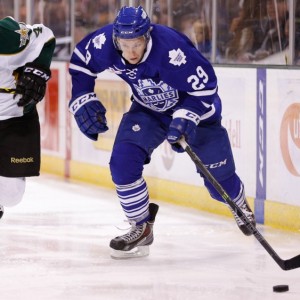 In a recent issue of The Hockey News, Matt Larkin put together a possible Golden Knights roster from the expansion draft. That roster included Brown on it. This makes me wonder if he has seen Brown play this season. While not as big a name as Matthews, Marner or Nylander, he is still playing some great hockey and could score up to 20 goals this season. You don't leave that type of talent unprotected. He's also from Toronto, something that the Leafs should value.
Brendan Leipsic
Though he hasn't spent much time with the Leafs since being acquired from the Nashville Predators, he has spent enough years in professional hockey that necessitates him to be protected. One of the Marlies best players this season, Leipsic might get a chance with the Leafs this season should the Leafs trade van Riemsdyk. If not, he should finally get a full-time shot next season.
Josh Leivo
This is a prime example of why the Leafs really don't have to worry about the Golden Knights taking anyone of any real value. That the Leafs could basically choose from any of their rarely used players or even Marlies players to be the last protected player is a luxury that not many other teams have. Leivo is currently up with the Leafs so he gets the nod here.