The Toronto Maple Leafs will officially open up the second half of their season when they take on the Buffalo Sabres on Tuesday night. A team that holds their own destiny in their hands, the Leafs have shocked a number of people with the success they've been able to procure over the first half of the season.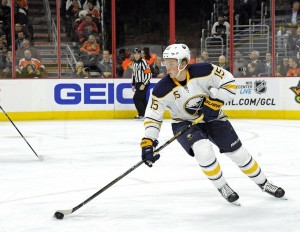 Through the first 41 games, the Leafs have a 20-13-8 record and 48 points. Their Tuesday night counterparts are just five points behind them (with 43 points) but sit near the bottom of the Eastern Conference. However, in the last 10 games, the Leafs have had better success than the Sabres. Their 8-1-1 record speaks volumes to how successful this team's been with the help of their young stars.
While the Leafs rookies have scored 62 goals through 41 games, the Sabres have started to find their own groove – at least some players have. After being injured to start the season Jack Eichel has averaged just under a point per game with 17 points through his first 22. And while he started off slowly as well, Rasmus Ristolainen has 27 points in 43 games and sits third on the Sabres in points.
That being said, games between the Leafs and Sabres never play out the way they are supposed to. The rivalry of the Q.E.W. is always entertaining and will only get better as the young players on both sides develop into NHL calibre players. For now, the Leafs and Sabres should make for a good mid-week matchup when they take to the ice in Toronto on Tuesday.
---
Buffalo Sabres at Toronto Maple Leafs
Air Canada Centre – 7:30 p.m. EST
Broadcast channels – SNO and MSG-B
2016-17 Season Series:
November 3 – Maple Leafs 2 – Sabres 1
Buffalo Sabres – 17-17-9 – 43 Points
Road Record: 7-9-6
Hot Players: Sam Reinhart, Ryan O'Reilly and Jack Eichel
Key Injuries: Josh Gorges, Dmitry Kulikov and Johan Larsson
Projected Lines:
Forwards
Tyler Ennis-Ryan O'Reilly-Kyle Okposo
Marcus Foligno-Jack Eichel-Sam Reinhart
Evander Kane-Zemgus Girgensons-Brian Gionta
Matt Moulson-Cal O'Reilly-Will Carrier
Defense
Jake McCabe-Rasmus Ristolainen
Zach Bogosian-Cody Franson
Justin Falk-Taylor Fedun
Goaltender
Anders Nilsson
Toronto Maple Leafs – 20-13-8 – 48 Points
Home Record: 10-7-2
Hot Players: Nazem Kadri, James van Riemsdyk and Mitch Marner
Key Injuries: Ben Smith, Martin Marincin and Joffrey Lupul
Projected Lines:
Forwards
James van Riemsdyk-Tyler Bozak-Mitch Marner
Leo Komarov-Nazem Kadri-William Nylander
Zach Hyman-Auston Matthews-Connor Brown
Matt Martin-Frederik Gauthier-Nikita Soshnikov
Defense
Morgan Rielly-Nikita Zaitsev
Jake Gardiner-Connor Carrick
Matt Hunwick-Roman Polak
Goaltender
Frederik Andersen
---
Game Notes
[miptheme_dropcap style="normal" color="#222222″ background=""]1)[/miptheme_dropcap]Over the last six games, there are six players averaging over a point per game for the Toronto Maple Leafs – van Riemsdyk (1.67), Marner (1.5), Bozak (1.33), Kadri (1.17), Brown (1.17) and Matthews (1.17).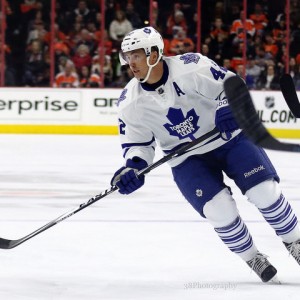 [miptheme_dropcap style="normal" color="#222222″ background=""]2)[/miptheme_dropcap]Leafs' Bozak sits just one goal behind Tom Fergus, Steve Thomas and Vincent Damphousse (118) for 37th on the team's all-time list. He's also just one assist away from tying Fergus (179) for 33rd on the franchise's all-time list. Two more points and he'll tie Fergus and Bryan McCabe (297) for 34th on the team's all-time points list.
[miptheme_dropcap style="normal" color="#222222″ background=""]3)[/miptheme_dropcap]The Leafs are receiving solid goaltending from their starter – Frederik Andersen – since December 1. In 15 games, Andersen has an 8-3-1 record with a 2.36 goals against average and .927 save percentage. He ranks 10th in save percentage over that time among goaltenders who played more the five games.
[miptheme_dropcap style="normal" color="#222222″ background=""]4)[/miptheme_dropcap]The Leafs have six players who've scored in double digits. Matthews leads the way with 21 goals – with Kadri (18), van Riemsdyk (15), Brown (11), Marner (10) and Bozak (10) filling out the group.
[miptheme_dropcap style="normal" color="#222222″ background=""]5)[/miptheme_dropcap]The Sabres' Jack Eichel has come on strong after missing the start of the season. In 22 games so far this season he's scored 10 goals and 17 points for Buffalo.
[miptheme_dropcap style="normal" color="#222222″ background=""]6)[/miptheme_dropcap]The Buffalo Sabres have three players with more than 10 goals (Okposo, Kane and Eichel) and four players with more than 20 points (Okposo, Reinhart, Ristolainen and O'Reilly).
While it's only the second meeting of the season between these division rivals, both heading it separate directions. The Leafs currently control their destiny with a number of games in hand. The Sabres, on the other hand, sit second last in the Eastern Conference. Regardless, this rivalry never plays out the way it should be. In saying that, expect a good tilt between the Sabres and Leafs with both teams looking for a big two points.