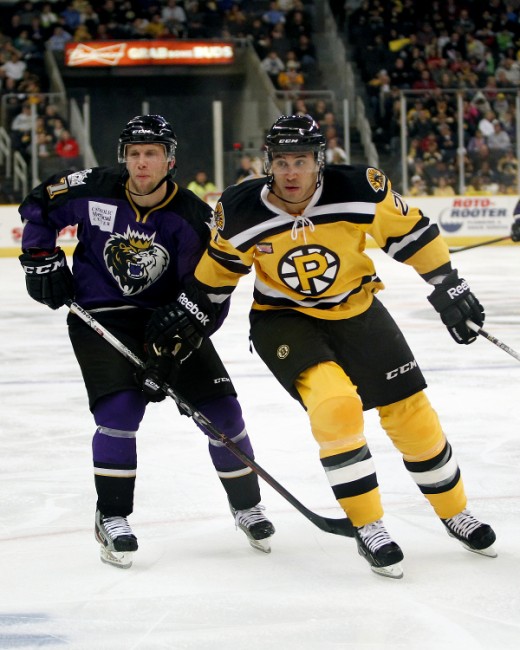 The first star of the game, number twenty-one, Bobby Robins!
The crowd roars. Skating to the ice, beckoning for more applause, is a lone black-and-gold clad forward. The stadium responds in-kind, cheers rising to obscene decibel-levels.
The thirty-one year-old Robins is no ordinary grinder.
On this night Robins doesn't drop the gloves. Almost comically, the fistic fourth-liner (with five fights already this season) will fall a fight shy of his first Gordie Howe Hat-Trick with the Baby B's. The Dunkin' Donuts Center faithful will have to be satisfied with a game-winning tally and a game-icing helper.
During each shift, Robins' efforts exude passion and he appears to swell with intensity and energy. Even his missed checks carry momentum to the team. When the P-Bruins all but secure the win with a Lane MacDermid third-period goal (which Robins assisted), number twenty-one leaps over MacDermid's prone form– half trying to avoid his prostrate teammate and half bubbling-over with jubilation.
Remember, this is November. Not April.
Providence Head Coach Bruce Cassidy won't deny the team got some added 'bump' from seeing Bobby score just twenty-two seconds in: "It gives us a big lift… When they see him score, it counts for a little bit more… the guys love Bobby – love the way he plays. It's always nice when those guys get rewarded, especially early when it gets the crowd into it."
On this night, Robins' early goal was all they'd need. The P-Bruins received an excellent performance from their fourth-line and their starting goaltender, finally winning their first game on home-ice this season and breaking out of a three-loss skid.
Despite contributions elsewhere, Robins won't deny looking for the Gordie, a slight grin on his face: "I was willing to do whatever I had to do. When it came down to it – I was definitely looking around… it wasn't one of those games, though."
On the ice, Robins is energy incarnate. After the win, he said, "energy is a part of my game… it can't be measured on the score-sheet… whether the energy comes from big hits, fights, a goal like tonight, or being a vocal leader – that's just the way I've always been and always played."
When he fights, Robins throws. Boy, can he ever. He might not be a tactician like Shawn Thornton or an unstoppable force like Milan Lucic, but he makes-up for it with effort and charisma. Every confrontation on home ice seems to end the same way – with a resolute Robins waving to the crowd, giving… demanding energy and momentum.
New England hockey-fans love a self-sacrificing pugilist. They especially love guys with charisma (see Stock, P.J.). Robins fits the bill… but while he's exactly that, he's also much more.
In hockey, grinders are often pigeonholed. They're energy-guys. They're fighters. They're defense-first. They're meatheads.
Bobby Robins is player who embraces and embodies those stereotypes so brilliantly – yet simultaneously expresses the passionate, reflective sensitivity of an artist.
Still, this Renaissance–man is as tough as they come. On the ice, the 6'1, 220 lbs. winger roams the rink as a veritable wrecking-ball of aggression. When he drives the net, the crease will be crashed… literally. When he lines-up a hit, he's damn-well going to follow-through with punishing consequences. When he drops the gloves, he won't stop swinging until someone's butt is on the ice.
Yet, that burgeoning physicality is just one layer.
After I suggest 'warrior-poet,' a smiling Robins corrects me: "Fighter and a writer," he says. "I'm a Libra so I look for balance in my life. I'm definitely on the right path – I'm battling and releasing that aggressive animal side of me on the ice and concentrate on the more reflective side off the ice. I think it's a good balance – I definitely feel like I'm more balanced than I've ever been right now."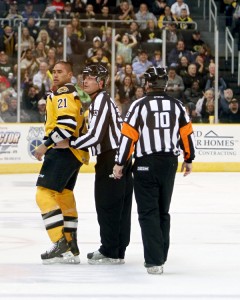 Off the ice, his blog – www.bobbyrobins.com – plumbs the depths of his experiences in pro hockey and life. Subtle, honest and well-crafted; his diaries and discourse evince a man whose sum is far more than his stat-line.
Some of the posts read in the positive, effervescent way Robins approaches hockey, his teammates and life. Some entries detail past difficulties – particularly with addiction – serving as a reminder of how far he's come.
"I'm well over two and a half years clean now. Two years ago – my first year back from Europe, when I was in Bakersfield it was really tough seeing guys chew and I was still walking that line where all it would take is one slip-up… I'm to the point luckily now where it's not even an issue – I don't think about it."
After four years at UMass-Lowell, Robins inked a pro contract with the Ottawa Senators but never saw NHL action. Instead, he shuttled around North American and European Pro Leagues for seven seasons before landing in Providence last year.
Despite being clean for several years, several Providence players 'dip'. It's not something that can be pushed to the background. Even reminded of his struggles, Robins remains focused and upbeat:
"If anything I look at guys who are doing it and say: 'I know where you're at, man. I've been there, I've done that and there is hope. It's a desperate feeling, an addiction like that. I just put it out there that I can be a resource and a guide if somebody needs one en route to quitting… [still,] these are all pro athletes and big boys and they can live their own lives.
"To me, it's not too hard [seeing teammates chew]," Robins states matter-of-factly "… it's just a reminder how addictive it is and how lucky I am that I was able to overcome it."
His blog frankly discusses themes of addiction and depression. Personal and engaging, Robins' said of his straightforward style, "I feel like I have my own voice… I grew up reading a lot of young adult literature like J.D. Salinger – learning how to write in first-person voice, getting your feelings across through your prose."
Robins reads Salinger's famous work, Catcher in the Rye frequently, and counts it as one of his major influences: "… Obviously that book captures a lot of angst and disappointment, while I try to have a little more positive spin than Holden Caulfield."
That optimism reflects progressions in Bobby Robins' own experience: "It's never too late for anybody. Whatever line of work you're in… I got a second chance in the American League really late, and I'm just trying to do all the right things and take advantage of it. Luckily, it seems to be a good fit [for me, here] in Providence. The fans are taking to me…"
"I'm just running with it and doing the best I can every day and trying to win every day."
Follow Bob Mand on Twitter at @HockeyMand