The Edmonton Oilers had already landed a significant free agent before last Friday. Jesse Puljujärvi, the former fourth-overall pick and World Junior Championships MVP, is returning to the fold. The relationship between him and the organization, once thought irretrievably damaged, is on the mend, and the Finnish winger will arrive at the Oilers' training camp looking to nail down a roster spot and restart his NHL career.
Edmonton Never Expected to Draft Puljujärvi
In 2016, when the general manager of the Columbus Blue Jackets, Finland's Jarmo Kekalainen passed on Jesse Puljujärvi, Peter Chiarelli couldn't believe his luck. Rushing to the stage, he jumped at the chance to select a player with such potential. He'd been so certain Puljujärvi would be gone, Chiarelli hadn't even bothered to learn the correct pronunciation of his name.
It was downhill from there. It may have been significant that a Finnish general manager had passed on a highly touted Finnish prospect. Rumours also abounded that Puljujärvi's agent, Markus Lehto, wrangled promises from the hapless Chiarelli on games played, linemates or ice time for the young player.
Related: Revisiting the Edmonton Oilers' 2020 Trade Deadline
That sort of promise can be hard to keep, and it may be that Puljujärvi felt mistreated by former coach Todd McLellan when he spent time on the Oilers' checking lines. Whatever the reason, after the 2018-19 season, Puljujärvi returned to his home country to suit up for Kärpät Oulu in the Finnish Elite League.
In Finland Puljujärvi Worked on His Game
Through the wonders of the internet, Oilers fans caught promising glimpses of Puljujärvi returning to form. Over the season, he was among the FEL leaders in scoring, finishing with a stat line of 24-29-53 in 56 games. With the Edmonton club in a never-ending search for secondary scoring, there were whispers of mending fences between the Oilers and Puljujärvi. Adding to the legitimacy of those rumours was the fact that last summer, a new general manager and coach had taken the reins in northern Alberta.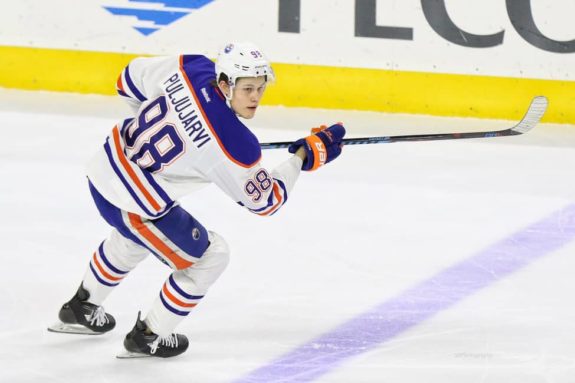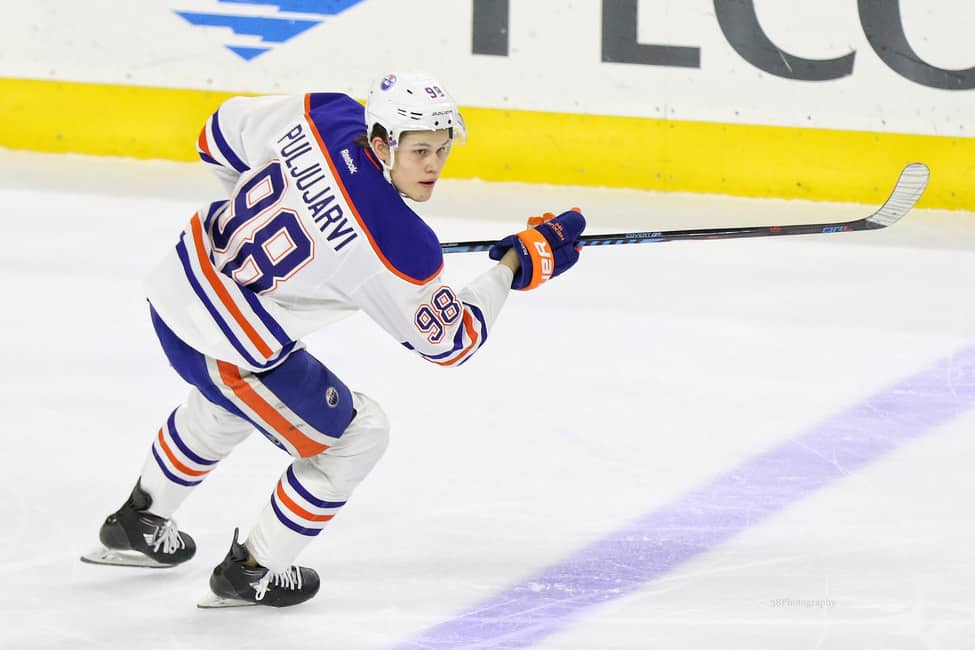 This week, as mentioned by fellow The Hockey Writers columnist Jim Parsons, the long-awaited news broke: Puljujärvi signed a two-year deal at a reasonable $1.175 million per season. The restricted free agent will play in Edmonton whenever the 2020-21 NHL season begins. For now, he is keeping his legs fresh with his FEL club, and working on his English (a weakness in his previous Oilers stint). The 22-year-old has no misconceptions about earning everything he's given this time around:
"I feel like it's going to be a new start. I've grown up as a person and a player. It's really exciting to be back there. I'm ready."

Jesse Puljujärvi, Edmonton Oilers
The burning question for Oiler fans, and the dilemma for head coach Dave Tippett, is where does Puljujärvi best fit in the lineup? It's all well and good to say that he won't be handed top minutes but there is a history with the player languishing when handled incorrectly. And while everyone hopes that this time will be better, there's still a good chance that the former top prospect will never be the NHLer he was once projected to become.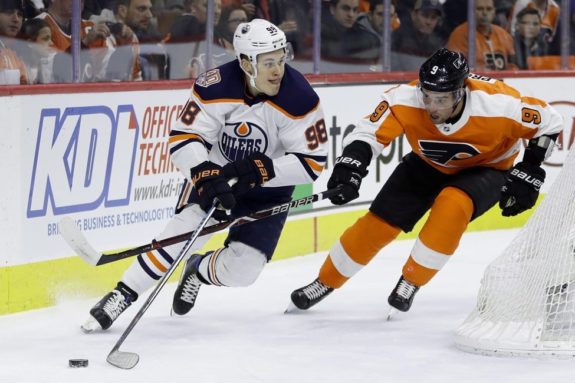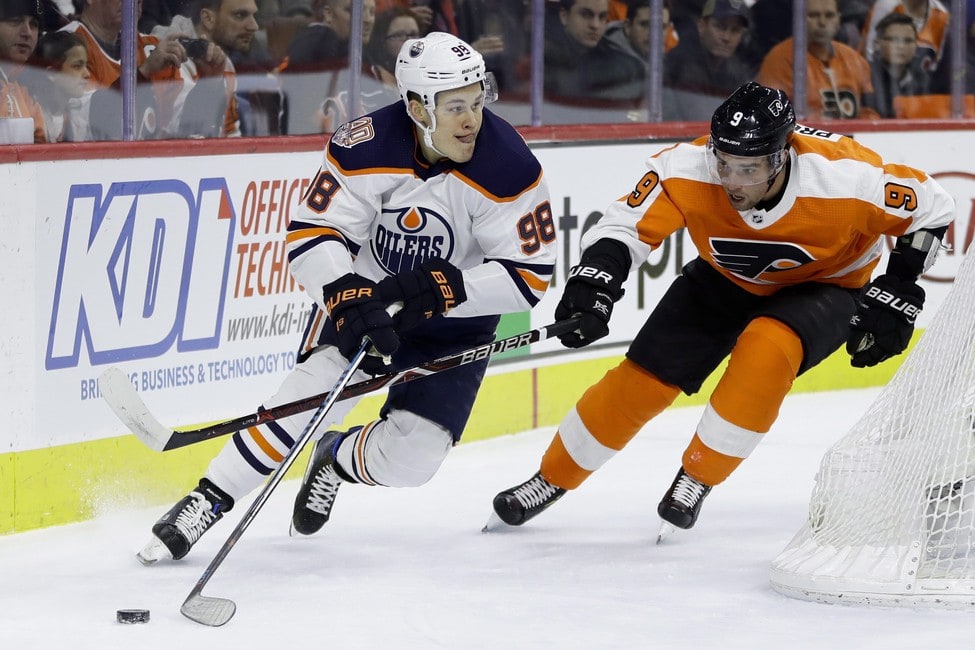 Puljujärvi should start the season in the top-six forward group. He should get steady minutes and second-unit power-play time to help him build confidence. After five to ten games, regardless of production, he should be placed on Connor McDavid's wing. Every player not named Milan Lucic has found a way to be productive alongside the world's best player and Puljujärvi will no doubt receive the McDavid bump just like previous and current Oilers Pat Maroon and Zack Kassian did.
Oilers Have a Chance to Recover a Lost Asset
If things work out, Puljujärvi will put up career highs in goals and assists. His defensive game may or may not have improved, but offensive production can balance out those concerns; just ask Leon Draisaitl, who won the Art Ross, Ted Lindsay and HartTtrophies with a negative plus/minus. With the recent signing of Kyle Turris, a third line with Puljujärvi and Turris could leak chances against, another reason to put the young Finn in a higher spot.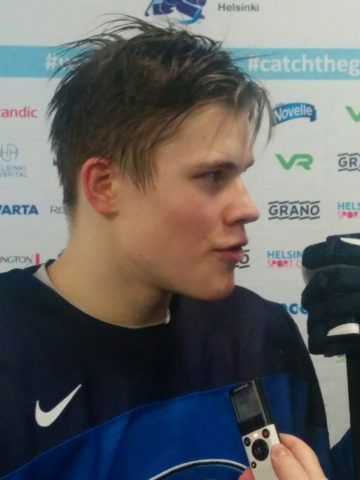 Imagining 30-40 goals for Puljujärvi on McDavid's wing is unlikely but not unthinkable and, if he's trending in the right direction, Ken Holland can pat himself on the back for recovering a seemingly lost asset. He can then decide to move Puljujärvi out at peak value or include him in the team's longer term plans.
The one thing the Oilers cannot do is allow Puljujärvi to again be seen as a bust. He may or may not spend the remainder of his NHL career with the Oilers but his return, and apparent growth as a player and a person, will be watched by GMs across the league. It's been reported that there was interest from multiple teams in acquiring his rights, at a discount, over the past year, and those same teams may be convinced to pay a premium if he truly finds his stride next season.
---
---