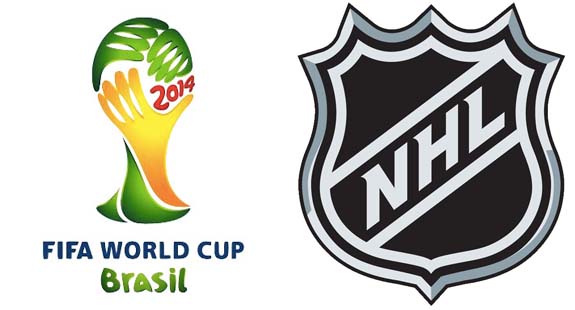 Today is a big day for soccer fans all around the world. Today is the beginning of the 2014 FIFA World Cup in Brazil. While the NHL season is about to end any day now, many hockey players have taken to Twitter to throw their support behind  different countries competing in this year's tournament. A lot of hockey players love soccer, so in the spirit of the worlds biggest sports competition  here is a look at a few NHL teams and who their World Cup counterpart would be. This is a list just for fun, so enjoy it and don't take it too seriously, we've had enough serious for one season. It's going to be the offseason any day now. We've all earned a little fun. So here it is, the NHL teams and their soccer counterparts:
Chicago Blackhawks-Spain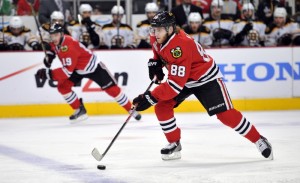 The Defending Champions. Both these teams boast an impressive collection of skill, to go along with some excellent defense. In Chicago, world class playmakers like Jonathan Toews and Marian Hossa are matched in Spain by the likes of Xavi and Iniesta. Chicago and Spain both know how to put the puck/ball in the back of the net as well. Patrick Kane and Patrick Sharp both had excellent seasons in Chicago, scoring 29 and 34 goals respectively.  In Spain the strikers David Villa and Diego Costa know how to put it in the net just as well. The real similarity between teams, though, is in the way they play. Both sides have an impressive ability to hold onto possession for long periods of time and wear down the opposition.  Between the two teams they're are 5 major championships won since 2008. 2 Stanley Cups for Chicago, and for Spain, 2 Euro titles, and a World Cup. They are both great teams, and while Chicago isn't going to repeat as Stanley Cup champions, don't expect Spain to give up their crown without a fight.
Montreal Canadiens-Brazil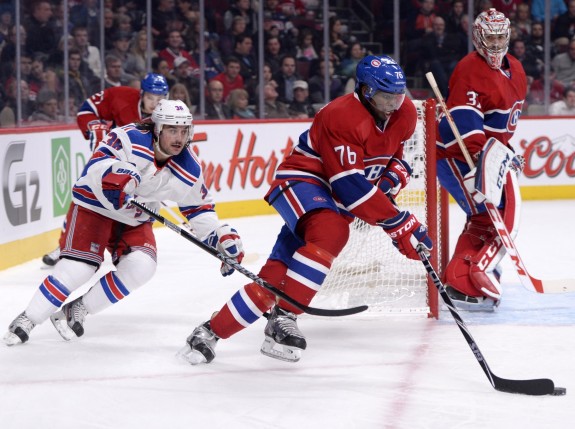 Who else would the all time leader in Stanley Cup banners be, other than the all time leader in World Cup titles. Montreal and Brazil and legendary teams known around the world. Both teams have incredibly rich histories, highlighted by some of the greatest players in the history of their sports. Montreal had the likes of  Maurice Richard, while Brazil has Pele. Every other team envies the history of success that both teams have. However for both teams it's been awhile since they've last won a major title. Montreal all hasn't lifted the Cup since 1993, while Brazil isn't in as bad of a drought, they've not won since 2002. These days both teams are a young group. Brazil, being lead by the young and very talented Neymar look to win the World Cup on home soil. Montreal, being lead by P.K. Subban is looking to do a little better than their impressive run to the Eastern Conference finals next season.
Pittsburgh Penguins-Argentina
Who needs defense when you have one of the best, if not the best, player in the world? The Penguins have Sidney Crosby, and Argentina have Lionel Messi. Pittsburgh and Argentina like to go for it. They have dynamic scoring all through their lineup. Malkin and Neal, di Maria and Sergio Aguero. These are players that will have no trouble scoring goals. There is a downside though. Neither team can say they have a particularly strong defense. Argentina, at this year's World Cup seems to be pinning all their hopes on simply outscoring the opposition. Much in the way Pittsburgh plays through Sidney Crosby to lead them in scoring, Argentina will likewise turn to Messi in hopes of winning their first World Cup since 1986. For both sides, if a title isn't won, then it's considered a disappointing year. Questions will inevitably be asked if these teams are not champions when it's all said and done. There will be second guessing of the players, the coach and the management. It's a lot of pressure to be expected to go so far, and these teams are expected to go far.
Toronto Maple Leafs-England
Have you ever heard anyone call either one of these teams overrated? It's not because they are bad teams or anything of that sort, but when each team's local media and fan base think they're the best thing to happen to their respective sport in years, then some detractors might suggest they're overrated. In England they say they invented the game, in Toronto it's a similar claim. Both teams claim that their city/country is the Mecca of their sport. The teams themselves are simply average. If all things go according to plan then they can be successful, and make a real push for a title. Unfortunately for both teams things rarely go that well. Neither team has won a major championship since the 60s. Both teams have run into bad luck on numerous occasions. There are good players and possibly bright futures for both teams. For now, however, outside of their respective fan bases, expectations remain low. The big difference between to two teams though, is that Toronto isn't regularly beaten in shootouts by a bunch of Germans.
Los Angeles Kings-Italy
Everyone says defense wins championships. Italy has a long history of a strong and supremely organized defense, and they have four World Cup trophies to show for it. The Kings by comparison have been a defensive force these past few years and are on the verge of their second Cup win in 3 years. While both Italy and the Kings have stout defenses, both teams have been known to have an occasional dry spell on offense here and there. Both teams can score though. When their offense is in the mood to put one past the goalie, each team has an impressive group of forwards that are very dangerous. We've all seen Jeff Carter and Justin Williams light it up in the playoffs this year. Many Italian soccer fans are hoping to see the likes of Mario Balotelli and Antonio Cassano lead Italy to a fifth title. It should be noted that it would be nice to see Jonathan Quick take some style tips from Italy keeper "Gigi" Buffon.
St. Louis Blues-The Netherlands
The Netherlands and the St. Louis Blues have never won a Stanley Cup or a World Cup. But they've both come close. Both teams are filled with talent. Every year now each team is expected to go far into the playoffs or tournament. It's been frustrating for both teams over the years to be so close on a number of occasions and watch as a rival manages to snatch the title away. If they play to their abilities both teams are capable of winning it all. Each side features game breaking talent like T.J. Oshie and Arjen Robben. While over the years both sides have been labeled as chokers by some, they are both very talented teams who's supporters hope their time will be coming soon. In the early 70's both sides made it to the final of their respective sports. The Netherlands lost to West Germany in the 1974 World Cup, and the Blues lost to the Boston Bruins in the 1970 Stanley Cup final. Speaking of the Bruins…
Boston Bruins-Germany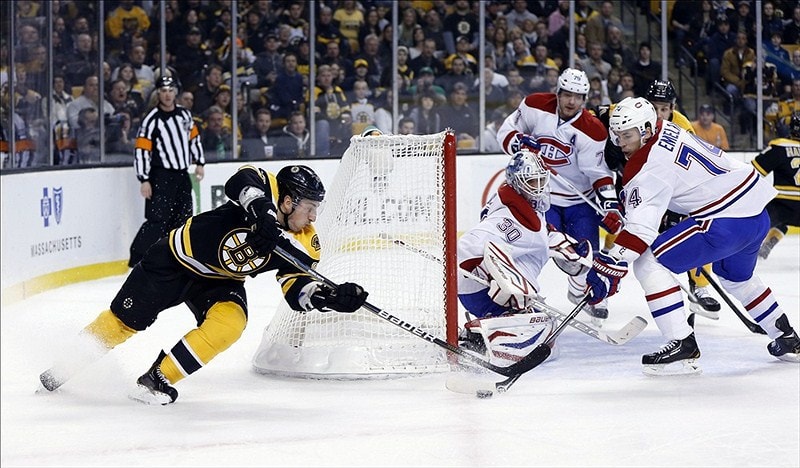 Both Germany and Boston have been a model of consistency recently. While the Bruins have experienced triumph and lot more recently than "Die Mannschaft" has, both teams are comparable in their style of play and ability to always be in the discussion of potential title winners. Germany and Boston have long been considered blue collar teams. Neither side had a habit of playing with too much flair. They just got down to business and did it efficiently. These days things are a little different. While both teams still have that hard working attitude at the core, they've started to add skill. Players like David Krejčí have been added to Boston, much like Thomas Müller and Marco Reus have come into the Germany team. Each team can now dazzle the opposition as much as it can wear them down. Boston also employed Bobby Orr a man that reinvented the defeseman position in the 70's, much like Franz Beckenbauer revolutionized the defender/sweeper position in soccer. Both men are considered by some to be the best defenders of in their sports.
Colorado Avalanche- United States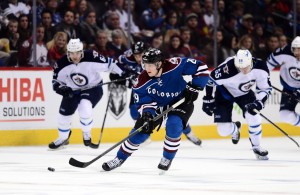 Nobody thought the Colorado Avalanche were going to do very much this seaon, but they shocked everyone by not only finishing in the top 3 of the central but they also won it. The US national team is hoping for a similar shock this year in Brazil. Both teams are young and have a lot to prove to a lot of people. The US is in group G, which has been named the group of death by some. Much in the same way the Avalanche could be said to be in the division of death with the likes of Chicago and St. Louis. For the United States to move out of their group they will need stellar goaltending from Tim Howard, much like the goaltending Colorado received from Seymon Varlamov. While both teams have suspect defense, they are hoping that the young offense can control games and score enough to see them advance. The US also let go of Landon Donovan, a long time member of the team who has been through all of the big moments in US soccer in recent years. Much like Colorado did with Milan Hejduk last summer, although the Hejduk departure was met with far less criticism. The US is also coached by an eccentric Jurgan Klinsmann who has experienced winning at the highest levels of his sport, just like Patrick Roy in Colorado.
Washington Captials-Portugal
Here is another pair of teams that have failed to win any of the big trophies in their sports. Both teams feature a superstar that is incredibly talented and disliked by most neutral fans. Again, never winning the big prize tends to earn teams the choker label. Washington and Portugal have gotten close to glory though. Washington lost the 1998 Finals to Detroit, while in 2004 Portugal lost the Euro Championsip to Greece. The big comparison here though is between Alex Ovechkin and Cristiano Ronaldo.  Both are major celebrities. They are both well represented in advertising all around the world. They each have their own ego to go along with their great talents. So naturally they both earn the ire of many fans. Their country and team depend on them, how they play can tend to determine the success the team will have. When they score goals and play hard good things happen. When they take the day off, or play lazy defensively then struggles occur. Neither team has been a favorite for a trophy in recent years, but they could be considered dark horses depending on how their big names play.
Vancouver Canucks-Uruguay
Alexander Burrows plays for the Canucks.
Luis Suarez plays for Uruguay.
Enjoy the World Cup everyone!