The Tampa Bay Lightning have assembled quite the collection of talent at the goaltender position over the past few years with the additions of Ben Bishop (2013 trade), Andrei Vasilevskiy (2012 NHL Draft), Kristers Gudlevskis (2013 NHL Draft) and Kevin Poulin (2015 waivers). With Vasilevskiy missing at least the first month of the season after having surgery to remove a blood clot from his left collarbone the depth chart will see everyone else get a little more playing time, including Adam Wilcox who was snagged by the Lightning late in the 2011 NHL Draft.
Following three years at the University of Minnesota that saw Wilcox record 73 wins (including tying a school record with 13 shutouts) in 115 games and lead the Gophers to three-straight conference titles as well as three-straight NCAA tournament berths — he signed a two-year entry level contract with Tampa and is now with their AHL affiliate, the Syracuse Crunch. He appeared in two regular season contests and one relief appearance in the playoffs with the Crunch last spring and should share duties in the crease with Gudlevskis this year as he searches for his first pro win.
Some scouts say his style is similar to his cousin who is an NHL goalie (more on that below) and that he could be an NHL starter one day if his development continues the path it has been on. Recently (via the power of technology and a little help from our friend) The Hockey Writers had a chance to find out a few things about Adam Wilcox including what he expects in his first pro season, what playing college hockey for his hometown team was like and of course we found out who his cousin in the NHL is.
The Hockey Writers: What has been the biggest adjustment for you coming to the AHL from the NCAA?
Adam Wilcox: I think the biggest adjustment first is traffic (in front of the crease); the guys are bigger. Everyone's going to the net, everyone's putting bodies in front; so I think the biggest adjustment especially for me – being probably one of the smaller goalies every night – is I really have to be strategic about where my depth is and where I'm looking on screened shots and through traffic.
THW: What are your expectations heading into this season with the Syracuse Crunch?
AW: Syracuse has a good team, Tampa has good management, good coaches and they have good players; for me that sets myself up to be successful and obviously I have to finish that. For me it's going in there and just working on my game to adjust to the pro level. Just be consistent in playing well; I want to come in and establish myself as a good pro my first (full) year here.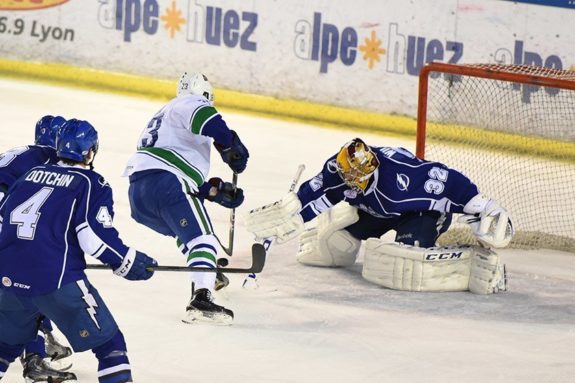 THW: You were a late round (6th round/178 overall) pick in the 2011 NHL Draft; what do you remember about that day?
AW: For me I didn't know if I was going to get drafted or not; I split, played a little less than half of my games my first year at Junior (Green Bay/USHL). I think for me going into it I probably wouldn't have went to it if it wasn't in my hometown. So I went to it and Tampa picked me in my hometown — the Xcel Energy Center is five minutes from where I live – it was an unbelievable. My parents were there. My best buddy was there, who's on the Carolina Hurricanes now. It was a really cool experience.
THW: As a kid from Minnesota (South St. Paul) what was it like to play at the University of Minnesota?
AW: It was awesome; I always wanted to goto college from the start, and my cousin played at Duluth (University of Minnesota-Duluth). Staying in Minnesota for me was kind of my main goal. I got an offer from the University of Minnesota and I jumped on the first opportunity for it. I think, the three years I was there – I wouldn't take any of it back. We made it to the Frozen Four, went to the championship game and fell short on that, but three years playing there, (and) being home…being able to bring all of my laundry home every weekend so my mom could do it (laughs) was pretty special. I got to see my family (a lot) which I think helped for when I had to turn pro and be away from them for most of the year. Overall it was an unbelievable experience.
THW: After three stellar seasons with the Gophers was it a hard decision to forego your senior season to turn pro?
AW: No, but obviously it's tough to leave school; anytime you leave before your senior year, whether it's high school (or college) which I didn't get to (be a senior) either — it stinks to give that up. Your friends, your last year being a veteran. But I think for me going into college, I knew I probably wasn't going to end up going four years if I had success at that level. It was the right decision, and it was the one that I wanted to do and I'm happy I made it at that time.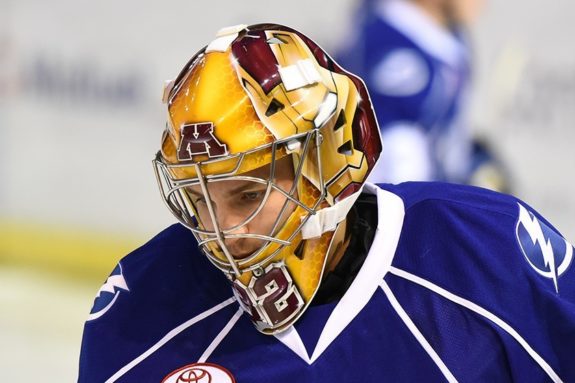 THW: Your goalie mask in college had IronMan on the sides; who's idea was it and how often do people ask you about it?
AW: It started in college. My uncle who designs stuff like that, he threw it at me — he always sends me some designs. His son is a goalie on the San Jose Sharks (Alex) Stalock, so he sent some designs and I was like, 'oh, IronMan kind of looks cool and the colors fit (with the Gophers colors)' and I stuck with it through college. I didn't know really what to do for my helmet here in the pros, but I decided to keep some of it and keep the tradition going. My uncle sent over some stuff, like what's going to be on the back of my helmet; some IronMan stuff and then some Crunch and Tampa stuff I threw in.
Special thanks again to the fabulous Kristen Denick (Account Executive with the Syracuse Crunch) for helping to put this together for THW.
Dan Rice can be reached via Twitter: @DRdiabloTHW or via Email: drdiablo321@yahoo.com.