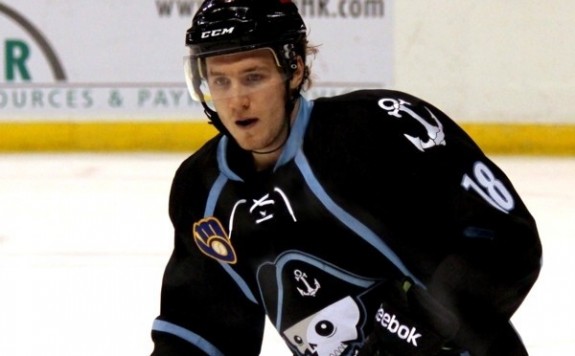 Colton Sissons is being regarded as the next big prospect for the Nashville Predators.  Many, including GM David Poile, expect Sissons to be given a roster spot when the season begins in October. Without Mike Fisher fo the next 4-6 months, the natural centerman will be needed. Sissons, 20, already has 17 games of NHL experience under his belt totaling 1 goal, 3 assists.
Last season was Sissons' first professional year. In 62 games with the Milwaukee Admirals, he scored 44 points (25 goals, 19 assists). That type of early success professionally is what Nashville has been looking for from Sissons since being drafted 50th overall (2nd round) in 2012.
The Hockey Writers caught up with Colton Sissons at development camp to discuss his success in Nashville last season, the opportunity presented to him, and much more.
The Hockey Writers: How was it during your NHL debut on January 28 in Winnipeg?
Colton Sissons: It was a whirlwind of 24 hours. The time I got called after my game in Milwaukee and (assistant GM) Paul Fenton sat me down and told me I was called up, it was a bit of a blur. I was trying to stay relaxed and remember as much as I can. It was awesome. I was super nervous going into it, but after I got my first shift out of the way, I was feeling a lot more comfortable.
THW: What about your first goal against Buffalo on March 27?
Sissons: It took a little while. I was wondering if it was ever going to happen. A little bit of luck involved. I think I was working hard, so I deserved a bounce. I just threw it in the middle and fanned on the shot a little bit and came right back to me on the back door and put it home.
THW: Where is the puck?
Sissons: They still have it here. I think they usually take care of guys' first goals with something special.
THW: What do you take from your 17 games last year?
Sissons: I just figured out what it takes to stay in the NHL. I got a little taste and saw the habits of guys who have had long, successful careers here. Just trying to follow in their footsteps as much as I can. It's a process and I'm just continuing to work.
THW: Do you think you can make the team right out of training camp?
Sissons: That's definitely my goal. I believe in myself to do that. I'm going to lay it all on the line and see what happens. That's all you can do as a player. Hopefully they'll like my performance.
THW: Of course you can't be happy that Mike Fisher is out 4-6 months with a ruptured achilles tendon, but it does give you an opportunity.
Sissons: Yeah. Injuries are a tough part of the game and I feel for him. It sucks sitting on the sidelines watching your team, but that's it. Sometimes with injuries, younger guys get the opportunity. You get called upon to fill a role. We'll see what happens.
THW: Who do you replicate your game to?
Sissons: One of the guys I definitely replicate my game to is "Fish" (Mike Fisher). He's had a long, really great career and is all over the ice — defensively, offensively, power play, penalty kill. He does it all. That's kind of what they're pushing me towards as a player and that's what I want from myself as well.
THW: Have you and Fisher talked much? Has you taught you a little bit?
Sissons: A little bit. He's a pretty quiet, reserved guy. So I kind of just watch what he does a little bit. Just playing with him, you get to know his tendencies. That's the biggest thing.
THW: Do you have a pregame routine?
Sissons: Nothing too exciting. I usually just come to the rink in the morning and do our thing, pregame skate. I always have a nap. I always have my pregame coffee and banana right before I go out, so that's probably one thing the fans might not want to know about, but its the inside details.
Colin Fitts is a Nashville Predators staff writer and is a credentialed media member of the Chicago Wolves. From Nashville, Tennessee, Colin majors in journalism and public relations at Columbia College Chicago. Follow him on Twitter, @FittsTHW. Email: 22fitts [at] gmail [dot] com.