The NHL Entry Draft is one of the big dates everyone circles on the NHL calendar.
Each team and fans of them get to predict and analyze which player best suits their team and how they fit into the plans going forward.  Trying to predict which team added a franchise cornerstone, or found a late round gem.
This year was no different than any other and two days of excitement and promise.
Now that the 2014 draft has completed and all of the suspense and intrigue has dissipated, what better time to look ahead to 2015 and some of the top end talent available then.
Widely regarded as a much better draft class than 2014, there is predicted to be multiple franchise type players available at the top of the draft. Not that there weren't elite players in this year's edition, but most scouts do not predict any of the top picks in 2014 to be franchise players.
Here's an early look at the top ten blue chip prospects for 2015.
1. Connor McDavid, C, Erie (OHL)
Granted exceptional status and entered the OHL at age 15 and he has done nothing to dispel the notion he is the next "once in a decade" franchise talent.
Has been mentioned in the same breath as Sidney Crosby and Wayne Gretzky which should tell you all you need to know. His awareness and vision are off the charts.
Andre Burakovsky on Connor McDavid: "He's the new Crosby, he could easily be the best player in the world in a couple of years."

— Adam Vingan (@AdamVingan) July 8, 2014
2. Jack Eichel, C, U18 NTDP (USHL)
So far the 2015 draft seems like a two horse race with McDavid and Eichel putting a gap between those after them.
Eichel doesn't quite have McDavid's hype, but that's changing and it won't be long before he is also a household name.
Total package prospect.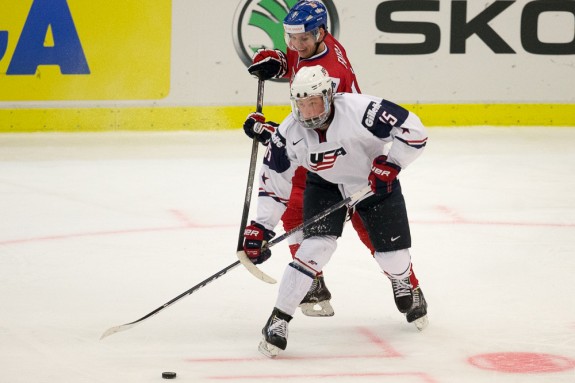 3. Noah Hanifin, D, U18 NTDP (USHL)
While there is a gap between the first two and the rest, Hanifin is an elite prospect in his own right and any other year would be mentioned in the conversation for first overall.
He has the combination of size and skating ability that could make him a franchise defenseman.
4. Oliver Kylington, D, Farjestads (SHL)
Has top level offensive abilities and is an elite skater and puck-mover. Playing for Farjestads at age 16, he's the youngest player to score a goal in the SHL.
5. Mathew Barzal, C, Seattle (WHL)
Taken 1st overall in the 2012 WHL draft, Barzal has continued to impress and get better. Shows great on-ice vision and playmaking ability.
Will need to add size and strength, but has all the tools to be an impact player.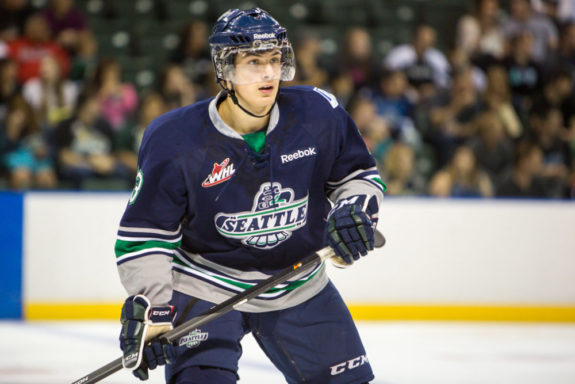 6. Colin White, C, U18 NTDP (USHL)
All around talent, shows two way skill set and very high hockey IQ and the ability to finish at a high level. Also shows great work ethic and intangible skills.
7. Pavel Zacha, LW, Liberec (CZE)
Recently taken first overall in the 2014 CHL Import Draft by the Sarnia Sting, it's unknown whether Zacha will make the move to North America or stay in his native Czech Republic, but indications are he will stay put.
Has all the tools to be a top prospect, has good size, hands and protects the puck well. Also adept as a finisher or playmaker.
Sarnia was advised that Pavel Zacha has a professional contract in Czech Republic for 2 more years and has no interest in playing for them.

— Allan Walsh (@walsha) July 2, 2014
8. Travis Konecny, C, Ottawa (OHL)
2013-14 OHL Rookie of the Year has exceptional offensive capabilities and has top level speed and the ability to reach a gear many other prospects don't. Also not afraid to battle and go into the tough areas.
9. Rasmus Andersson, D, Malmo (SWE 2)
Solid, all around skill set, possessing good size and two way ability. Shows plenty of poise and does not seem to get rattled. Makes good first pass and excellent positioning.
10. Dylan Strome, C, Erie (OHL)
Brother of Islanders prospect Ryan Strome, he did not have the kind of offensive impact many thought he would in his rookie season.
He still possesses elite playmaking and vision and showed excellent defensive skills in his first season and will be looked on to take the next step in his second season.
Honourable Mention:
Kyle Connor, C, Youngstown (USHL)
Mitch Marner, C, London (OHL)
Mikko Rantanen, RW, TPS Turku (SM-Liiga) 
Jordan Greenway, LW, U18 NTDP (USHL)
****
Two other sources to check out for 2015 NHL draft rankings are:
2015 Draft Rankings War Room: First Look (edited by THW's Chris Ralph)
Future Considerations Early 2015 Top 30 Rankings
__________________________________________________