July 1st brought a lot of big news- and even bigger changes- to dozens of teams across the NHL.
Yet, nine days later, Boston still sits with the same roster, same signings, and same problems they've been facing all week. What gives?
The Superstar Theory
Looking at what the Bruins have done over the past few years offers a few answers- but not many. In lieu of big scorers like Tyler Seguin and Phil Kessel, Boston's General Manager Peter Chiarelli has instead favored a system of rolling all four lines, ensuring that each line looks capable of scoring sufficient numbers of goals throughout the course of the season. Some teams prefer to have a first line that houses multiple forty-plus goal scorers, but Chiarelli has tried to spread those goals out over a few lines- and a few players.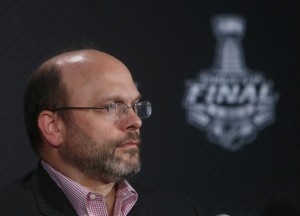 This, in theory, works as a double whammy. Not only do players get more resting time, but instead of shelling out enormous bucks on superstars (for clarification on what kind of "big bucks" I'm talking about, read up on the Kane and Toews contracts), Boston's management can spread the money out over more quality players. Distributing the wealth, if you will- not only in cap space, but in scoring ability, as well.
While this management style seems like it would be foolproof, though, it fails to take into account the basics of cap hell. When you sign nine top-six forwards, it's inevitably going to cost you more than if you sign Brad Richards at the same time as six or seven mildly sub-par players. Do this for long enough, then add enough budding talent to your prospect cabinet, and you're going to find your team creeping closer and closer to the cap ceiling- without a full roster.
Hence, we give you: the Cap Crunch.
Rather than signing Jarome Iginla to the kind of contract a player of his caliber deserved, they were smart about it. Boston took a gamble, signing Iggy for far below his market value- but with a handsome bonus, should he help the team to the kind of postseason they were hoping for.
This is a good move when it comes to players who are 35-plus, and expect to pull in the big bucks. Teams that sign aging players to long-term, high-cost contracts run the risk of ending up in financial binds without the talent to show for it. Players over 35 are much harder to trade, especially if they have high cap hits- it's a much safer move to sign them for less, and offer bonuses for performing the way they have in the past.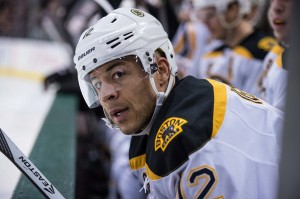 There is one key exception to this, though. While signing may seem like it emulates  a Wall Street-like frenzy of excitement, GM's aren't allowed to play with money they don't already have. Players can be given bonuses big enough to buy a mansion, so long as that bonus doesn't push the team over the salary cap– which is where Boston went wrong last year.
I'm unsure whether Chiarelli had that little faith in the team doing as well as they did, or if he simply didn't care about what the ramifications of Iginla's bonus would be this coming season. Between Iggy, Dougie Hamilton, Torey Krug, and Ryan Spooner, the team ended up with almost five million dollars in bonus overages. This means that the bonuses actually earned by these four players- who received payroll bonuses of $3.75 mill, $200k, $850k, and $25k, respectively- surpassed the cap ceiling by millions.
When a team receives a bonus overage penalty, it's a bit different from the NBA luxury tax- which, if you're a fan of the Brooklyn Nets, you're now very familiar with. The team can't just pay the fine and go on signing players as planned. Instead, the penalty is given in the form of limited cap space for the following season- meaning that in addition to having less cap space due to LTIR forward Marc Savard (which I'll explain later), the Bruins are going into the 2014-2015 season with five million less in cap space than every other team. This is particularly painful, since the cap ceiling had been anticipated at $71 million- and was finalized at $69.
Where do we go from here?
Peter Chiarelli Wouldn't Mortgage Bruins' Future To Re-sign Jarome Iginla http://t.co/dH1yNKrydK

— NESN (@NESN) July 2, 2014
Chiarelli has said that he wants to keep the current roster intact, which has already proven to be impossible- not only did Shawn Thornton have to look elsewhere in the postseason for a contract, but Jarome Iginla himself signed with the Colorado Avalanche on a 3-year deal, and mid-season blue line acquisition Andrej Meszaros chose to head to Buffalo. Chad Johnson, who had served as backup goalie to Tuukka Rask this past season, chose instead to sign with the New York Islanders.
Looking at the Bruins' current roster, though, it seems that Chiarelli has more to work with than many Boston fans believe. Using the handy-dandy depth chart on CapGeek.com, I've been arranging and rearranging Boston's lineup in order to see what can be done using the players we have to work with right now. It's doable- it's just going to be a little tricky.