On Friday, it was announced that the salary cap for the 2014-15 season would be $69 million, two million dollars less than the $71 million that was projected in December. The news was not welcome among the large NHL markets, including Philadelphia, who is already over the cap without a complete roster. However, no team should be as concerned about this announcement more than the Chicago Blackhawks.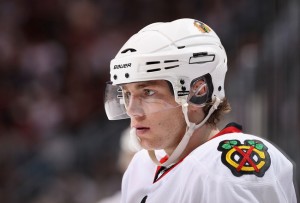 The news about the cap came just a day after it was reported that Patrick Kane and Jonathan Toews, scheduled to become unrestricted free agents in the summer of 2015, were looking for an extension with an AAV of $12 million. A cap number that high would make them the two highest paid players in the league, besting the current leader Alex Ovechkin by a little under $2.5 million.
The Chicago Blackhawks are very familiar with cap problems. After winning the cup in 2009-10, they traded 8 players from their Stanley Cup winning roster to get under the cap. However, they were able to remain competitive and won another cup in 2012-13. For the 2014-15 season, the Chicago Blackhawks are pretty much set in terms of the salary cap. However, for 2015-16, they are going to be in a world of trouble.
Chicago Blackhawks Projected 2015-16 Roster
The Blackhawks better make one big push to win the cup in 2014-15, because once 2015-16 hits, their roster is going to look remarkably different.
Let's start with Kane and Toews. They can demand $12 million a year all they want, but it doesn't mean they'll get it. That figure is the opening pitch in what will likely be a long negotiation process. By the time the extensions are finally done, the Blackhawks should be able to work that number down to about $10 million or less. For now, let's assume they settle on $10 million each.
This is what the Blackhawks' contract situation will look like going into that offseason: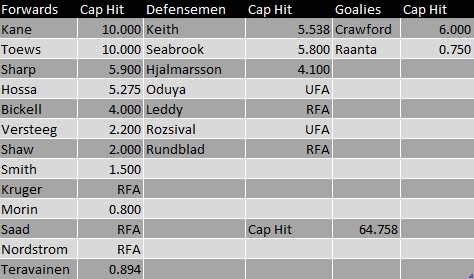 That means the Blackhawks will have $64.758 million committed to ten forwards, three defensemen, and two goalies. On an NHL roster, at a minimum, a team would like to carry 13 forwards, 7 defensemen, and 2 goalies. So, that means the Blackhawks will have to add three forwards, and four defensemen.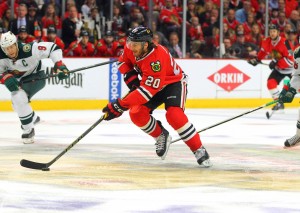 Projecting the 2015-16 cap is problematic. The disappointing 2014-15 total comes after a dream Stanley Cup Finals matchup that pitted two huge markets against each other. That final was the byproduct of one of the most exciting playoffs in recent memory, with an absurd number of comebacks and overtime games. It was a dream come true in terms of raking in hockey related revenue. And yet, the cap did not go up as much as expected. For the sake of the exercise, let's say the cap goes up by 3%, to $71.07 million for 2015-16.
That would leave the Blackhawks about $6.312 million to sign seven players. It's possible to get seven players for that amount of money, but the quality will represent a massive downgrade compared to the current roster. One thing working for the Blackhawks is that they will have some cheap young players that cap step in and fill those spots. By 2015-16, Adam Clendening, Ryan Hartman, and Mark McNeill will likely be ready for the NHL.
Brandon Saad represents the biggest player the Blackhawks will need to re-sign. After his strong playoff performance this past season, Saad will likely follow it up with a career-high in points in 2014-15. I think a cap hit of about $3.5 on a two year bridge deal is reasonable. The Blackhawks will also have to re-sign Nick Leddy. Let's put his qualifying offer of $2.7 million in there as well.
Here is what it looks like after the above additions: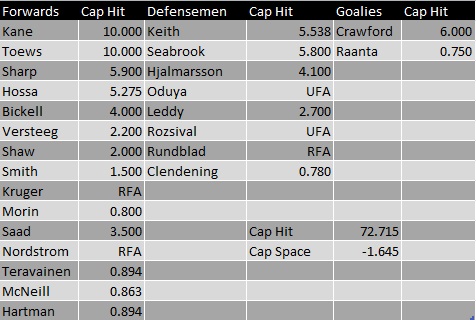 The Chicago Blackhawks would already be over the salary cap by over $1.5 million with two more defensemen to sign, and a suspect defense after the top 3. It also does not take into the fact that Leddy would likely demand more than his qualifying offer. Leddy would be playing #4 minutes at even strength in this scenario, which would be a big step up for him considering he was a #6 this season. There would also certainly be some growing pains associated with having so many young players in the lineup.
After the 2014-15 season, the Blackhawks will certainly have to do a lot of re-tooling, maybe even a mini-rebuild. As a result of these cap troubles, it will be basically impossible for the Blackhawks to improve their NHL roster this offseason, or next, because any free agents signed or trades made would have to be accompanied by a corresponding move to decrease salary elsewhere and weaken the team.
What Can the Blackhawks Do About It?
The Blackhawks will almost assuredly be forced to trade multiple players to get compliant with the cap. But who can they trade? Trading any of the top 3 from the defense would make the unit look very shaky. A few candidates would likely be Kris Versteeg or Bryan Bickell. Despite how clutch he is in the playoffs, Bickell's regular season performance does not merit $4 million a year.
The other option the Blackhawks could utilize is a buyout. However, the Blackhawks already used their two compliance buyouts on Rostislav Olesz and Steve Montador. And with how preciously valuable cap space is to Chicago, having the dead weight from a regular buyout would be a waste. It will almost assuredly be a trade.
Marian Hossa and Cap Recapture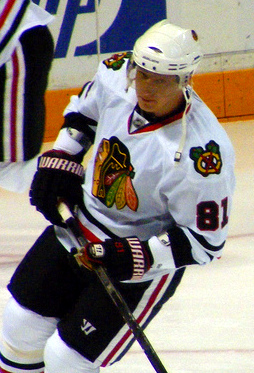 As if the cap problems weren't bad enough, there is another dark cloud slowly approaching the Blackhawks. When the new CBA was signed, an overlooked addition was the inclusion of cap recapture penalties for teams that tacked on extra years to a player's contract to bring the annual cap hit down. There are 20 contracts eligible for penalties, and Marian Hossa's is one of them. Hossa, currently 35, is still signed for seven more seasons, which would take him until he is 42 years old.
If Hossa retires before his contract is up (which he almost assuredly will), the Chicago Blackhawks would face varying amounts and years of cap penalties as a result. The breakdown by year can be found here. At its worst, the Blackhawks could face a total of $18.375 million dollars in penalties over a span of five years if Hossa retires after the 2015-16 season.
While it is unlikely cap recapture penalties will impact the Blackhawks in the next two seasons, they will very likely be feeling the pain from them in the following years.