Flyers GM Ron Hextall certainly knows how to keep everyone guessing. After all, who even dreamt of the top overall pick in this year's NHL Entry Draft to even be within Philadelphia's grasp? But even when the potential deal fell through, Hextall and his staff again threw fans and pundits another curveball by selecting Travis Sanheim with the 17th overall pick.
Is this selection another act of wizardry from Philly's beloved former goaltender, or a reach that will inevitably leave the franchise in regret down the road?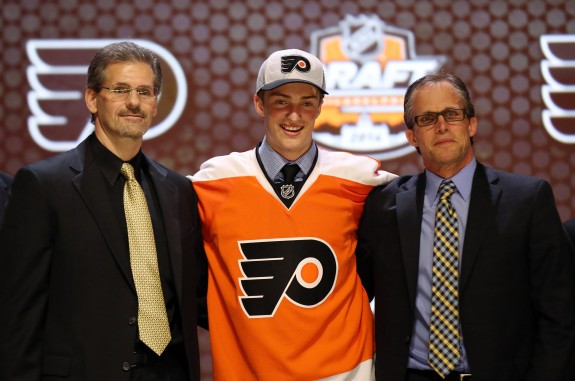 Head-Scratcher, Or No-Brainer?
With plenty of value available at pick 17, the Flyers stayed the course to their plan of carbing up on defense and speed. Names like, Alex Tuch, Anthony DeAngelo, and Kasperi Kapanen were passed by when Hextall announced Travis Sanheim as Philadelphia's first-round selection.
"We feel we got the best player with the most upside," said Hextall. "His path is one that is very intriguing."
"Intriguing" perfectly describes a player ranked 53rd by Central Scouting's mid-season rankings of North American skaters. And if taking the best available player is the wisdom acquired from blue prints of other successful organizations, why did Hextall and company use their valuable first-round pick on a player who's rank suggests he would be a projected as a late second round selection?
"The 18-year-old shot up through pre-draft rankings over the past year, his first season with the WHL's Calgary Hitmen. He had been placed as low as 167th among North American skaters in Central Scouting's mid-year list, before settling in at 53.

"Still, 53 is quite a distance from 17. But as they've done in the past, the Flyers chose based on progression — and the 6-foot-3, 181-pound defenseman has shown a great deal of improvement over the past handful of months.
"That's a big part of why he met with all 30 NHL teams, and knew that there were other interested parties had the Flyers not claimed him." — Sarah Baicker, CSN Philly
By solidifying their ownership of Travis Sanheim, though, teams like Minnesota, Tampa Bay, and Pittsburgh gobbled up talent that was considered more profitable. Shortly after Sanheim posed for pictures with the Flyers' brass on the stage, the Wild selected Alex Tuch, who was the NHL's central-scouting's top ranked American center.
Travis Sanheim said he is related to the Hextall family but didn't think that would ever factor into him being drafted by the Flyers

— Tim Panaccio (@tpanotchRET) June 28, 2014
Sanheim is a great skater and has off the chart hockey IQ. This is a good thing Flyers fans. They're building a hell of defense stable.

— Mister Jimmy 🇨🇦 (@JimmyHespeler) June 28, 2014
Tuch's lack of skating speed, grouped with the organization's surplus of centers, was enough for Hextall to pass on the enormous Boston College-committed forward. And after recently locking up Shayne Gostisbehere, the Flyers were able to be more selective when looking for more offense from the blue line, which is why they skipped over Anthony DeAngelo.
"You do a lot of research on these kids,"
Hextall explained
. "We don't just watch them on the ice and all of a sudden we grab the kid. We try to figure out why he went on a rocket-ship ride there. It seemed like he was trying to get comfortable with the Western Hockey League, and it took him a little while. I've seen this with young defensemen before."
The Second Coming of Ryan McDonagh?
Travis Sanheim's boyish looks, accompanied with his 6-3, 181-pound frame, resemble an 18-year-old Sean Couturier. But his vastly growing stock, along with his vision and skating ability have gained comparisons with another current NHL player: New York's Ryan McDonagh.
"I compare him at the same age to Ryan McDonagh. He's a strong skater with excellent hockey sense and as his confidence has grown so has his game," said Craig Button of TSN. "He's going to go in the first round and somebody's going to get a real good player. There's not a lot of bite to his game but he's a very intelligent player and he's competitive. He doesn't get pushed out of games. He just got better with each passing game with Calgary this year. He had two coming out parties, first in the WHL playoffs with the Hitmen and then with Canada's under-18 team at the championship in Finland. He's opened a lot of eyes."
If the Flyers did, in fact, land themselves the second coming of Ryan McDonagh, there's still a growing process that Sanheim will undoubtedly undergo. The Rangers were patient with McDonagh, despite not being the team that drafted him 12th overall in the 2007 NHL Entry Draft.
The Montreal Canadiens, the team that selected McDonagh, packaged the 6-1 defenseman in a seven player trade with New York in June of 2009, and the Rangers quickly reaped the benefits.
In the 2010-11 season, McDonagh not only made his NHL debut, but dressed for a total of 40 games. Although he accumulated only nine points during his rookie campaign, the Rangers thought highly enough of him to use him in five playoff games that post-season.
Sanheim's scoring ability isn't what landed him at the 17th spot in the draft, though. Much like McDonagh, Sanheim's offensive numbers previous to skating in the NHL were moderately average. With only one year of experience at the WHL level, however, Sanheim did record 29 points in 62 games. But as Hockey's Future talent analysis shows, his rise through the rankings can be attributed largely to more playing time.
"Sanheim has limited experience in WHL with only one season in the books. Puck-moving defenseman with very good vision. Progressed very quickly with increased ice time during second half of season. Tall frame with room to add weight." — Hockey's Future
Sanheim himself, though, sees himself in another current NHL defenseman – Jay Bouwmeester. "He's a pretty good skater and he sees the ice well, and that's a guy I model my game after."  If Sanheim develops into another Ryan McDonagh, or even the type of player resembling him, Ron Hextall's first draft selection as GM of the Flyers will go down as a home run.
The Significance of the Travis Sanheim Selection
The significance of the draft pick used to take Travis Sanheim is deeper than most realize. It signifies the value of top tier defensemen in the NHL today, with four of the five defensemen taken in the first round taken higher than projected; a trend with deep correlation with the overall difficulty of acquiring a top-four blue liner throughout the league.
"Nowadays, there is often a dearth of quality blueliners available on the UFA market. Those who are available at the top of the UFA class are often players in their late 30s, frequently injured players or ones who have had past success but have struggled in the last few seasons. While there are sometimes bargains to be had, the overpayments of the better UFA defensemen often exceed the (inflated) cost of preemptively signing a comparable in-house player to a contract extensive.

"In a similar context, it is often difficult these days for teams to trade for significant blueline help. It is very much a seller's market, with the exception of problem contract, injured or soon-to-be-UFAs that the seller does not want to bring back." — Bill Meltzer, Hockey Buzz
Defencemen are the most sought after commodity in the NHL these days, and that was reflected very clearly in the draft. Teams covet them

— Derek Neumeier (@Derek_N_NHL) June 29, 2014
If any team knows this sobering fact, it's the Flyers. After giving up Luca Sbisa, Joffrey Lupul, two first-round draft picks, and a conditional third-round pick for Chris Pronger, the Flyers found themselves competing for the Stanley Cup the following season.
But after Pronger's career was cut short, despite nearing the end of it
, they've yet to acquire that impact defenseman that championship teams such as, Los Angeles, Chicago, and Boston all already have.
https://www.youtube.com/watch?v=VGRTTNdtVIw
Hextall loaded up with defensemen in his first draft as GM, and the Sanheim selection set the tone.
"We've got a real good group of young defensemen now,''
Hextall proudly explained
. "I've got a mental picture of our team in three or four years and I get excited."It's now time for Travis to take the next step. Work harder, eat right, develop his body, develop mentally. There's a growth period here. He's a long way from playing in the National Hockey League.''
The other meaningful tidbit of Sanheim's selection at 17 is that it marks the first time the Flyers owned the 17th overall pick since they used it to draft the legendary Bobby Clarke in 1969. As everyone knows, Clarke would go on to lead the Flyers to back-to-back Stanley Cup championships in 1974 and 1975. No pressure, Travis.