"The best part about hockey is that once you are on the ice, nothing else in the world matters. It is almost as if hockey is my escape from reality. Once I am in the rink my mind just kind of switches to hockey mode and that is the only thing that matters. What also is great about hockey is the friends you make. My friends that I made from hockey will be my friends for life, and the bonds that you create from the sport are irreplaceable."
Those are the words of future Boston University defenseman and current USNTDP player, Brandon Fortunato.
Fortunato grew up playing hockey in New York. He was never the biggest kid, but he always had a head for the game – something his father stressed to him at an early age.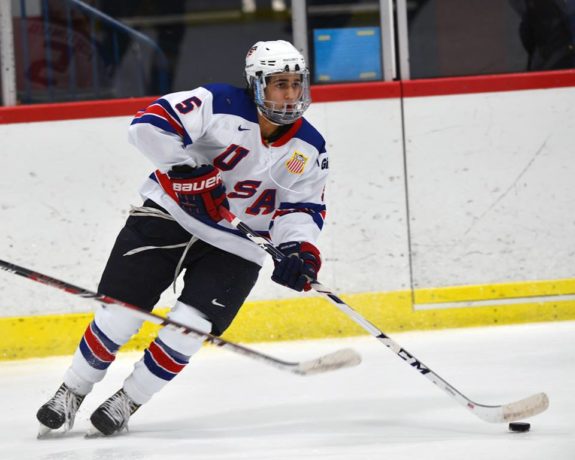 "
My dad has the biggest influence in my career because he was the one who introduced me to the game, and he has taught me all the tools it takes to become a hockey player," said Fortunato. "From teaching how to catch a pass, to teaching me to have good body language, he has taught me everything I know."
His father has taught him well. With his head on a swivel, Fortunato has developed into a great puck-moving defenseman. His short stature makes him accelerate quickly and within a few short strides, he's at top speed. His hockey sense and knack for knowing where his teammates are around the ice have helped him grow to become an offensive-minded blueliner. But while his offensive game is surely what makes him a commodity, one aspect often gets overlooked.
"I think my defensive positioning is really good," Fortunato mentions. "Even though I'm not a physical presence on the ice, I still tend to not get scored on because of my smart defensive positioning. My good, active stick also probably gets overlooked sometimes, as well. I have to have a good stick in order to stop players because I'm not the most physical player out there."
Long Island Royals and the NTDP
His play was noticed by Hall-of-Famer, Pat Lafontaine who coaches the Long Island Royals of the AYHL. Another player on the team with Brandon was Justin Bailey, a 2nd-round selection of the Buffalo Sabres in last year's draft. With a great mix of talent, character, and toughness, the Royals powered their way to a National Championship. Fortunato didn't take the opportunity for granted.
On what he took away from playing for Lafontaine: "It was a tremendous honor playing for coach LaFontaine.  He is such a great player and coach and has showed me so many things to help improve my game. But if I had to cut it down to one piece of advice he has told me that I still remember to this day, it would be that in order to be a great hockey player you must make goals for yourself and work towards those goals everyday."
From Long Island he moved on to bigger and better things when he was invited to the U.S. National Team Development Program. While playing for the U17 team, he represented Team USA in the World Hockey Championships where he won a bronze medal.
You don't play for 3rd place, and Brandon wanted another shot at a gold medal. This year, after graduating to the U18 squad, Brandon played lights out for the team becoming the leading scorer among defenseman with 37 points and a +33. Finland would be the host to the U18 team at the World Junior Championships and Fortuanto (along with the rest of Team USA) would end up winning the coveted gold medal.
"This was my greatest accomplishment because it was on the international stage, and the best of the best were there from each country, and we still managed to win."
2014 NHL Draft
The two years spent with the NTDP were grueling, but provided him with experiences he will carry for the rest of his career. However, the next big opportunity in his life is the 2014 NHL Draft in Philadelphia.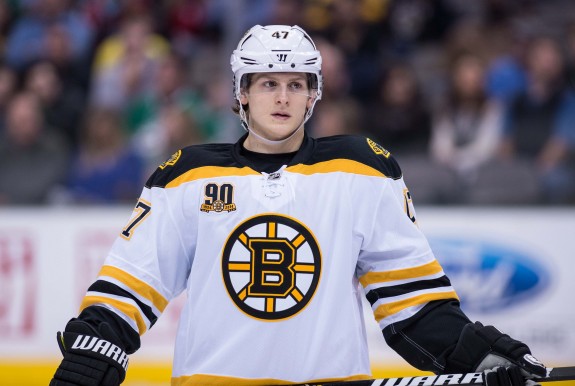 Some teams have taken interest in his two-way play and his speed. As for his NHL comparison: "I like to compare myself to a Tory Krug or a Ducan Keith. Just good with the puck and can make a good first pass, evade forecheckers, and run a power play. I'm an offensive defenseman who loves to have the puck on his stick, and loves to get points."
He's played against some of the best talent in the world. It's always fun to hear what defensemen think about their opponents and which ones cause them the greatest fits. I asked Brandon who the toughest player he's had to face, and his response wasn't a surprise considering he'll likely be selected in the top five picks.
"William Nylander, and because he is so smart and creative, and no matter where he is on the ice he is always a threat. He also makes other players around him better."
There are always parts to every hockey player's game that need work, no matter how good you are. Fortunato knows full well that he's not where he wants to be and is a ways away from the NHL.
"My shot and physical presence needs the most work. I am not even close to being filled out with my body, so I need to get stronger and put on weight," Fortunato said. "I plan to be in the weight room a lot, and shooting heavy pucks everyday. As far as skating, I skate everyday in the summer because I just love to work on my hands and skills."
Since he was a kid, he was also one of the smallest players on the ice. Height disadvantage gives players like Fortunato something to strive towards, but it brings with it positive and negatives aspects.
Fortunato said, "Some cons are that people almost look down to you, or don't give you chance necessarily. When your undersized, people's first impression of you usually aren't positive. The pro's about being undersized though for me is that once those people doubt me, I can prove them wrong, and that motivates me to play harder."
Boston University
Originally committed to Harvard, Fortunato decided to change school and play for the Boston University Terriers this upcoming fall.
"Everything about [BU] is great. The area, the rink, coaches, style of play, and of course the players are all spectacular and made my decision on choosing BU much easier."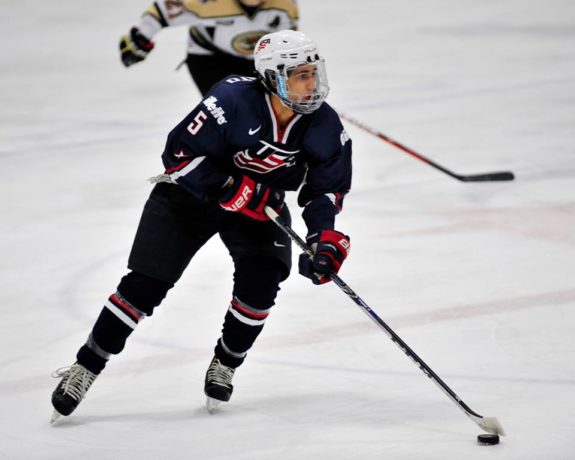 He will be joined by NTDP standouts Jack Eichel and Johnny MacLeod, two players who helped convince Fortunato to give BU a chance.
"It definitely encouraged me a little bit to choose BU.  They spoke very highly of it, and on the other hand they are two elite players so it is nice that I can go to the same school as them and learn from them even more."
The Terriers haven't seemed to regain their composure after losing long-time coach, Jack Parker to retirement. Fortunato and the new recruits are planning to change that.
"I just want to be an impact player as a freshman, who can make a difference for the team during games. I'm excited to meet all the players, and mostly I'm excited to have a successful season. I know that BU kind of struggled last year, and this year upcoming year I am excited to be a part of turning that unsuccessful season around."
The new talent coming into the Terriers locker room next season bodes well for the school, its fans, and the team's chances at becoming a contender. Where Brandon Fortunato goes, good things happen. He has already won a National Championship with the Royals and a gold medal with Team USA. He will get drafted in June and his next goal will be to win an NCAA National Championship.
The old saying goes: Small players have to prove that they can play. Big players have to prove that they can't.
Brandon Fortunato is a small player and guess what? The kid can play.
Follow Brandon Fortunato on Twitter: @BFortunato5
Follow Shawn on Twitter: @ShawnTHW