THW:  It's been a while since the draft happened. I know you got asked this 100 times at the draft, but now that you've actually had time to process everything, what was it like to be drafted?
Geertsen: It was a pretty life changing experience, not even just being drafted and stuff, but just like, the whole routine of what you go through and how everything happens. I thought it was life changing.
THW: What was the first thing that went through your head when you heard your name called?
Geertsen: I thought they made a mistake! I was like, what? (Laughs). And then, from then on it didn't even seem real. I felt I was just kinda outside of my body watching things happen. It was kind of a weird experience.
THW: How crazy is the rest of that day, once you're drafted?
Geertsen: Yeah, you get drafted, you go to the table and get all the pictures taken and meet everybody. Then you go behind the scenes and get some more pictures taken. Then you go upstairs when you're done there and can finally go have some supper to see your parents again. After that you go see the team that drafted you, go to their box and talk to them for a bit and then I think you're allowed to go after that, I'm pretty sure. (Laughs)
THW: I got to watch you go through your first rookie camp and training camp, what were your impressions of the city of Denver?
Geertsen: When I got into town I thought it was great, it's a very clean city. I didn't realize how big it would be, but I thought it's a very nice to play and would be a really nice place to live.
THW: The coaches looked like they were pushing you guys really hard. Can you describe the intensity of this camp vs the ones you've attended in junior?
Geertsen: They're definitely a lot more intense being with a lot of older guys. In junior there's only like 2 or 3 year difference, but this time there were guys like 25, 26 years old, so that was a difference. And plus in Colorado has a lot higher altitude so that was a lot harder because I'm coming from sea level all the way too the altitude there, so that was definitely a hard thing going into that.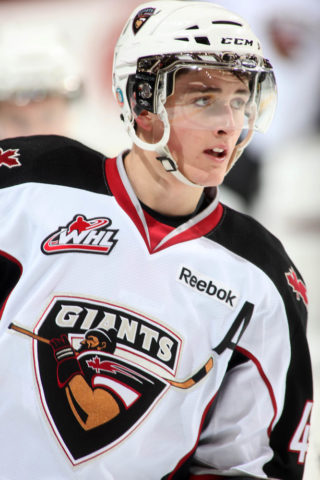 THW: Did it take you a few days to get acclimated to the altitude?
Geertsen: Yeah, definitely. Especially with those bag skate. That's when I felt it the worst.
THW:  You walk into Colorado, you've got Joe Sakic who drafted you, Patrick Roy as the head coach and Adam Foote as a defensive coach working with you.  What is it like working with these guys?
Geertsen: You feel really grateful to be able to work with guys like that. They have a lot of years in the NHL and have a lot of experience and for them to try to help you and get you to where you're even half as good as they were in the NHL was a great experience.
THW: Were you a little star struck at first?
Yeah definitely in like practice. He was writing stuff on the board and I was like, "What?! Is this really happening right now?" (laughs)
THW: What are your impressions of Patrick Roy as a head coach?
Geertsen: Thought he was a really nice guy. I didn't speak to him too much, but I thought he was a nice guy and he definitely knows what he's talking about. And obviously, from their record right now he's doing pretty good!
THW: Patrick was very complimentary of you throughout camp, how do you react when you hear praise like that coming from a hall of famer?
Geertsen: It is pretty surreal. It was crazy for him to even really know my name out there. And then for him to praise me out there is a really great experience.
THW: Was there any one thing he said to you that really stood out to you? Like encouragement or a coaching point?
Geertsen: Umm, at the board one time he asked me how to pronounce my last name (laughs). He didn't know if he was saying it right, so that was pretty cool.
THW: You played in a pre-season games for the Avalanche, how was that taste of the NHL experience?
Geertsen: It was pretty crazy. Going into camp I just wanted to make it through rookie camp, and after that I just wanted to get through training camp and then I thought I'd be going home but I got to stay for a preseason game. It was just crazy, and it didn't really feel real until I got back (to Vancouver). It's pretty hard to put into words how cool it was to get to play in that game.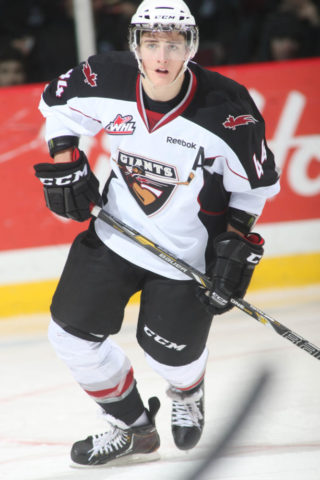 THW: During camp, who were the veteran players you interacted with the most, and what did you learn from them?
Geertsen: I didn't really talk to too many guys, I was pretty shy and just kinda kept to myself. But it was definitely cool seeing what the NHL players do day to day and how they act on the rink. It's pretty crazy to think that they're just normal people like us.
THW: What things are you working on this year with Vancouver to hopefully make the next step to the NHL, or even the AHL.
Geertsen: Probably just working on my defensive game. I know I'm not a goal scorer so I'm not gonna try and push myself in that too far, but I definitely want to be the best defensive defenseman that I can possibly be.
THW:  If you were to describe your game for an Avalanche fan that doesn't know much about you, how would you describe it?
Geertsen: I'd say that I'm a simple defensive defenseman, makes good first passes, plays good on the PK, not scared to fight every now and then and is a pretty big player.
THW: Is there a player that you model your game after? What made you want to emulate that player?
Geertsen: Growing up I idolized Chris Pronger and guys like that. They're really big and defensive and Pronger has a great shot too. But he was just like, big and mean and nobody wanted to mess with him. So that's kind of the way I want to play.
THW: Who is your current favorite NHL player?
Geertsen: Ummm, probably Kevin Bieksa from Vancouver. He plays a simple game, makes first passes and jumps into the rush sometimes. He gets the odd goal and that's kind of how I would view myself if I got into the NHL.
THW: What are your hobbies off the ice?
Geertsen: When I'm back home, I really like hunting and more outdoorsy kind of things. Which is pretty good for Denver.
THW:  When you're playing NHL14, what team do you play as?
Geertsen: I usually play as Pittsburgh because they're one of the best ranked teams in the game.
THW: Does that change now that you're with the Avalanche?
Geertsen: (laughs) Yes, definitely.
THW: Do you have any superstitions or rituals that you go through for game days?
Geertsen: We have the pregame skate, and after that I always have a peanut butter and jam sandwich and 4 over easy eggs. (With superstitions) I'm don't really have anything, I don't think I'm that kind of player.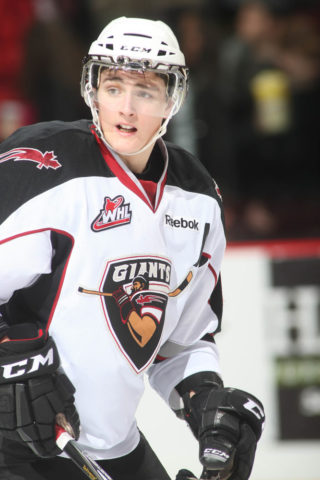 THW:  Are you one of the serious guys in the locker room or do you enjoy pulling some pranks with the guys?
Geertsen: In practice days I'm not all that serious, but on game day I'm definitely a lot more serious. I stick to myself a lot more and kind of do my own thing.
THW: You get to take one penalty shot and are able to choose whatever goalie you want to face. Who would you pick?
Geertsen: (pauses) Probably, me and Tristan Jarry (Edmonton Oil Kings) got pretty close so I'd probably go against him.
THW: What music do you like to listen to pump yourself up before games?
Geertsen: Probably rock. ACDC and that kind of stuff.
THW: Lots of people like to ask what is your favorite group or song to listen to. What I like to ask is what song do you have on your playlists that you're embarrassed to admit?
Geertsen: (Laughs) Probably… I have Barbie Girl on my playlist.
THW: What are your predictions for the Vancouver Giants this year?
Geertsen: Well we're a pretty young team and have had a lot of injuries so far. But today we just got all of our guys back so I think we're ready to go on a pretty good run right now and  turn things around. We're definitely going to make the playoffs.
THW: Who do you think wins the Stanley Cup this year?
Geertsen: Well, if Colorado keeps the pace they're at, they're definitely going to have a good chance. At this point, it's pretty far away. It's a little hard to tell.
I'm a Denver native who has been a fan of the Avalanche since they came to town and a fan of the game before that. I started writing my own blog a couple years ago before moving to Bleacher Report and becoming a Featured Columnist there. You can also find me the Burgundy Brigade Podcast