Craig Conroy joined the Flames management team following his retirement as a player in 2011. In 2014, he was named Assistant General Manager of the Flames when Brad Treliving took over as the team's General Manager. A veteran of over 1000 NHL games, Conroy served as both an alternate and captain of the Flames during his playing career and has been one of the most influential faces of the franchise for the last fifteen years.
Last week I had the privilege of catching up with the man himself to discuss the upcoming draft, expansion and what to expect from the Flames this off-season. Enjoy!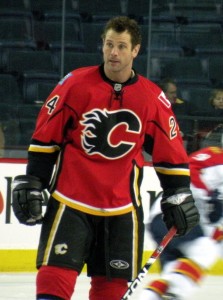 CM: What are your primary responsibilities as the Assistant General Manager of the Calgary Flames?
Conroy: I'm more (focused on) player personnel, and in charge of pro scouting. I take the top 30-35 prospects on our list and make sure I go to watch of those guys. Todd Button is the amateur director, but I'm still very involved in the amateur side just not in charge of it in addition to all the player personnel on the pro side.
CM: What is Calgary's strategy going into the draft? Do you have certain position or player types you are looking for?
Conroy: We talk about best player at all time, we have a first round pick and three seconds. But for example, if we take two or three defenseman I can't see us taking another for the following picks. At number six we're going to take the best available player.
CM: There's been some talk recently about the third and fourth overall pick being available. Is moving up (or down) something that's seriously being considered or are you happy with standing pat at six?
Conroy: Obviously Brad (Treliving) is trying to move up and everyone is hearing about that, and people are calling us asking, "would you be willing to move down?" There's the top 3 guys, but as you move down there's probably about six to seven guys that we feel very comfortable with drafting depending on who's there at six. That's what happens when you're at six, you don't know who's going to be there. Kind of like when we got Monahan. We liked him higher than that, and depending on how this (draft) works out maybe someone who we have higher will fall to us at six.
We are pretty happy standing pat. Obviously Brad likes to make the phone calls, but especially because Edmonton and Vancouver are at four and five it's always more difficult when you're dealing with West teams. We are excited about who we can get at six. You're going to get a great player, and who knows who will turn out to be the best player from the draft? Time always tells.
CM: Where did you have Monahan ranked?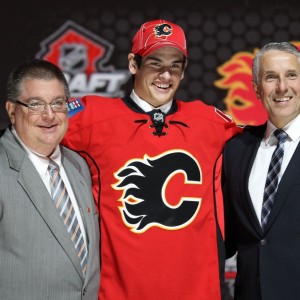 Conroy: I think we had Monahan at four on the list. Because we had Seth Jones, MacKinnon as one-two; I forget who we had first. Then we had Barkov, Monahan, Drouin. I would have been happy with any of them, but I'm pumped we got Monahan. (smiles)
He texted Jay (Feaster) right before the draft and said "I'm ready to be a Flame". Jay says to me, "Hey, look at this. We are getting Monahan". I said, "Yeah, well I doubt it but at least he's thinking the right way!"
CM: You attended the NHL Draft Combine last week. Is there any player trait you value over others?
Conroy: We look at hockey sense here with us. I mean, at the combine when we go in and talk to the kids – I'll be honest this year at the combine the kids were the best yet. I don't know if the agents are telling them now to go in and just be yourself. I think for a few years there I'd go in and everything was "I'm a two-way centre, I play 200 feet, I do this" – Really? That's how scouts talk. This year it was what are your strengths? What are your weaknesses? Who are your comparables? It was like 'boom, boom, boom'. They had all the answers. This year there was more personality, more laughing. The kids came in and it's not that they were more honest – but they seemed to have their guard down a little bit and that was to a man. They were themselves which was good to see.
CM: As you mentioned, the Flames have three second round picks in this year's draft. What is the level of talent available in the second round this year and what type of players do you hope to get with those picks?
Conroy: We feel like we're going to get some good players. Is it as deep as some of the other drafts? No. But we have some guys we really like that we think might be available. What it allows us to do is that if we really like one of those guys, maybe we can move two of those picks to move up a little bit. Say there's a guy we like that falls out of the first round and is still there; it could be an option for us. When you have picks that close together you actually can move up. If there's a guy we love and we've got to have him, we may use those two picks and move up. Or it could be that we are in a position where we say "hey, we like the next 10 guys on our list about the same, there's no one head and shoulders above anyone" and we just stand pat and make the picks.
It's constant motion during the draft. You have people calling and it's pretty exciting actually (laughs). It's one of the few days when you feel like you're playing again because the phone's ringing and there are deals being made; it's a lot of fun to be a part of.
CM: The Flames have an obvious need in goal. Do you see this hole being filled via trade or free agency?
Conroy: You know, we are looking at both options. Obviously teams see our situation and contact us. Making a trade right now isn't as easy as we like, but I think as we get closer to the draft there's going to be more opportunities. I think our first instinct would be a trade but if the price is too much than we will definitely be in the free agent market.  It'll all play itself out but your first instinct is: let's see what we can do through a trade and if it makes sense.
CM: After factoring extensions to Gaudreau and Monahan, and with the addition of a goaltender, the Flames won't have too much cap space to play with come July 1. Do you see the Flames being in on any big name free agents this summer? What kind of players are you looking to add?
Conroy: Obviously you saw the numbers. When we sign those guys (Monahan & Gaudreau) we are going to be tight against the cap.  Other than the goalie position where we might have to spend, we are looking for those value guys. Those guys that maybe we won't be able to sign them day one (of free agency), but if there's an opportunity to sign a guy that maybe had a bad year and we think he's going to rebound, and it's a reasonable contract, that could be it.
If we have to sit tight and give our kids a chance then we will do just that. We don't have a lot of money to spend so we are going to have to spend it wisely. Obviously goaltending is the first major thing for us. So if we get a goaltender and see how much money we have left after the Monahan and Gaudreau signings it would be easier to know (what we are going to do). Right now the goalie is the key and we might have to go with our young guys. Kind of like the model Chicago goes with.
CM: There's a few guys looking to make the jump to the NHL in the Flames system. Poirier, Jankowski and Wotherspoon come to mind. Of the young guys who do you see as having the biggest impact on the team next season?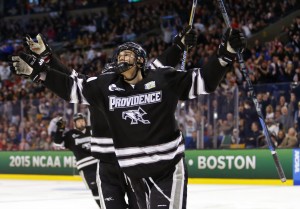 Conroy: Shinkaruk because he has that type of pace, but I expect Poirier to make some big jumps. You know what, I went down at the end of the year to watch Jankowski and he was excellent. I only saw two games at the end of the season (for the Stockton Heat) but I walked out of the games and thought he was our best forward in both games; and that's promising. You know, we'll see how it goes through camp and it was just a couple of games but I was really excited with his play.
So those are the type of things that make you take pause (when looking at free agency) and you know what? There's opportunity. I think when young kids take a look at our team – hey, they know our cap situation – I think they say, "hey, this is my opportunity to make the NHL and I'm going to come in great shape and I'm going to be ready, because they can't go and sign a guy for $7 million on the wing. They're going to have to give us a chance and I'm going to prove that I'm a NHL player."  I think it's a great thing for our young kids. You know, if I was a young player this is the kind of opportunity I would be looking for.
CM: With a Las Vegas team all but set in stone, how will expansion factor in to your off-season game-plan?
Conroy: If it does come through and once the rules come out, that could help us in a number of situations. I mean goaltending wise and different things. But until I hear officially and see the rules I don't really know. The rules might be favorable to help us make some more trades or do more things because more players are available. If it does come to passing than once you see the rules there may be opportunity and bring some prices down on some guys.
CM: So you're just kind of waiting and seeing until everything is finalized?
Conroy: Yeah, I think it would be a good thing for us if it did come.
CM: Yeah I think goalies would be a lot cheaper for sure. I've looked into this as well and there's a lot of good ones out there. Vegas is going to have two good goalies if nothing else.
Conroy: Exactly. (laughs) I wasn't going to say it but if you say it perfect. But if I'm those guys I'm trying to get rid of them before hand because if you get stuck with them you'll just lose them for nothing. I mean, nothing? You'd be snapping. It would be great for Vegas – whoever is in charge of Vegas is saying "Please, please, please" (laughs).
CM: Glen Gulutzan just got named as your new head coach. Can you explain the process you went through to make a decision?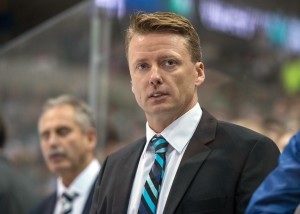 Conroy: We wanted a young, progressive coach that has some experience in the league. Didn't have to be NHL head coaching experience but you'd like him to have some affiliation in the NHL. Obviously our special teams weren't good enough last year so you'd like a guy who's done a really good job with special teams. I mean other than that, you just want someone you feel comfortable with. That you want to come to work with every day. You're going to be around whoever you hire a tonne, so you want someone you get along with and you have to be able to coexist. I think that was a big thing for Brad. We wanted the right person, we wanted the right fit, and we had to have someone that's a good teacher that can work with young guys because we are going to have a young team.
CM: Okay, last question. You have been involved in several drafts over the years, what has been your favorite or most unique memory up until this point?
Conroy: Probably the day we drafted Monahan. He texted Jay (Feaster) right before the draft and said "I'm ready to be a Flame". Jay says to me, "Hey, look at this. We are getting Monahan". I said, "Yeah, well I doubt it but at least he's thinking the right way!". So that's kind of a nice little story.
Obviously the trade for Dougie Hamilton last year —  that was, "Wow!" We had the most picks ever for a Flames organization in the first two rounds last year and I mean the scouts are working, working, working and then all of the picks are gone (laughs). We got it done that morning at the draft so they think we are picking with a first and three seconds and then they're gone. The scouts did all that hard work for naught. So that's a good one.
Busy week for the Flames?
By the sounds of things, it could be a very eventful week for Calgary as the draft approaches. After naming a new head coach late last week, the focus will shift to finding a goaltender, signing their young stars and potential movement within the top 10. Stay tuned for coverage on the busiest two weeks the hockey world has to offer!