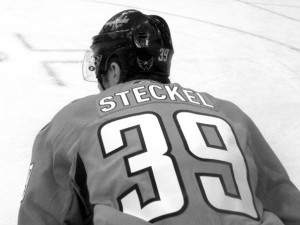 TheHockeyWriters.com correspondent Ted Warren had the opportunity to visit with David Steckel who is currently assigned to the Anaheim Ducks AHL affiliate the Norfolk Admirals. The 31-year-old signed an AHL deal with Norfolk on October 29th; however; the Ducks voided Steckel's AHL contract on November 11th signing the Ohio State alumnus to a one-year two-way contract.
Prior to his current assignment the big bodied forward has played with  Washington , New Jersey, Toronto, and Anaheim totaling 79 points in 419 NHL contests.
Prior to November 11th Steckel and THW had a Q&A style interview. 'Stecks' as he is known by his teammates answered the following questions.
THW: How did your AHL deal with Norfolk come about?
D.S.  I was in Minnesota for camp. I played a couple games with their AHL team. I was on a P.T.O. (Professional Try-out Contract) then I signed a contract here.
THW: What has been your role on this team since arriving?
D.S. Solid two way player, make sure I'm penalty killing. Trying to teach younger guys the importance of where we are in games. I haven't had too many meetings, but I'm just here to play.
THW: How will you use your time in Norfolk to get back to the NHL?
D.S. Just continue to get better. I've been working on the things that made me successful in the first place. I think from that stand point I'm just trying to enjoy the time here with the guys and making sure it's one day at a time and I'm viewing it like that.
THW: With you being a NHL veteran, how are you being a role model for the younger players?
D.S. Just trying to lead by example. A lot of these guys, it's their first year or second year. They're young and they don't really understand what being a pro is. I think the best way I found out how to be a pro was by following somebody that led by example like me so I'm trying to exemplify that.
THW: How are you adjusting to life in the AHL again?
D.S. Its longer bus rides and three in three's. That's what got you here in the first place. There's really no adjustment except the fact that you're playing more games and it's like going back to college for me. It's nice to have some time during the week to get better in practice.
THW: How are you adjusting to Yawney's coaching style?
D.S. Good. I don't think he differs from anyone else. He asks you to work hard and play the systems and good things will happen so it's really no different from anywhere else I've played before. It's really been an easy adjustment.
THW: What type of player do you classify yourself as, a two-way forward, right?
D.S.  Yeah. A shut down forward, shut down center that can win draws, keep the puck out of the zone, and score the occasional goal on offense. Good on special teams, that's how I go about my business.
THW: What does the future hold for you hockey-wise?
D.S. That's a good question. If I knew the answer to that I'd be a rich man, but right now I'm taking it one day at a time and trying to get back up there. I'm approaching everyday like that.
Norfolk's head coach Trent Yawney shared his thoughts on Steckel:
"He's a veteran, he's got experience. He's always had a history of being really good in the face-off circle. That's really helped us out a lot."
Yawney's take on Steckel's role with the Admirals.
"Right now he's kind of feeling his way around with the guys but he kills penalties. He's added some offense to our team to so we'll see where that goes as the season progresses."
Follow Ted on Twitter- @bauerhockeydude
Ted grew up in Virginia. Warren has a passion for the AHL and dishes out articles about the Norfolk Admirals and the AHL. Follow him on Twitter @bauerhockeydude