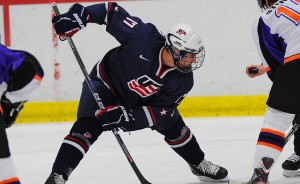 Back in 2012 the Anaheim Ducks used their second round pick on Irvine, California native
Nic Kerdiles
, a left-handed forward that played with the United States National Development Program before committing to the University of Wisconsin for the 2012-2013 school year.
After the Badgers season ended in 2014, the 20-year-old elected to sign his first pro contract. Before the ink was dry on his contract, he was sent down to the Ducks AHL club, the Norfolk Admirals, who were in the midst of a heated battle for the eighth and final seed in the Eastern Conference.
Not only did Kerdiles help lead the Admirals to clinch a playoff berth with his 4 points in 6 games, he went above and beyond the call in the playoffs as he notched another 4 points in 10 playoff games before the Admirals were dispatched by the St. John's Ice Caps in five games.
Between games four and five of the Eastern Conference Semifinals THW's Ted Warren spent some time with Kerdiles talking about growing up in sunny California and the emotions he had when he was drafted in 2012 and more in this Q&A interview.
THW: How did you discover hockey in a non-traditional hockey market?
N.K.: I was born in Dallas, Texas. I moved to France and lived there until I was about seven-years-old and then I moved to California. When I did my next door neighbor played roller hockey and every time I came home from school I was intrigued by the sport he was playing. There is no history of hockey in my family, but I was intrigued by the sport and I picked up roller hockey when I was seven-and-a-half and I switched over to ice hockey at eight-and-a-half.
THW: Can you walk readers through your minor hockey career?
N.K.: Once I switched to ice hockey I joined the L.A. Junior Hockey Club, now it's the L.A. Junior Kings, but I went through that program for about six to seven years and I was with the same coach. The hockey was good in a sense that we got to go to Michigan and play in Canada and Chicago and different places and play against the best players. Even though the games weren't right at home, I definitely got exposure to play against other players around the country.
THW: Emerson Etem is also from California. Did you ever play with him?
N.K.: He's a couple years older than me, but we went through the same program. We saw each other around the rink and we're familiar with each other. We never really played against each other at that age, but I got to play with him in the Ducks camps and also here in Norfolk.
THW: You played with the USNDP in Ann Arbor, Michigan. How was it playing for that historic program?
N.K.: That was a pretty good experience. It takes a lot out of you with all the work you have to do in Ann Arbor. They're pretty strict over there. There are a lot of games. I lived with a billet family. The experience was good. I got to compete in two Under Eighteen World Championships and won two gold medals. That was a great experience. I got to play against the best players in my age group world wide and I got what I wanted out of it: success, winning International Tournaments as well as growth as a person and a player. I got to move away from my family and kind of take the next step in my maturity and live on my own.
THW: How did the U.S. program help you improve your game?
N.K.: We definitely focused on getting bigger in the weight room and getting stronger. We had a pretty demanding schedule over there. I was able to grow in stature and develop my skills with the coaches and the players I was playing with in practices. It definitely prepared me to take the next step in playing college hockey.
THW: How would you describe your playing style?
N.K.: I describe myself as a power forward with some skill. I like to shoot the puck and score goals, but at the same time I like to get into the dirty areas and win battles and throw the body around a little bit so I think a power forward is the easiest way to describe my game.
THW: What made you choose to play at the University of Wisconsin?
N.K.: I loved the place. When I went to visit I fell in love with it right away. The campus is beautiful and the student body is awesome. All the sports are successful so just a fun experience. I looked at college as a place to develop and grow in hockey, but I also wanted to enjoy my college years as well so Wisconsin gave me that.
THW: What can you tell readers about your draft day experience?
N.K.: I remember a long process that's for sure. I wasn't sure if I was going late first or early second. You never know where you're going in the draft so it was a lot of sitting and a lot of waiting, but once I heard my name called by Anaheim it's a moment I will not forget just looking over at my sisters and my parents and thank them for everything. I was in that situation because of everything they've done for me. I was happy to be ten minutes away from home (the time it takes to travel from Anaheim to Irvine.)
Kerdiles Talks To The Media After Being Drafted

THW: You've been racking up the points here since you joined the Admirals. Did you expect that coming in?
N.K.: You never want to expect that coming in, but I did know they were going to give me an opportunity since that's what they talked about. The opportunity they put me in gave me a chance to succeed and putting up points is what I like to do and also contribute in different manners. I didn't expect it to be this good so far and have such a good run in the playoffs, but I'm happy with it and I'd like to thank my coaches and my teammates as well.