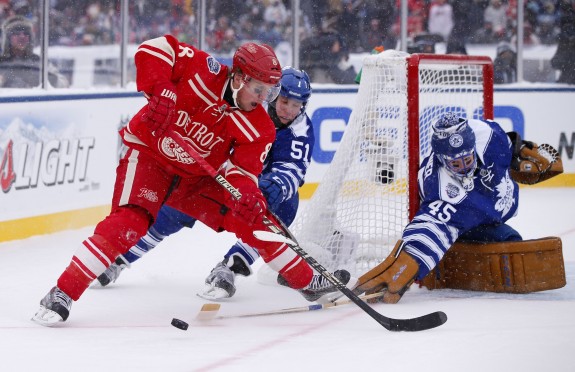 NBC Sports announced its nationally televised NHL schedule Tuesday. 103 out of a possible 1,230 games we be shown on NBC or NBC Sports Network.
The Detroit Red Wings, despite not having the same aura of the teams in the 1990s, still come in fifth with 15 nationally televised games behind the Chicago Blackhawks (20), Pittsburgh Penguins (19), Boston Bruins (17) and Philadelphia Flyers (16). One has to imagine the 23 consecutive playoff berths is helping the Red Wings continue to garner the national spotlight.
Here are the top five nationally televised games to watch for the Red Wings during the 2014-15 season. The full list can be found at the bottom of the page.
Boston at Detroit — October 15
This will be the second time in a week these two teams meet, as the Red Wings host the Boston Bruins in the first game of the season on Oct. 9.
The Bruins eliminated the Red Wings in five games in the first round of last year's playoffs, and you know the Red Wings have revenge on their minds. The Red Wings took the season series last year 3-1.
Will Milan Lucic spear somebody else in the groin? Will Danny DeKeyser get his revenge? There are so many questions to answer.
Detroit at NY Rangers — November 5
The Red Wings travel to New York to meet the defending Eastern Conference champions. The Rangers bought out Brad Richards and did not re-sign Brian Boyle and Anton Stralman, but will have Martin St. Louis for a full year along with Rick Nash, Carl Hagelin, Derek Stepan, Ryan McDonagh and Henrik Lundqvist.
The Red Wings were 0-2-1 against the Rangers last year, and with the Rangers largely intact from last season, this will be a tough matchup, as it ends a three-game road trip for the Red Wings.
Toronto at Detroit — December 10
The Red Wings and Maple Leafs will face off four times before this meeting, including a home and home in the middle of October, but coming off the Winter Classic last year, you won't want to miss this nationally televised game.
Now with Brendan Shanahan as president and alternate governor of the Maple Leafs, this could very well be a playoff team in 2014-15.
The Red Wings were 3-0-1 against the Maple Leafs, with the lone shootout loss coming in front of 100,000+ people at Michigan Stadium in Ann Arbor on Jan. 1.
Detroit at Chicago — February 11
This will be the second time these two teams square off, as the Red Wings host the Blackhawks on Nov. 14. Even though they are no longer division rivals, there is still a geographic rivalry between these two teams.
Patrick Kane and Jonathan Toews each signed eight-year, $84 million extensions that will keep the duo in Chicago through the 2022-23 season. Chicago also added Richards after the Rangers bought him out.
Detroit and Chicago split their season series 1-1 last year, and these games are always hard-fought.
Detroit at Boston — March 8
The Red Wings and Bruins face each other four times on national television, but this is the first one that will be shown on NBC instead of NBC Sports Network.
March is crunch time in the NHL, and points will be at a premium for both teams to determine seeding in the Atlantic Division.
Here's the complete list:
October 15, 8 p.m. ET – Boston vs. Detroit
October 29, 7:30 p.m. ET – Detroit vs. Washington
November 5, 8 p.m. ET – Detroit vs. NY Rangers
November 26, 7:30 p.m. ET – Philadelphia vs. Detroit
December 10, 8 p.m. ET – Toronto vs. Detroit
December 29, 7 p.m. ET – Detroit vs. Boston
January 18, 8 p.m. ET – Buffalo vs. Detroit
February 5, 9 p.m. ET – Detroit vs. Colorado
February 11, 8 p.m. ET – Detroit vs. Pittsburgh
February 18, 7:30 p.m. ET – Detroit vs. Chicago
March 4, 8 p.m. ET – NY Rangers vs. Detroit
March 8, 12:30 p.m. ET – Detroit vs. Boston (NBC)*
March 15, 12:30 p.m. ET – Detroit vs. Pittsburgh (NBC)*
March 22, 12:30 p.m. ET – St. Louis vs. Detroit (NBC)*
April 2, 7:30 p.m. ET – Boston vs. Detroit
*Asterisks denote a flex game.