For fans, the most polarizing player in the Philadelphia Flyers' prospect pool is Tyrell Goulbourne and it's not even close. The 20-year old Kelowna Rockets forward has been in the crosshairs ever since June 30, 2013 – the day he was drafted 72nd overall by the Orange and Black. The selection provoked the ire from fans almost immediately. Given Goulbourne is more a 4th line grinder, there were still potential 1st/2nd line talent left on the board and the Flyers faithful didn't take kindly to the selection.
Things didn't get any better for the Edmonton-native this summer when Goulbourne did not sign an AHL-only deal this offseason. Fans took it as a slight against the team they so passionately care about and labeled him a "wasted pick".
Fact of the matter is Tyrell Goulbourne is a good hockey player. He doesn't quit in the face of adversity. He's battled his entire career and things are beginning to look up for him and his future. He has 24 points in 32 games for the Rockets. Not only is his offensive game turning the corner, but Kelowna boasts one of the strongest teams in the entire CHL and favored to represent the WHL in the Memorial Cup.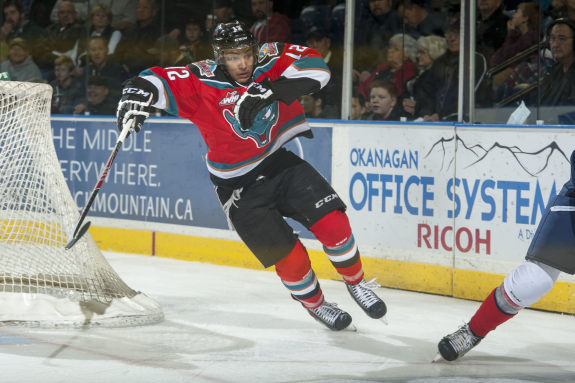 The criticism is unfair and unwarranted, but I'll let you be the judge after reading this interview.
********************************************************
The Rockets are at the top of WHL standings and leaders of the BC Division (a position they've held for the past two seasons. What makes this team so good?
A mix of great coaching, drafting, and a group of guys that are dedicated to winning. Bruce Hamilton always looks for good guys with good attitudes and I think that goes a long way.
Is this the year Kelowna gets over the hump and wins the Memorial Cup?
I can't make any promises, but I strongly believe this is the best we have been since I've been on the team.
What does the addition Josh Morrissey mean to this Kelowna team moving forward?
He is going to fit in perfectly. I'm sure he will be comfortable and excited to join our team, especially because his younger brother is here. He's great offensively and defensively. He is going to make our team that much better.
WHL hockey. However, this year you're scoring at almost a point-per-game pace. What do you attribute your scoring touch to?
Great line mates and more patience. I've been afraid to make mistakes in the past, but being a 20-year old has boosted my confidence and it's helped me out a ton.
What have you personally been focusing on this season (on and off the ice)? Was there anything the Flyers specifically told you to work on during rookie/development camp?
Although I have been scoring more than previous years I can't forget what made me successful in the beginning. I have to continue to play my role as a defensive forward/grinder.
Has being named an assistant captain and being a leader on such a successful team helped you to develop as a player?
It's a responsibility I take pride in. No, I might not wear a letter every night but the leadership side never goes away. I love being a guy who can bring the energy up in the room or settle it down when it gets too rowdy.
I read that you take part in MMA training. What aspects of the MMA training help with hockey?
I have worked with my trainer Ryan "The Real Deal" Ford starting about three years ago. It's definitely a good conditioning workout and he has helped me with my technique when it comes to punching.
What parts of your game are NHL ready? Which parts might keep you out of an NHL lineup?
I believe my skating is my best attribute. I feel like I can keep up or set the pace with anyone I skate with. My consistency could always get better.
Flyers fans have a preconceived notion that you are Zac Rinaldo 2.0. What do you bring to the table that maybe someone like Zac Rinaldo might not?
Zac is an energy type player, and I feel I bring a lot of energy to the table. I do a lot of grinding/hitting/fighting so I can see why they would compare to him. Although there can only be one Zac Rinaldo and one Tyrell Goulbourne.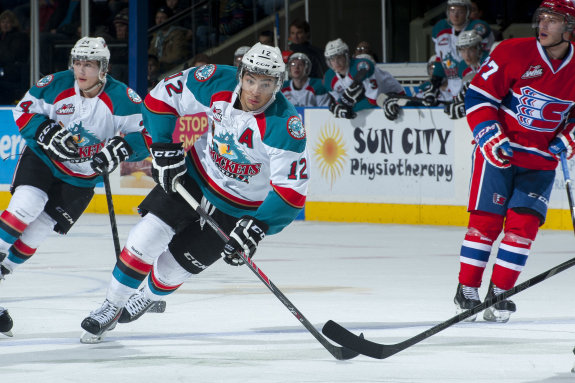 Where in the lineup do you see yourself at the NHL level?
I'm sure I will start out as an energy player on the 4th line. But the end goal is to become a shut down player. I play against the top players in my league night in and night out and I feel I do a pretty good job at getting under people's skin and shutting down teams top lines. I also take a lot of pride in the penalty kill.
The big story surrounding you this offseason was the Flyers offering an AHL-only deal that you chose not to sign. Were you disappointed that they didn't offer you an entry-level contract? Have you gained any motivation from that heading into this season?
There are a lot of things involved in that situation. The cap being one of them as there wasn't any space for me to sign a two-way. Obviously I would have loved to sign a two-way and played pro this year, but sometimes things just don't work out. It's a business. My agent and I felt it was better for me to return to Jr. especially after having elbow surgery twice in one summer. We felt I would be able to develop more of my offensive skills before turning pro.
Do you regret not signing the AHL deal?
Tough question. I do wish I could be playing for the Phantoms and be officially part of the Philadelphia Flyers organization, but at the same time I want to be at the top of my game when I do. I will NEVER forget who I am as a player and what it took to get drafted. Being able to improve my offensive abilities will only make me better as a player and more valuable in the long run.
********************************************************
I'd like to thank Tyrell for his time in answering these interview questions. Tyrell has displayed his talents all season and is one of the toughest players to play against in the WHL. After watching him in development camp and with Kelowna the past few season, I came away impressed with Goulbourne's speed, tenacity, shot, and brute force. His work ethic is second to none and I wish him nothing but the best with Kelowna and with the Philadelphia Flyers.