Two-Way Blues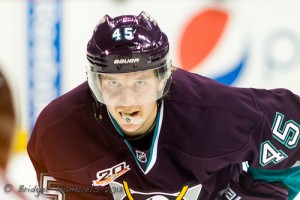 While Sami Vatanen was a key ingredient in Finland's bronze medal winning performance in Sochi, he was not greeted with good news upon returning to California. With the more experienced Mark Fistric coming back from injury, Anaheim's roster will climb to 23, leaving Vatanen the odd man out. Both Vatanen and Hampus Lindholm have signed two-way contracts, But thus far Lindholm's season has been a little more productive. Vatanen's contract means he will play for Norfolk until at least March 5, when the league allows rosters to be expanded if they remain under the salary cap. According to the Ducks website, Bruce Boudreau remains adamant they'll find some room for Vatanen on the roster as soon as possible. The 5'10", 22-year-old defenceman is currently mired in a stellar rookie campaign with the Ducks, logging 17:08 a game to go along with six goals and 14 points in 41 contests. Vatanen knows his production in both Anaheim and Sochi will be good enough to further see time on the big stage, but GM Bob Murray cannot risk sending other players through waivers. As the Ducks sit first overall, there's no shame in thinking other GM's might pounce on any opportunity to get in on a little bit of that magic by claiming players.
Returning
Just two days after signing a contract extension in late January, Mark Fistric suffered an injury against the Dallas Stars on February 1st. Fistric left the game after only five minutes with a lower-body injury. The details of the injury would not later be disclosed, but it was revealed by coach Bruce Boudreau that Fistric has suffered an injury like this in the past. Fistric is set to make his return on Friday against the ever-daunting St. Louis Blues. Maybe Fistric can harness the energy from Corey Perry and Ryan Getzlaf's gold medal winning performance to stay healthy heading into the post-season.
https://twitter.com/Fistric45/status/437592889250426881
More importantly for Anaheim, it appears Nick Bonino will also be returning after missing the last four games before the Olympic break. Bonino injured his right wrist in a collision with Zac Rinaldo when the Ducks faced the Flyers on January 31. With more than two weeks to rest, Bonino has apparently healed up nicely and will be ready to go against the Blues on Friday night. The 25-year-old was sorely missed during his four-game absence, as the Ducks dropped three of four. Bonino is having a career season with 16 goals and 24 assists through 56 games. He sits third behind Getzlaf and Perry and will be a welcome sight among Ducks fans.
Check out our partners at TiqIQ for the best deals on Anaheim Ducks tickets for all 2013-14 games.
Graduate of the U of T journalism program. Interned at The Hockey News. Follow me on twitter: @AceLarkin