Letang said he doesn't intend to have surgery on hole in heart. Doctors believe there is a good chance he will play hockey again.

— Josh Yohe (@JoshYohe_Trib) February 27, 2014
Pittsburgh's Kris Letang met with the media this morning to discuss his condition. Still unsure whether he will play again this season. 
What does the Letang injury mean for the Penguins in terms of the trade deadline? [NHL]
Evgeni Malkin is back from Russia empty handed, and not happy. [Trib Live]
The trouble with Daniel Sedin. [Globe and Mail]
Ryan Kesler got hurt in Sochi, but kept on playing. [The Province]
Not to be outdone by Martin St. Louis' trade request, reports are that Kesler wants out of Vancouver. Truth? [Pass it to Bulis]
As for St. Louis, it seems as though he only wants to go to the Rangers. Or stay with Tampa. [NESN]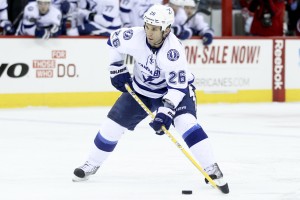 The other big name who might be on the move, Ryan Miller, may not actually be on the move after all. [Toronto Star]
So was Carey Price injured before the Olympics, or during? [Canoe]
The Habs have recalled Dustin Tokarski from the AHL. [Habs Eye on the Prize]
Tokarski is best remembered for sending Pierre McGuire into a frenzy. [YouTube]
Some more medals to add to Olympic hockey. [Grantland]
Sean Avery is obviously a little bored. [Dallas Morning News]
And finally, look for the Devils to be buyers at the trade deadline. [Fire and Ice]