The Hershey Bears have a storied history of making the postseason, any other scenario which they don't appear in the Calder Cup playoffs is considered unacceptable. They've missed the playoffs just twice since the 1993-1994 season and don't plan on making it their third time they've been rejoining their families early back home over the past 20 years.
The road to the playoffs will be tough and is an unforgiving one. Out of their 22 games that remain on the 2013-14 schedule, just eight of them come in the friendly confines of Giant Center. They'll hit the road 14 times with hopes of attaining a first round playoff series, where they've been defeated three straight times dating back to the 2010-11 season, where the team posted a 46-26-3-5 record, when AHL teams played 80 games.
The Bears' home success has been evident, highlighted by their recently snapped 12 game home winning streak. After struggles at Giant Center where first-year Bears coach Mike Haviland challenged his players publicly and questioned their work ethic, the Chocolate and White responded unequivocally.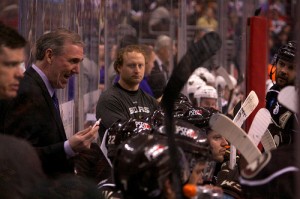 However, the team's struggles on the road (10-12-2-0) have been crystal clear. In the midst of their current three game losing streak, Washington's AHL affiliate has dropped two straight on the road, most recently a 6-5 sloppy defeat against the Wilkes-Barre/Scranton Penguins, in the final contest of the season between the two bitter East Division rivals. They were previously dumped by the Syracuse Crunch 5-2, in a contest that counted as a road challenge, although held at Verizon Center in Washington D.C.
The Bears' defense on the road has been extremely suspect, allowing 71 goals in 24 road matchups, close to a three goal allotment per game. Shootouts have accounted for 20% of their road wins, as the Bears went 2-0 in the skills competition which makes their road play look far better on paper.
Remaining Schedule
| Remaining Schedule | Record Against Opponent |
| --- | --- |
| Adirondack (2) | 1-1-2-0 |
| Albany | 3-0-0-0 |
| Binghamton (2) | 4-3-0-1 |
| Bridgeport | 2-1-0-0 |
| Charlotte (2) | 2-0-0-0 |
| Hartford | 0-1-0-0 |
| Manchester | 1-0-0-0 |
| Norfolk (5) | 2-0-0-1 |
| Portland | 1-0-0-0 |
| Providence | 0-0-0-1 |
| Springfield | 1-0-0-0 |
| St. John's | 1-2-0-0 |
| Syracuse | 3-4-0-0 |
| Worcester (2) | 1-1-0-0 |
Bears' record against Eastern Conference playoff teams: 18-10-1-2
Bears' record against Eastern Conference non-playoff teams: 8-8-2-0
Hershey's schedule for the remainder of this week is as easy as it gets for the remainder this season. They play two home games against the Western Conference Charlotte Checkers this weekend, after another road game on a Friday night to begin the AHL tradition three games in three nights stretch.
Their two game home stand is immediately followed by two monumental games against Norfolk on the road, a team the Bears have played just three times this season. Their record against the Admirals could decide their season's fate. A five game road trip awaits them in April, beginning on the 2nd in Portland and finalizing April 12th in Springfield. The Bears catapulted themselves into the postseason on the final day of the regular season last year and history could potentially repeat itself this season, with a home finale against the anemic Adirondack Phantoms set for April 19th.
I view the Hershey Bears as a playoff team, but one that happens to barely sneak into the playoffs like last season. A first round matchup against Manchester or Springfield is a daunting one, likely resulting in Hershey's fourth straight exit in the opening round of the AHL postseason.
It's put up or shut up time for the Bears and it all starts Friday night in Hartford against the lowly Wolf Pack.
Bears TV Schedule
The Bears recently announced their television schedule for the remainder of the season, four road contests that will be presented by ABC-27. Bears broadcaster Scott Stuccio along with ABC-27 sports director Greg Mace will have the call, providing in game analysis and special features throughout the game, including intermissions. Below you can find the on air schedule and where to find the Bears on TV.
March 7th at Norfolk
March 8th at Norfolk
March 14th at Syracuse
April 6th at Bridgeport
ABC-27's RTV Channel 27.2
Comcast Channel 246
Verizon Fios Channel 461
Blue Ridge Cable Channel 152
Kuhn Communications Channel 67
You can follow Matthew on twitter @m_speck and email him at mspeck21@yahoo.com with any questions or comments.