If the Rangers send Ryan Callahan packing at the trade deadline, it wouldn't be the first time the Blueshirts traded away their captain.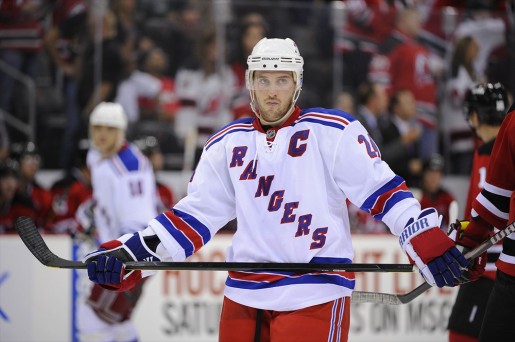 Of the 25 team captains throughout their 88-year history, they've traded five. All of those deals happened over a stretch of five consecutive captaincies from 1961-1975.
Andy Bathgate (Captain from 1961–64)
Traded to Toronto on Feb. 22, 1964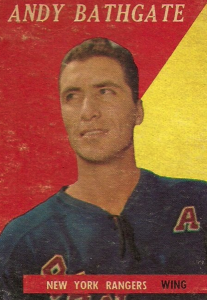 Bathgate, already a scoring star on Broadway, assumed the captaincy in 1961. He took over for the retiring Red Sullivan, who'd spent four years wearing the "C".  It was a challenging time with the Rangers. In his three seasons as captain, New York made just one playoff appearance – losing in the first round to the Toronto Maple Leafs.
Bathgate led the team in scoring for eight straight seasons, picking up a Hart Trophy (1958-59) and narrowly missing out on an Art Ross (1961-62) as leading scoring champion. (He tied Bobby Hull, but Hull was named the winner as he'd scored more goals.)
Despite Bathgate's continued offense, the Rangers finished well out of the playoffs in 1962-63. Determined to rebuild his roster, GM Muzz Patrick moved his superstar at the following season's trade deadline.   Bathgate and Don McKenney went to Toronto.  Coming back the other way were Dick Duff, Arnie Brown, Bill Collins, Rod Seiling and future Rangers' captain Bob Nevin.
"It wasn't a real shock when I got traded to Toronto," Bathgate said. " I was the [Rangers'] captain for a while. They were trading away young fellas and it was a continual development for other teams to take our better players and those young players had quality. As the captain, I spoke up and they didn't care for that and eventually, I knew the resentment was building up and I was traded to Toronto."
"We made the trade with an eye on the future," said Rangers GM Muzz Patrick after sending his captain to the rival Maple Leafs.
It worked out okay for Bathgate, who went on to win the Stanley Cup with the Leafs just two months later.
General Manager Muzz Patrick would also depart after the season, with Emile Francis taking over as GM and coach. Officially, Patrick resigned to take over as Vice President of the new Madison Square Garden which was under construction.  Francis told a slightly different tale in Jay Moran's The Rangers, the Bruins, and the End of an Era:
"Muzz is the guy that brought me in there and then evidently like, you know, what happened, well, he lost his job. […] He says [Rangers President Bill Jennings] just fired me. […] He says […] what do you think I brought you in here for? He says if they offer you the job, you're going to take it or else."
Patrick took the helm for the Blueshirts, where he'd stay for the next eleven years.
Camille Henry (Captain from 1964–65)
Traded to Chicago on Feb. 4, 1965
Henry came into the league in 1953 as a power-play specialist. Of the 24 goals scored in his rookie year, 20 were with the man advantage. He claimed the Calder Trophy in his rookie year before demoted to the minors the following year. Henry finally stuck with the Rangers in 1956.
After Bathgate was traded, the Blueshirts named Henry as captain. The diminutive forward (5'6", 150 lbs.) lasted just one season. For the second year in a row, the Rangers traded away their captain in February. This time, the deal was with the Chicago Blackhawks.  Gone were Henry, Don Johns, Wally Chevrier and Billy Taylor, Jr. for Doug Robinson, Wayne Hillman and John Brenneman.
Bob Nevin (Captain from 1965-71)
Traded to Minnesota on May 25, 1971
Nevin was the third-longest-tenured captain in Rangers history.  Only Bill Cook (1926-37) and Mark Messier (1991-97, 2000-04) wore the 'C' longer.
He came to the Rangers in the blockbuster Bathgate deal of 1964.
"It took me a while to adjust from living in Toronto to New York," Nevin said via Greatest Hockey Legends. "But I got traded in late '64 and the fall of '64, the next year, [the Rangers] made me the team captain. So that obviously was a great thrill to be captain of a team in a six-team league. That was a pretty special time for me in my career."
His best season in New York was also his first as captain, when he posted 29 goals and 62 points in 1965-66. Nevin had a fine run during his time as captain, breaking the 20-goal mark five times in seven years and leading the team to five straight playoff appearances.
From Gilles Villemure's Gilles Villemure's Tales from the Ranger Locker Room
:
"The fans didn't always appreciate Bobby [in his first season] and they booed him a lot. But what a hockey player. He had hockey sense. […] You have to wonder if New York fans resented Nevin for replacing a popular guy like Bathgate, but Bob Nevin had a good career in New York and never let the fans bother him."
In the summer of 1971, the club moved him to Minnesota for speedy right-winger Bobby Rousseau.  Emile Francis said of the trade, "Bob Nevin was the best two-way player I ever coached. I traded Bob Nevin eventually to Minnesota to get Bobby Rousseau and he came in, he played the point with Brad Park and we had the best power play in the league."
The move also freed up a spot for the Rangers' protected list for the upcoming 1971 Intra-League draft.
Vic Hadfield (Captain from 1971–74)
Traded to Pittsburgh on May 27, 1974
Going into his 11th year with the Rangers, Hadfield was named the team's captain.  Like Nevin, Hadfield's best season in blue was also his first as captain.  As part of the Goal-a-Game Line with Jean Ratelle and Rod Gilbert, Hadfield scored a then-team-record 50 goals in 1971-72.  His offense and leadership helped the team reach the Stanley Cup Final, where they fell to the Bruins in six games.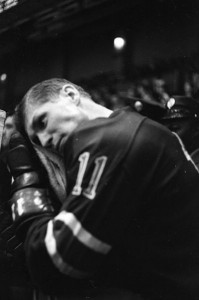 The Rangers signed the winger to a pricy deal (reportedly $200,000 per year) to keep him from defecting to the newly-formed WHA. Though they were paying him top dollar, his production failed to keep up.  The Blueshirts failed to make it past the semi-finals in the next two seasons.  New York, deciding to retool their once-successful lineup, sent their captain to the Pittsburgh Penguins.  In return, they acquired young defenseman Nick Beverly.
Francis defended the trade, saying, "We have players in the minors who we muct protect.  We're going to lose four players in the [1974 Expansion and Intra-league] drafts, but you don't want to lose a player and get nothing in return."
For what it's worth, Hadfield was not pleased. "I'm a little stunned," he said. "The Rangers don't need any more defensemen. It's as plain as the nose on your face," Hadfield went on to say. "I thought the Rangers would at least trade to help themselves. […] I'm sure my contract had a lot to do with it."
Hadfield would later point to his trade, along with others of that time, as the downfall of the once-competitive Rangers:
"The problem is that management made all those changes at once. They got rid of too many veterans and brought too many young guys. That's what upset the whole team and destroyed the Ranger system"
Brad Park (Captain from 1974–75)
Traded to Boston on Nov. 7, 1975
After Hadfield's departure, GM Emile Francis tapped Brad Park to be the newest captain of the Rangers.  While he was honored, Park was a bit hesitant. He thought longtime star Rod Gilbert was a better choice.  From Straight Shooter: The Brad Park Story  by Thom Sears: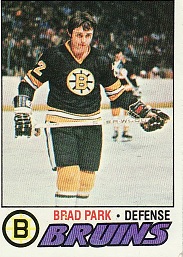 "Rod was a veteran player and the face of the franchise.  Francis told me that he wouldn't name Rod the captain and that if I didn't take it, he'd give it to someone else. So before I took the captaincy I went to Rod and he gave me his blessing and told me that I was the right guy to take the job."

Emile Francis defended his selection, calling Park an automatic choice. "He played the most, he played the hardest, he was a key guy on the team, and other players respected him."
While no one questioned Park's talent, some challenged his leadership. The Day's Dave Anderson weighed in, saying: "As a captain, Park had the responsibility of being the Rangers' leader. The trouble was, he didn't have the personality for it. Nor the appearance.  He wasn't tough enough. With his baby face and baby fat, he didn't even look tough enough to be the leader the Rangers needed."
Park's first season as captain came to a disappointing end, with the club losing in the first round of the playoffs to new cross-town-rival Islanders, who were in just their third season.  They followed that performance by getting off to their worst start in over a decade, going 4-5-1 to start the 1975-76 season.   The club allowed 23 goals in three games against the Sabres, Islanders, and Flyers.   That was when the moves started happening.
Goaltender Gilles Villemure was shipped off to Chicago.  Derek Sanderson was sent packing to St. Louis. Goaltender Eddie Giacomin was placed on waivers, where he was quickly snapped up by the Red Wings.  A few games later, captain Brad Park was on his way out of New York in a blockbuster deal.  Park, Jean Ratelle, and Joe Zanussi were headed to Boston for Phil Esposito and Carol Vadnais.
"It is surely the most spectacular trade in Rangers history," sportswriter Dave Anderson wrote. "And it surely will be the most important if Phil Esposito leads the Rangers to the Stanley Cup that has eluded them for 35 years."
Newly-acquired star center Phil Esposito would don the 'C' for the next three seasons.
General Manager Emile Francis wouldn't make it that long.  After a first-round loss to the upstart Islanders followed by a season missing the playoffs, Francis was terminated along with head coach Ron Stewart, on January 6, 1976.  In his wake, he left four straight Ranger captains he'd personally sent packing.
While general managers have since left captains unprotected in expansion drafts (Kisio), let them leave as free agents (Messier, Jagr), or bought out their contracts (Drury), none have traded away the captain of the Blueshirts.
Will Ryan Callahan be the next Ranger captain to be traded?   He certainly wouldn't be the first.
New York Rangers Captains and How Their Runs Ended
| | | |
| --- | --- | --- |
| Captain | Captaincy | End of Run |
| Bill Cook |  1926–37 | Retired 1937 |
| Art Coulter |  1937–42 | Retired 1942 |
| Ott Heller |  1942–45 | Retired 1945 |
| Neil Colville |  1945–48 | Retired 1949 |
| Buddy O'Connor |  1949–50 | Replaced. Played 1 more season befor retiring in 1951. |
| Frank Eddolls |  1950–51 | Replaced 12/6/51. Rights sold to Montreal in Oct 1952 |
| Allan Stanley |  1951–53 | Replaced. Stayed with team until traded to Chicago in 1954. |
| Don Raleigh |  1953–55 | Retired 1955 |
| Harry Howell |  1955–57 | Free Agent/Rights sold to Oakland 6/1/69 |
| George "Red" Sullivan |  1957–61 | Retired 1961 |
| Andy Bathgate |  1961–64 | TRADED |
| Camille Henry |  1964–65 | TRADED |
| Bob Nevin |  1965–71 | TRADED |
| Vic Hadfield |  1971–74 | TRADED |
| Brad Park |  1974–75 | TRADED |
| Phil Esposito |  1975–78 | Replaced. Stayed with team until his retirement in 1981. |
| Dave Maloney |  1978–80 | Replaced. Stayed with team until traded to Buffalo in 1984. |
| Walt Tkaczuk |  1980–81 | Retired 1981 |
| Barry Beck |  1981–86 | Retired 1986 |
| Ron Greschner |  1986–87 | Retired 1987 |
| Kelly Kisio |  1987–91 | Claimed in Expansion Draft (by Minnesota) |
| Mark Messier |  1991–97 | Free Agent (Vancouver) |
| Brian Leetch |  1997–2000 | Replaced. Stayed with team until trade to Toronto in 2004. |
| Mark Messier |  2000–04 | Retired 2004 |
| Jaromir Jagr |  2006–08 | Free Agent (KHL) |
| Chris Drury |  2008–11 | Retired 2011 (Bought out) |
| Ryan Callahan |  2011– present |  Updated: Traded to Tampa Bay |
---
Follow Josh on Twitter – @joshsmith29
---
Josh is a life-long hockey fan. He grew up as a fan of the New York Rangers, but thanks to their general mismanagement and years of mediocrity, has developed a great appreciation for every team across the league.
He's been writing about hockey on various sites since 1995. In addition to his work at The Hockey Writers, he also keeps tabs on the referees over at ScoutingTheRefs.com.