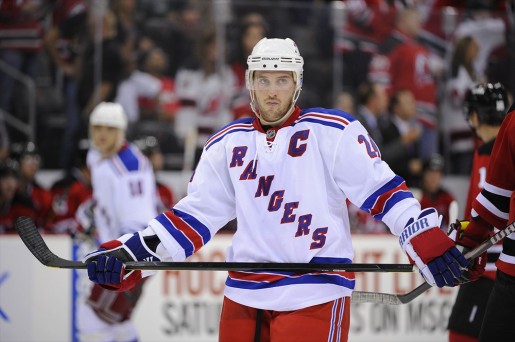 The New York Rangers made a big splash at the trade deadline, sending captain and pending unrestricted free agent Ryan Callahan to the Tampa Bay Lightning.   In return, the Bolts shipped their captain, Martin St. Louis, to New York.
Instead of paying a steep price in contract terms – Callahan was rumored to be seeking six years at over $6 million per season – the Rangers paid a steep price in draft picks.  New York also sent along their 2015 first-round pick, along with a conditional 2014 second rounder.  Here's a breakdown of the conditions and what the Rangers will have given up in each scenario:
If the Rangers make the Eastern Conference Final: Callahan, 1st round pick (2015), 1st round pick (2014)
If the Rangers fail to make the Eastern Conference Final:  Callahan, 1st round pick (2015), 2nd round pick (2014)
If Callahan re-signs with Tampa:

Lightning send 2nd round pick (2015) to New York
Rangers send 7th round pick (2015) to Tampa
St. Louis, 38, currently sits 12th in the NHL in scoring and seventh in goals.  His 61 points immediately make him the Rangers' leading scorer, leading the club in goals (29) and assists (32).  The Laval, Quebec, native has one year remaining on a $5.6 million contract.  Since 2009, no player in the NHL has scored more than St. Louis, who posted 388 points in 351 games over that span, averaging 1.11 points per game.
The rumored offer the Rangers put on the table – 6 years at $6 million –  was well above what Callahan should receive.  (Though not above what someone might give him in free agency.  NHL general managers do crazy things sometimes.)
Not sure if it's out there or not, but told Callahan's latest offer was 6-years at $6.3M per season. Rangers declined, set on 6/$6M per

— David Pagnotta (@TheFourthPeriod) March 4, 2014
Though negotiations were creeping closer, the two sides just couldn't bridge the gap between dollars, length, and the terms of the deal.
Told that Callahan camp went down even further close to $6 million a year, still north of it though, but that NMC was big issue too

— Pierre LeBrun (@PierreVLeBrun) March 5, 2014
The Rangers needed to get a solid return on their captain.  They also wanted to bring in a much-needed offensive spark.  St. Louis provides much more than Callahan does on the score sheet.  Both have a terrific work ethic and great leadership abilities. The question is how much St. Louis has left in the tank.  He's 38 and in great shape, but how many more years will he be able to fend off Father Time?
His contract, at $5.625 million per year, runs through next season.  Unless the Rangers ink him to an extension, he'll already be gone before the 2015 draft — one where the Rangers will no longer be making a first-round selection, with that pick now in Tampa's hands.
It was a good acquisition for the Rangers for this season and next, especially given the fact that their hand was forced by the contract stalemate. Time will tell what the true value of those draft picks will be.   If everything goes as planned in New York, they'll be late-round selections, though the 2015 draft will bee a deep, talented one.  If not, this will be one more 'mortgage-the-future' deal – the kind the Rangers were once known for.
Let's hope it pays off.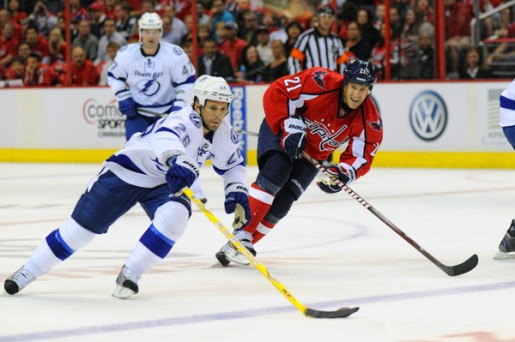 St.Louis: From St. Louis to New York
The Blueshirts are hoping to have their new acquisition in the lineup in time for tonight's game against the Toronto Maple Leafs.  St. Louis returned to Florida with the Lightning last night after a 4-2 loss to the Blues last night in…   St. Louis. (Ironic?)
Rangers are working hard to get St Louis to New York to play tonight vs the Leafs (on TSN). #Tradecentre

— Darren Dreger (@DarrenDreger) March 5, 2014
Where There's Smoke…
Former Ranger Phil Esposito, former Lightning president, spoke strongly about his feelings on this then-rumored trade:
"Not one ounce of evidence," Esposito said Tuesday. "This [garbage] about Marty St. Louis being traded to [bleepin'] New York for Callahan because he doesn't get along with [Lightning general manager Steve] Yzerman  – what a bunch of [junk] that is."
Espo will likely be eating some crow after that one.
Rumors of St. Louis to the Rangers have circulated for years, dating back to as early as 2009.  Former Lightning GM Brian Lawton recently spoke, as reported over at SNY Rangers Blog:
"I can tell you that when I was in Tampa in 2009 right before the trade deadline where Marty was waiting in my office for me and he came in and said that he wasn't happy and wanted to be traded and wanted to be traded to one team which was the New York Rangers. So when I heard this, it's a little bit deja vu."
St. Louis resides in Greenwich, Connecticut – just a 45 minute drive from the Big Apple – in the offseason. This move will allow him to live there full-time with his wife, a Connecticut native, and the couple's three children.
Captain-for-Captain
This move appears to be the first captain-for-captain swap in NHL history.
The Philadelphia Flyers and Calgary Flames nearly became the first teams to trade captains back in 1981.  Mel Bridgman was the Flyers' captain from 1979-1981.   After some tough contract negotiations in the offseason, Bridgman settled for a short-term deal with the club. He came in to training camp to find that the 'C' had been given to veteran Bill Barber.  Just over a month into the season, Bridgman was sent to Calgary for their captain, defenseman Brad Marsh.  Had Bridgman not been demoted a month prior, he and Marsh would've had the honor of being the first captains traded for each other.
Washington and Dallas nearly completed the captain swap in 1995, when Stars captain Mark Tinordi was sent to Washington for Kevin Hatcher.   Hatcher spent the previous season as Capitals' captain but was replaced by Dale Hunter prior to the start of the '95 lockout-shortened season.  It was close, but it wasn't captain-for-captain when the deal went down in January of 1995.
Instead, that honor goes to Ryan Callahan and Martin St. Louis.
---
Follow Josh on Twitter – @joshsmith29
---
Josh is a life-long hockey fan. He grew up as a fan of the New York Rangers, but thanks to their general mismanagement and years of mediocrity, has developed a great appreciation for every team across the league.
He's been writing about hockey on various sites since 1995. In addition to his work at The Hockey Writers, he also keeps tabs on the referees over at ScoutingTheRefs.com.