Sweep at home, split on the road; for the University of North Dakota Hockey team, that's easier said than done. In the past, the Ralph Engelstad Arena has been a tough place to play for opposing teams. Visiting teams rarely sweep UND in the Ralph. Opponents have routinely said it's a tough arena to play in. Now, with their recent results, UND is wondering if the Ralph Engelstad Arena is home sweet home?
This past weekend, UND was swept at home by the University of Minnesota-Duluth (5-3, 4-0) for the first time since the 2013-14 season (November 1-2, 2013 against St. Cloud State 3-2 , 3-1).
Puzzling Stats
In the last 14 games, the University of North Dakota is 8-5-1, which isn't a horrible record. If you dig deeper you will see that six of those eight wins are on the road. During those 14 games, UND is 2-5-1 at home. Breaking it down further, in the last 10 home games UND is 2-6-2.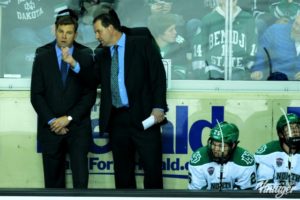 According to Brad Schlossman of the Grand Forks Herald, there's a huge difference statistically between playing at the Ralph and playing on the road.
UND is averaging 3.07 goals per game at home, 3.70 away. It is giving up 2.60 goals per game at home, 2.30 away.
The House of Horrors
Prior to the current 10-game slide at home, UND was 31-2-2 in their previous 35 home games. That record is astounding, especially, with some of the teams that have played here. Now, the Ralph has become a house of horrors.
Losing at home doesn't sit well with the Fighting Hawks players. Moreover, they know there are certain expectations when you play for UND. Losing isn't tolerated and winning titles is expected. Earlier in the season after a loss at home, sophomore defenseman Christian Wolanin summed it up best:
"We're the University of North Dakota," Wolanin said. "That's what's expected, excellence or nothing. We've got ourselves to believe in."
This season, a common theme has emerged, many of the Hawks players have expressed their frustration about not being able to close out games at home. A few have suggested that it's easier to play on the road than it is at home.
"Obviously, it's frustrating, no one wants to lose hockey games," sophomore forward Shane Gersich said." We play in front of 12,000 people cheering for us. It's frustrating when we lose games and we have to learn from this right now."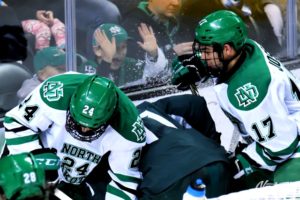 Junior forward Simonson echoed his teammate's sentiments:
"We take pride at home winning in front of our home fans in this beautiful rink," Simonson said. "It's definitely an advantage and it's too bad we don't have a better record. We take that to heart and we know that we're going to come out with a better push."
Recently, senior captain, Gage Ausmus wasn't very happy after a loss at home against the Miami RedHawks:
"I think we feel more comfortable here, and feel like we have the upper hand when we really don't," Ausmus said. "We have to go into every game willing to work and willing to outwork the other team for every inch on the ice and I don't think we did that tonight."
Last month, in an interview with All-American Goalie, Cam Johnson, he was quick to point out the differences between playing at home and on the road:
"It's way easier to play on the road, especially, this year," Johnson said. "Obviously, with our struggles, I think maybe some guys get a little intimidated with the Ralph. We have amazing fans, we have some really, great fans. There are obviously just those few (fans) that like to single out players and maybe it can get in some guys' heads. When you play on the road, you're just kind of care-free. You just go in there and want to win games."
Crunch Time
While it might sound cliché, it's crunch time for the UND hockey team. They're running out of time. The Hawks have six games on the road and four games at home. If the Hawks have aspirations of making a run in the NCAA playoffs they need to go on a streak.
Even more unsettling for UND fans, if the NCHC playoffs started today, they would be on the road for the first round of the NCHC playoffs in Oxford, OH, to play the Miami RedHawks. UND hasn't traveled for the first round of the playoffs since the 2001-02 season.
Leaving Grand Forks, ND might be the best thing for the young Hawks. This season, UND has a better record on the road than they do at home 7-6-2, and 6-3-1 on the road.