There's one thing for certain, junior All-American goalie Cam Johnson is the University of North Dakota's starting goalie. While his overall numbers aren't as good as last season, Johnson hasn't played poorly. This season, Johnson has started every game and been the only goalie to play in net for the Hawks. In 18 games, Johnson is 9-6-3, 2,16 GAA and .912 save percentage. In the last five games, Johnson's game has improved to 2-1-1, 2.02 GAA and .922 save percentage.  Johnson's 26 wins are the most in Division I during the calendar year of 2016.
Who woke up today with the most wins in @NCAAIceHockey over the last calendar year? This guy, @itsyaboiiceej, with 26. #UNDproud pic.twitter.com/Wly1mnTaCI

— North Dakota MHockey (@UNDmhockey) December 25, 2016
According to UND, Johnson is closing in on a historic record. The Troy, Michigan native enters Saturday's game against Union having played in 48 consecutive starts. That's the second-longest streak in school history. First place is held by Jean-Philippe Lamoureux's streak of 55 in a row from 2006-08.
there have been games he's been terrible. Asking for competition isnt a bad thing. I'm one who's said he should have a night off

— Austin (@adtheisen) December 26, 2016
Some UND Fans Want a Change in Net
Solid performance aside, some UND hockey fans just aren't happy. I've received many tweets like the one above.  Today, All-American honors and a NCAA title are distant memories. There is a group of vocal fans that would like to see Johnson sit for a game or two. This year, as the season has progressed, the call for the backup goalie has increased which each UND loss.
Yesterday, with sophomore backup goalie Matej Tomek's performance against the Americans in the WJHC, those calls could get louder with UND's next loss. Against Team USA, Tomek stopped 45 of 50 shots and prevented Team Slovakia from getting routed. Tomek has yet to make his debut with the Hawks. Those same fans would like to see Tomek make that debut when he returns from the WJHC.
Candid Cam
Over the course of his UND career, Johnson has been media friendly. He will answer each and every question the media asks of him. He's respectful and well spoken and very candid. As I mentioned in another post, Johnson said that he sees everything the fans say about him on social media.
I also follow social media closely and I've seen some of the comments fans tweet about Johnson. I asked Johnson if he had seen the calls for him to sit for a game or two, he answered the question candidly.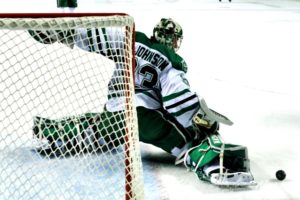 "I think there were a few times where we're going through rough patches and if we'd thrown someone else in the fire it may have gotten pretty ugly," Johnson said. "You never know. A goalie can win you games and we have other unbelievable goalies here that can play. But I think it was a learning process for everyone. Guys were kind of learning what I am all about. I was learning what guys on our team were all about.
"We weren't playing our best hockey and we were getting outplayed. We were giving up way too many grade-A chances. I felt maybe if we put someone else in there it could have gone horribly wrong. Maybe it could've been good. For the most part, I would've felt bad, because if they get peppered in some of the games like we did, it kind of takes their confidence away from them."
Less Pressure Away the Ralph?
When you play hockey for the University of North Dakota, there's a lot of expectations. Sometimes, it's easier for some players to play on the road than it is at home.
"It's way easier to play on the road, especially, this year," Johnson said. "Obviously, with our struggles, I think maybe some guys get a little intimidated with the Ralph. We have amazing fans, we have some really, great fans. There are obviously just those few (fans) that like to single out players and maybe it can get in some guy's heads. When you play on the road, you're just kind of care-free. You just go in there and want to win games."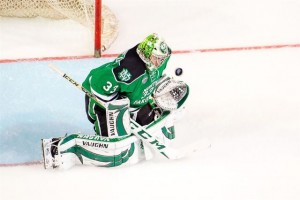 Pressure and expectations aside, the margin between winning and losing hockey games is very slim. The UND hockey players, to a man,  know that they had an okay first half of the season. They know they can be better.
"Our first half did not go the way we planned at all," Johnson said. "I think we could've had a better first half. You look at us, we're still okay. We're still ranked number 9 in the nation. We're not panicking. There were some games in the first half that we should've won. Some games that we were kicking ourselves about.
"Overall, we didn't play bad hockey. We just had a couple of bad stints. I think that's what a lot of people are judging us on. Our first half, we beat Boston College, St. Cloud, Bemidji State. Those are all quality opponents. I think people are looking more at the negatives than the positives. We're carrying that into the second half. We know we have a great team in there."
Before the Hawks ring in the New Year, they have one more non-conference game against Union on December 31, 2016.