The Winnipeg Jets have been finding ways to keep themselves in the wild card hunt in the NHL's western conference standings, but it hasn't come easy. The Jets will be looking to change some things up heading into the New Year and working towards becoming a better all-around team, something they've struggled to be so far this season.
Secondary Scoring
Aside from the Jets top four offensive forwards in Mark Scheifele, Nikolaj Ehlers, rookie Patrik Laine, and captain Blake Wheeler, the Jets have been struggling to receive secondary scoring from their other forwards. The four mentioned are the only forwards on Winnipeg with more than 12 points, and no other player has more than six goals except for left-winger Adam Lowry (seven goals, 10 points).
The Jets received forward Bryan Little back from injury in November after missing considerable time. Since his return, he has registered 12 points in 15 games, but they need to have other players step up to help carry the load in what should be a highly offensive Winnipeg Jets team. They are highly skilled and it's time to start posting the numbers to reflect it.
Fortunately for the Jets, they have a not-so-secret weapon in Dustin Byfuglien on the back end who is as offensively gifted as he is defensively sound. Byfuglien has chipped in with four goals, 19 assists, and 23 points to assist with production but it just hasn't been enough to make up for the other players' slack. He'll continue to work his chances but the forwards need to take notes and start shooting themselves.
The Jets rank tied for 12th in the NHL in terms of goals for thanks to the output of their top line of Scheifele, Ehlers and Laine, plus some of the previously mentioned players. With all of the talent and young promising players within that locker room the Jets need to find a way to get other players on the score sheet and capitalizing on scoring chances. It isn't all about goal-scoring, this is true – but it does play a pretty crucial role if you want to win hockey games. With some added secondary scoring the Jets could ice one of the most dangerous offensive teams and they need to get it going soon.
Help on the Backend
The Winnipeg Jets have allowed 111 goals this season and if that doesn't sound too harsh a number for you, that ranks them fourth overall in the entire NHL for most goals against. For a team that has one of the most reputable defensive cores in the league, the Jets just can't keep the puck out of their own net.
This problem could be attributed to the play of goaltenders Connor Hellebuyck and Michael Hutchinson who have struggled early on to start the season, though I know you're never supposed to put the blame on the goaltenders. Hellebuyck has been receiving a majority of the starts in Winnipeg's goal although he hasn't exactly posted starting numbers, and Hutchinson hasn't been the reliable backup that the team has needed him to be.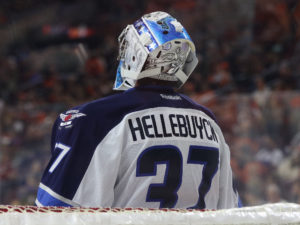 Hellebuyck owns a 2.62 goals-against-average (GAA) to go along with a .913 save percentage and two shutouts. While the numbers are not terrible so to speak, they aren't where they need to be for the Jets to rely on their goaltender to steal some wins. To be fair, Hellebuyck's play has improved recently and he looks more poised in the net which has allowed him to settle into his game. Hopefully, for the Jets, he can continue to find his game and stack stronger numbers moving forward.
Hutchinson is 4-7-2 in 13 starts this season and owns a GAA of 3.13 paired with a .896 save percentage. When called upon to step in for Hellebuyck, Hutchinson has failed to steal the wins that the Jets are so desperately needing going into the season's later half. There needs to be more will and compete from both goalies in order to win over the trust of their teammates because as of right now the Jets' goaltending is far from being one their strengths.
It will have to be a fast transition for the Jets going into the New Year if they hope to turn things around and climb the standings. Will they find their groove and step up the scoring while reducing the number of pucks entering their own net, or will they continue to slip in the western conference race? 2017 almost can't come soon enough.
4th year Sport Management student at Brock University.