The Detroit Red Wings dressed 10 different defensemen during the month of December. Despite general manager Ken Holland's decision to carry eight defensemen this season, injuries to Brendan Smith, Alexey Marchenko and Mike Green forced the team to turn to Grand Rapids for reserves.
On one hand, it displayed the kind of depth Holland has accumulated on the Wings' blue line over the past few years. On the other hand, much of that depth falls into the category of "third-pairing defender" or "fringe NHLer".
Based on the way head coach Jeff Blashill has deployed him this season, Brendan Smith falls into the former category. Despite the team's defense corps struggling all season long, the 27-year-old ranks fifth in TOI/GP. In his fourth full year (a contract year, mind you) with the team, it makes you wonder if Smith has much of a future in Detroit.
Missed Potential or Misused by Management?
The Red Wings drafted Smith 27th overall in the 2007 NHL entry draft. At the time, he projected as a top-four defenseman, with a high offensive IQ and excellent skating ability. Through three seasons at the University of Wisconsin, Smith accumulated 87 points over the course of 95 games. In his final season with the Badgers, he was a finalist for the Hobey Baker Award, which the NCAA awards to their top player each season.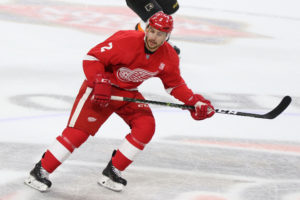 While his transition to the AHL wasn't a smooth one, Smith was still found some offensive success. He collected 86 points in 152 games with the Griffins, producing at a 0.57 P/GP clip. Ideally, the Red Wings' brass was hoping that Smith could bring that kind of offense to the NHL, but he has fallen short of that level of production.
Since the 2011-12 season, Smith has been one of the team's best defensemen in terms of possession at five-on-five. Through 280 games with the Wings, he has turned in a CF% of 55.08, according to Corsica. It has not translated into offensive production, but management has not put Smith in a position to excel offensively, either.
Over the course of his career in Detroit, Smith has averaged 16:13 EV TOI/GP, and a meager 0:36 PP TOI/GP. That number has climbed to 1:36 PP TOI/GP this season, but he has essentially received little to no time on the power play.
Unquestionably, Smith is guilty of taking too many risks on the ice, which has led to some costly turnovers throughout the years. At the same time, it's fair to wonder if the Wings' coaching staff should have spent more time focusing on his strengths, and less time on trying to push a square peg into a round hole. If they had, Smith might be in a different position today.
Low Man on the Depth Chart
When you look at the Red Wings' top four defensemen in TOI/GP this season – Green, Danny DeKeyser, Niklas Kronwall and Jonathan Ericsson – it is difficult to understand why Blashill has not pushed Smith into a larger role. DeKeyser has struggled this year, and Kronwall has a permanently damaged knee. While the team has opted to give the 35-year-old defender a "rest day" every once in a while, it has not had much of an impact on his ice time. If the Red Wings ever intended on placing their faith in Smith, it feels as if they would have already done so.
Kronwall's knee? Yes, as I've been writing. Damage permanent. #RedWings https://t.co/rppatSgeXU

— Helene St. James (@HeleneStJames) November 14, 2016
The other day, I suggested the Red Wings should explore the option of trading Smith, but they may not find a suitor. Whether you believe Smith has failed to live up to his potential, or Detroit's management has failed to use him properly, perhaps it's best if both sides to go their separate ways before the start of next season.