Boxing Day is behind us, but with the Feb. 28 NHL trade deadline looming, the Detroit Red Wings could have a sale of their own in roughly two months. If the team continues to struggle, Ken Holland may have to go into full 'sell mode' for the first time in a very long time.
While the Wings' roster is not loaded with desirable trade pieces, there are a number of players on the team that could spark some interest around the league. At the very least, if the brass in Detroit is unsure about the team's odds heading into the postseason, they should try to obtain a few draft picks for players on expiring contracts.
Thomas Vanek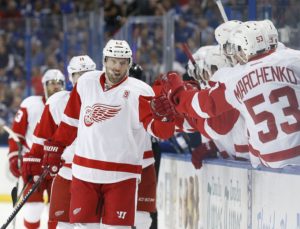 The other day, I discussed Thomas Vanek's potential price tag next season, and why the Red Wings might want to look the other way when it comes time to re-sign him. However, I neglected to mention that the team could ship the 32-year old out for a draft pick or two at this season's trade deadline.
Considering the year he's had in Detroit, Vanek could very well represent the team's best chance at netting a decent return. The Austrian forward has accumulated 18 points through 23 games, leading all Red Wings by scoring at a .78 P/GP clip this season.
Last season, the New Jersey Devils netted a second-round pick in 2017 and a fourth-round pick in 2016 for Lee Stempniak, who scored 51 points through 82 games (.0.62 P/GP). Similarly, the Calgary Flames moved Jiri Hudler for a second-round pick in 2016 and a fourth-round pick in 2018, who scored 46 points in 72 games (0.64 P/GP).
Even if Vanek's offense dries up a bit over the next two months, it is reasonable to think the Austrian forward can land a similar return.
Brendan Smith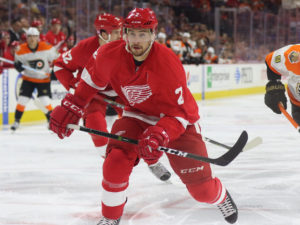 Like Vanek, Brendan Smith is a pending unrestricted free agent, which knocks his value down a bit. However, unlike Vanek, the 27-year-old blueliner isn't exactly lighting it up this season, so finding a suitor might prove difficult.
Smith sustained a knee injury in late-November but is due to return as soon as tonight's game against the Buffalo Sabres. In the 20 games he has played this year, he has collected just four points, and has never posted more than 20 points in a single season with the Red Wings. Despite his struggles this season, Smith has posted strong possession numbers during his time in Detroit, according to Corsica. On the right team, in the right situation, maybe that translates into offensive production.
In some ways, Smith is similar to former Red Wing, Jakub Kindl. Both are former first-round selections that never really panned out in Detroit. Last season, the team moved Kindl to the Florida Panthers for a sixth-round pick in 2017 but had to eat $360,000 in cap space to get the deal done. Considering Smith is in a similar situation, perhaps the Red Wings should try to move him to obtain another late-round pick, and cut their losses.
Jimmy Howard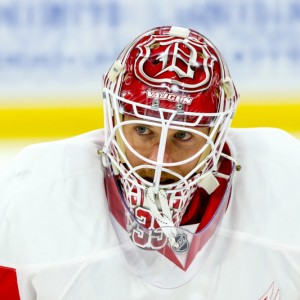 Last season, Holland could not pay someone to take Jimmy Howard off his hands. However, it appears as if the 32-year-old netminder's value has received a boost, as he has posted a 1.96 GAA and .934 Sv% through 17 games this season. Even with two years left on his current contract – worth an AAV of $5.29 million – there could be a market for Howard with a team searching for a goaltender to insulate their net.
Unfortunately, with Howard sidelined for the next 4-6 weeks with an MCL sprain, his trade value could take a hit. Additionally, the current goaltending market is not going to do Holland any favors. If both Ben Bishop and Marc-Andre Fleury are on the trading block this year, teams are more likely to target those two before looking at Howard.
Considering Petr Mrazek's struggles this season, the Wings might be reluctant to move Howard, depending on where they stand at the deadline. Despite his poor showing, Holland is unlikely to leave Mrazek unprotected for the Las Vegas expansion draft. They could still trade Howard during the summer, but if the team refuses to put him on the trade block prior to the expansion draft, it is possible they are just delaying his inevitable departure from Detroit.
I am a writer from Windsor, Ontario who has covered the Detroit Red Wings for The Hockey Writers. I have had the pleasure of doing so since February of 2015. Previously, I have written about Red Wings prospects for Hockey's Future. I am always up for chatting about the Red Wings and hockey in general, so leave me your comment and/or tweets. Follow me on Twitter at @BrandonPeleshok.