Last year's World Junior Hockey Championship belonged to Finland. They lost just one game in the preliminary round, took down Team Canada in the quarterfinals, beat their rival Sweden in the semi's and went on to capture gold on home ice against Russia, the only team to hand them a loss in the tournament. The win was the second in three years, perhaps signalling an era of domination from a country that has long boasted hockey talent, but always seemed a notch below other hockey powers. Is Finland headed for a second consecutive title?
Finland's International Inconsistency
The gold medal victory in 2014 was Finland's first since 1998, and third gold overall. They didn't medal the following year but were once again crowned champions in 2016. But will their success be sustainable? On the senior men's side, gold is something that has eluded Finland for a long time. They have just two World Hockey Championship golds (1995, 2011) to go along with eight silver medals, the most recent coming in 2016. In the Olympics, they have yet to win gold, settling for two silvers, and four bronze. In fact, they've finished in third place four of the past five Olympic games.
The talent has always been there, they just haven't been able to get over the hump. In this year's World Cup of Hockey, Finland turned in a disappointing performance, losing all three of their group games and failing to advance to the knock-out phase. They scored just one goal in the tournament and, considering their recent success at other tournaments, it was surprising. The win on home ice at last year's World Junior's was a huge step forward for the program, and it felt like just the tip of the iceberg.
Having three players selected in the top five of this past summer's NHL entry draft is a huge accomplishment for Finnish hockey, and says a lot about the state of their young players. The question is, can Finland continue to assert it's dominance at the junior level, or will it take a step back this year?
Finland Is Missing It's Big Guns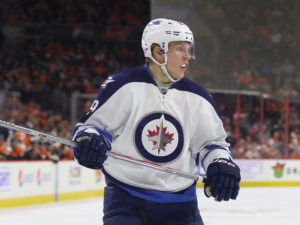 The three top scorers in the 2016 tournament were all from Finland. Unfortunately, none of those players is on the 2017 roster. Patrik Laine, the second overall pick in last summer's draft, is having an outstanding year with the Winnipeg Jets. He leads all rookies in goals with 19 so far and is second overall to just Sidney Crosby. The Jets were never going to release him, especially as they continue to fight for playoff contention.
Jesse Puljujarvi, the tournament MVP in 2016, also wasn't released by his team, though he's played a much less significant role than Laine. Chosen fourth overall by the Edmonton Oilers, Puljujarvi has been a healthy scratch as of late. He's got just one goal and eight points in 24 games, and there have been some questions about what's best for his development.
Sebastian Aho, a second-round pick of the Carolina Hurricanes in 2015, also seems to be fitting in well as a pro. He's got six goals and 17 points in 33 games, and it wasn't really a consideration to let him play in this year's World Juniors. Finland's head coach Jukka Rautakorpi was aware of the talent he'd be missing and knew he just had to keep the line moving.
'Of course, first goal that we have is to develop players to play in the NHL,' Rautakorpi said. 'It's very good that we have that problem that we can't have players to play here. Beyond them it's coming, new players. Last year in Finland we had Aho, Puljujarvi and Laine, they were young players there. This year is a new tournament, and our young players are going to play better here.' [NHL]
One guy that they do have is Vancouver Canucks prospect Olli Juolevi. He's Finland's captain, and one of their most important players. Juolevi, along with Vili Saarijarvi, will be counted upon to help anchor the blueline. In Finland's first game vs. the Czech Republic, they joined defencemen Miro Heiskanen and Juuso Valimaki with the lion's share of ice time on the back end.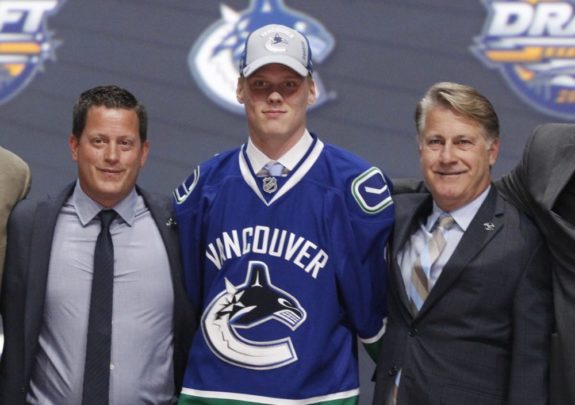 Finland Drops Game One to the Czechs
The opening game of Finland's 2017 tournament was deadlocked at one apiece for the majority of the game and looked to be headed to overtime. Perhaps the Finns were playing for the extra frame, because with just over a minute to go, Michael Spacek scored to give the Czech Republic a 2-1 lead. Finland wasn't able to respond and had to settle for a very disappointing loss.
Finland was outshot 30-23 and saw a strong performance from their goalie Veini Vehvilainen (who was named their player of the game) go to waste. There's no lack of confidence in the defending champs, who felt they could have come away with the victory.
'Everybody was disappointed,' said Eeli Tolvanen. 'We wanted to win the first game and get more confidence. We just have to keep going.' We can still win this tournament,' said captain Olli Juolevi. 'We haven't lost anything, kind of. It's just one game, and we have to be ready to play tomorrow against Denmark.' [IIHF]
Finland doesn't have much time to think about the loss, but they're certainly favoured going into Tuesday's match-up against Denmark. This Finnish team is lacking firepower and it may be the difference in this tournament. First things first, they'll need to need to rebound. Winning another gold medal is going to be a challenge, though you should never count out the defending champs. Whatever the outcome, however, Finland is putting together a strong foundation. Look out for them on the world stage in years to come.
Marcy, a former hockey player, is a hockey correspondent on CTV News and TSN radio. She began her career as a Sports Journalist in 2009 and has been part of The Hockey Writers since 2010, where she is currently a senior writer and editor.