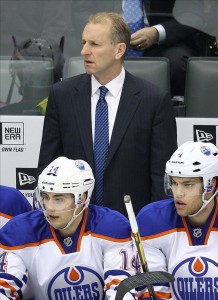 When the Oilers elected not to renew the contract of Head Coach Tom Renney following the conclusion of another playoff-less season, the hunt for a new bench boss was on. There was a ton of speculation that the job was Brett Sutter's for the taking, but as the weeks went on and no announcement was made, it seemed perhaps Sutter wasn't a lock after all. Oilers management said they weren't in a rush to hire a new coach, as they wanted to be sure they found the right man for the job. The draft went by without a head coach in place, but on Tuesday reports surfaced that the Oilers were going to name Oilers associate coach Ralph Krueger as their next head coach. As expected, on Wednesday morning, General Manager Steve Tambellini announced that Ralph Krueger was the man for the job in Edmonton.
In an interview on June 21, Krueger gave some comments on the possibility of him getting the job.
"A head coach must develop a strategy to win that is in line with the tools and skill level at his disposal. If you have offensive skill you can attack; if not, rely on defence and counter punching. We would take our power play foundation and attacking principles into our five-on-five game. I'm not a defensive coach," said Krueger. "I'm a coach who looks at the skills of my players and coaches them accordingly. I know how much potential I feel there is in Edmonton. I don't think there's any question there's a big upside. It's there. But it's going to take a lot of hard work in the next while to get there." (Edmonton Sun)
Sounds like a perfect fit for a team loaded with offensive ability. The Oilers are young, with raw talent, and need a coach who could not only get the best out of his players, but also cultivate the potential that lies within them. The Oilers are still a few pieces away from being a legitimate contender, but some shrewd free agent signings, particularly on the blueline, and there's a real chance they may be able to compete this coming season. And judging by Krueger's comments, if nothing else, we can certainly expect some entertaining run and gun offense. Krueger has a lot of coaching experience in Europe, most notably as the head coach of the Swiss National Team.
Watch General Manager Steve Tambellini discuss his decision here: