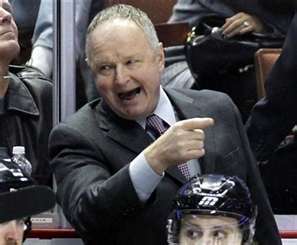 The Anaheim Ducks have been an NHL franchise for 20 years, and a large part of their success is a product of Randy Carlyle's tenure behind the bench. In seven years of coaching Carlyle holds all the benchmarks, including 273 wins in 516 games and a Stanley Cup in 2007. The beginning of the 2011-12 season saw the Ducks trundle out to a 7-13-4 start forcing Anaheim brass to part ways with Carlyle on December 1st. Three months later, Carlyle would replace Ron Wilson for a job behind the Toronto Maple Leafs' bench, and would never look back.
Since being hired by Brian Burke, Carlyle's squad has played to the tune of 67-49-16, good for a .568 win percentage (only .02 behind his mark in California). Carlyle was instrumental in Toronto's return to the playoffs last season, an achievement eight years in the making. Since taking on the role, Carlyle has largely been dealing with a lot of grief for the way his squad wins, nevermind the fact the Leafs are currently third overall in the Eastern Conference. But Carlyle had a tall order to face upon arriving in Anaheim. The Ducks sit second overall in the league and have the second best goals-for as well, making them a dangerous squad to begin a five-game Western road swing against. However, he seemed to know exactly what to do.
Last Night's Matchup
The Leafs flew in as one of the hottest teams in the league, going 13-3-3 in their last 19 games, and they managed to improve after a 3-1 effort at the Honda Center. Everyone knew this game meant more than just two points, as quite a bit of emotion was involved.
Selanne on Carlyle return: "It's going to be big for him. For him, it will be an awesome night. Hopefully he can enjoy it, but we still win"

— Mark Masters (@markhmasters) March 11, 2014
Unfortunately Selanne and the boys weren't able to overcome Toronto's odd style, making Carlyle the happiest coach in the league Monday night. Though the highlights will show the Ducks lost by two goals, the scoresheet tells a different story – one that has been common among Leafs fans all year.
#Leafs now have 25 wins this season allowing 35+ shots… most in NHL since 1995-96 Pens @mirtle #TMLtalk

— Chris Black (@DownToBlack) March 11, 2014
Jonathan Bernier's 9th game with 40+ saves this season, most in NHL

— Chris Black (@DownToBlack) March 11, 2014
So how do the Ducks lose while out-shooting the Leafs 44-23? The answer is in the way the shots are taken. Yes the Ducks had many decent chances, but more often than not the shots are coming from the outside and Jonathan Bernier has a clear look at them. After watching highlights, many will suggest the Ducks just ran into a hot goaltender, but that's just not the case. While half a dozen saves were certainly flashy, Bernier simply had to position himself well and keep his glove-hand high in order to thwart Anaheim's attempts. The Leafs doubled the Ducks in shots blocked 24-12 and dominated in hits and faceoffs as well.
It is easy to blame Bernier for the Ducks' third straight loss, especially when you notice the Leafs were outshot 35 to 12 in the final two periods. What you might forget is that Toronto was all ready up 3-0, securing themselves a lead they felt safe enough to play Carlyle's new brand of hockey. It's a brand that most pundits will tell you cannot last any longer, and will deplete all of the strength and energy from Toronto's goaltending – but a plan that Chris Black pointed out continues to work. With a three goal lead, the Leafs sit back and allow as many shots as their opponents desire from the outside. When they make a mistake, such as a bad pinch, the Leafs use their miraculous speed to push the puck up ice and work a cycle to waste time. It worked well for forty minutes, thwarting everyone except for Corey Perry.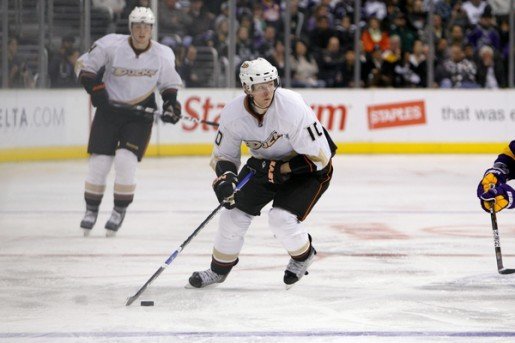 Perry was unreal last night, playing in a league of his own among the Ducks. While frustration overwhelmed Anaheim's bottom three lines, there's not enough that can be said for Perry's effort, as he nearly carried the Ducks back into the game itself. Using his speed and big body, Perry almost created a cycle around Bernier's net by himself, constantly creating chances, and coming close to several goals before potting one near the end of the second period. Bruce Boudreau moved Patrick Maroon to the top line (Maroon had a couple chances himself) which proved a good idea as it yielded a goal. Perry, Getzlaf and Maroon cycled for a good thirty seconds before the three connected on a pretty one against an exhausted Leafs defence. However, that was all the Ducks were capable of for the rest of the game.
Perry led all players with eight shots, two more than Phil Kessel and three more than any other Duck. Yet Perry alone wasn't enough to contain the pure speed and ingenuity of Kessel, who ended the game with a stellar breakaway goal and two assists. Tyler Bozak had another all-star performance as he also managed a goal and two assists to give him 40 points in 42 games.
Notes:
Carlyle and the Leafs beat the Ducks 4-2 in October, making him 2-0 against his former team.
There were three fights in the game. David Clarkson was in two of them. Both teams combined for 50 penalty minutes. 
Ryan Getzlaf played four minutes more than any Leaf. Bryan Allen, who had a middling effort, saw a massive decrease in ice time.