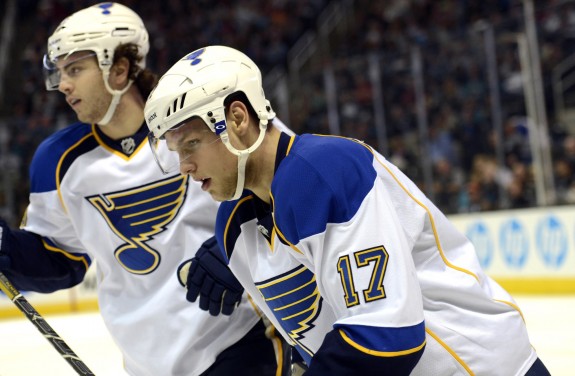 A glance at the standings would tell even the most modest hockey fan that the St. Louis Blues are among the favorites to win the Stanley Cup this season. With a victory over the Minnesota Wild on March 9, the Blues climbed over the Anaheim Ducks and are sitting—at least for now—at the top of the NHL. Ken Hitchcock and his team are now eyeing the Presidents' Trophy as the top team in the league, and if their recent play is any indication, they could end up hanging at least two banners at the start of next season.
From a simple win-loss perspective, the Blues are among the best. To paint the team with such a broad brush would be doing several players an injustice, however. After all, St. Louis is home to a few of the NHL's most super-powered players.
David Backes (Superpower: Leadership)
We'll start with the easy one. David Backes has been a frequent representative of the United States throughout his international career. After his rookie season he played for the Americans in the 2007 World Championships and has frequently worn the Stars and Stripes at various levels of competition. He laced up the skates for the U.S.A. at the 2010 and 2014 Winter Games, and is renowned for his leadership both on and off the ice.
Backes is an outstanding captain because of his commitment to the team, his community and the game itself. From bringing dogs home from Sochi…
Rescuing stray dogs at the Olympics in Sochi?Sounds like a job for #CaptainAmerica David Backes http://t.co/EEGDhUEAZC #stlblues @dbackes42

— Norm Sanders (@NormSanders) February 25, 2014
…to simply playing hard night in and night out, the Blues have a special captain in Backes. He's third in the NHL in hits by a forward according to ESPN.com, and is never afraid to go to war for his teammates. St. Louis is built around him as the archetype, and if they were the Avengers, he'd be Captain America.
Steve Ott (Superpower: Agitation)
One of the most detested players in the NHL is Steve Ott. That fact wasn't lost on the Blues when they traded for him prior to the deadline. His ability to get under the opposition's skin is somewhat important during a regular season game, but the players on the other team get to hop on a bus and square off with someone else after wrapping up their game with the Blues.
That isn't the way the playoffs work. To truly understand the power that Ott has, just think about him going toe-to-toe with Jonathan Toews across a seven-game playoff series. Any number of things could be the difference maker in a tightly contested sequence of games like that, and Ott's ability to irritate the opposition to no end shouldn't be underestimated.
He's the kind of guy that you hate to play against, but love to have on your team. Even the guys on his own squad know about Ott and his propensity to irritate.
Wow @RyanMiller3039 says Steve Ott is one of those "interesting people you meet in life who like to annoy people"… just like @JoeStrauss

— bryan burwell (@realbburwell) March 10, 2014
If Backes in Captain America, then Ott is more akin to Deadpool—constantly talking smack while trying to find a way to influence the outcome of a game. Whether it be a big hit or a a momentum-turning fight, the feisty forward always seems to know how to annoy.
Alexander Steen (Superpower: Drawing penalties)
Up until a few seasons ago, it would have been nearly impossible to suggest that a player was "good" at drawing penalties while others were "bad" at it. Advanced statistics have given us a bevy of new data though and as it turns out, Alexander Steen is remarkably good at drawing penalties. While it's true that he's had a career year from a goal-scoring standpoint, the 30-year-old forward can still make an impact when he's not lighting the lamp.
That's incredibly important for a top-six forward that is mostly being paid to score.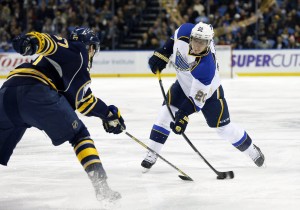 According to BehindTheNet.ca, Steen is fourth in the NHL when it comes to drawing penalties. He creates nearly two power plays for the Blues per 60 minutes, and trails only Nazem Kadri, Dustin Brown and Corey Perry in this regard. All three of those guys play a more physical brand of hockey than Steen, which makes his ability to draw penalties even more impressive.
It's tough to determine exactly what makes Steen so good at this odd aspect of the game. It could be his willingness to get to the net while skating hard with the puck. ExtraSkater.con has Steen ranked sixth in penalty plus-minus, which is a measure of penalties taken against penalties drawn.
Regardless of the tracking device, the sniper is among the league's elite when it comes to getting his team onto the power play. The Blues have the third-best power play in the NHL, making Steen's power even more deadly.
Vladimir Sobotka (Superpower: Winning draws)
St. Louis is good at a lot of things. They have the third-best goals-per-game average. The Blues also have the third-best goals-against average. Only three teams in the league have a better power play and St. Louis is better than 26 other teams when it comes to killing penalties. One area where they could stand to improve in the faceoff circle.
They are 14th in the NHL when it comes to winning draws, clipping in at a 50.8% winning percentage. Acquiring Ott will help this, but the Blues already have one of the top faceoff aces in the league in Vladimir Sobotka. He comes away with the puck a remarkable 60.8% of the time. While Sobotka doesn't take as many draws as some of his counterparts, Hitchcock knows he can rely on the fourth-year Blue to come away with the puck more often than not.
Starting with the puck leads to goals, and at the very least allows the Blues to dictate the direction and pace of play.
Franklin Steele has been publishing hockey columns online since 2011 and has been watching and playing since the age of six. More than six million people have read his work, and he has more than 3,500 bylines to his name. He joins The Hockey Writers after five years with FanRag Sports, and his work also appears on WingsNation.com and ChicagoSportsColumn.com.
Feel free to follow him on Twitter @FranklinSteele or to drop him a comment.