Welcome to The Hockey Writers' 2023 Free-Agent Target series for the New York Rangers. During it, we will be looking at a handful of free agents from NHL teams who the Rangers should consider signing this summer.
In this edition, we will focus on the Calgary Flames. The Flames have some pending unrestricted free agents who could be of interest to the Rangers' roster needs. Let's discuss them now.
Nick Ritchie
The Rangers could use a forward with size that increases their physicality on the bottom six. The Hockey Writers' Tom Castro wrote that Nick Ritchie could be a target for New York especially if the winger has a difficult time in free agency finding another multiyear offer from another club.
Castro wrote that Ritchie, who is 6-foot-3 and 236 pounds, can win puck battles down low and get in front of the net. Chris Kreider is one of the players on the Rangers roster who consistently gets near the net, which is a valuable trait that New York could use more of.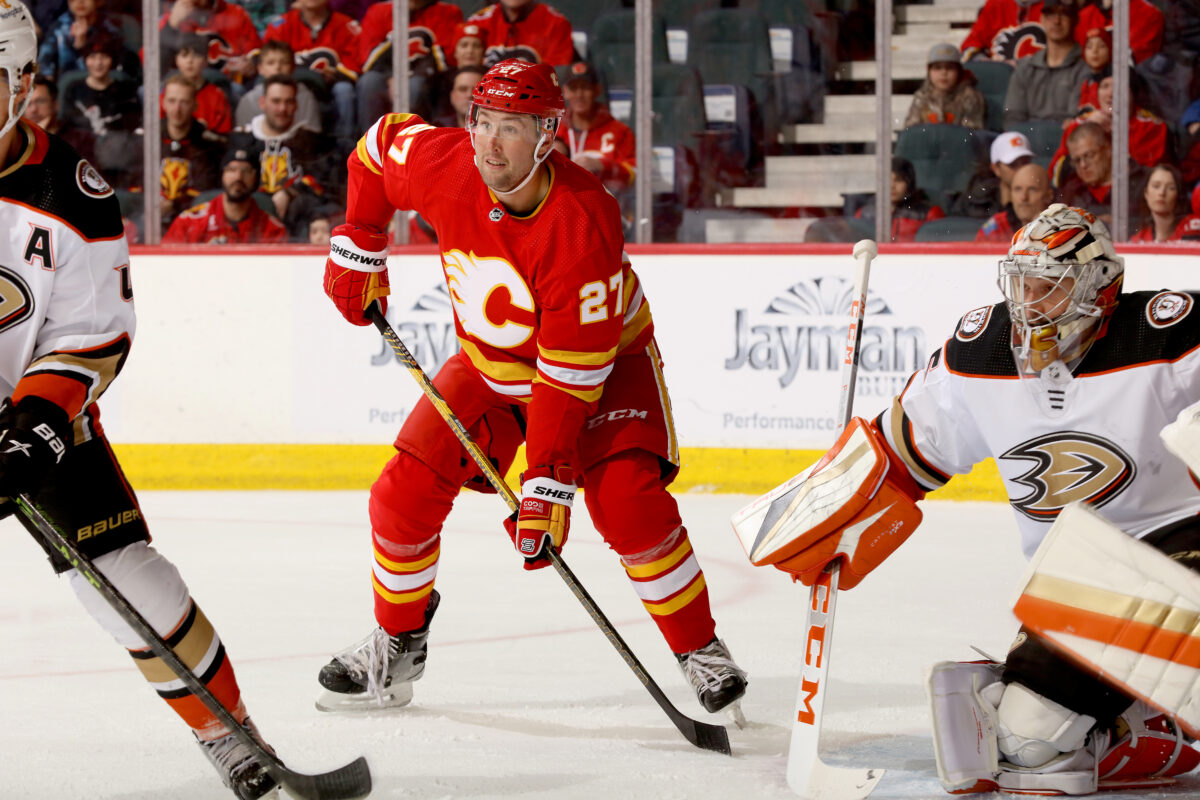 Ryan Pike of Flames Nation wrote that Ritchie is a useful contributor when he is playing well but can have issues with being a consistent offensive contributor. The winger also needs to find the right team that will complement his strengths. He has the ability to be a secondary scorer for the Rangers.
Ritchie is coming off of a two-year deal with an average annual value of $2.5 million. Team president/general manager (GM) Chris Drury could offer him a one- to two-year contract with a $2 million average annual value. The forward has demonstrated the ability to be an effective supplementary offensive contributor during his career.
Trevor Lewis
Trevor Lewis is known for playing a good two-way game. He is coming off a one-year, $800,000 deal with the Flames. He has agreed to one-year contracts (one with the Winnipeg Jets, two with the Flames) since the four-year deal he signed with the Los Angeles Kings expired following the 2019-20 season.
---
Latest News & Highlights
---
Lewis' experience would be valuable for younger players to learn from as the veteran knows what it takes to be an effective player on the fourth line. During the 2022-23 season, he mentioned what makes a player effective on the last line, "As the fourth line, you have to be effective. You don't want to just be placeholders for other guys, you want to be effective in the game. I think if we can get in there and wear down their D, you know, and play smart defensively, we're a good line," (from ' 'Keep it simple': Trevor Lewis soldiers on as reliable anchor of Flames' fourth line,' Calgary Sun, 1/12/23).
Related: Rangers' 2023 Free Agent Targets: Carolina Hurricanes
If the Rangers trade Barclay Goodrow this offseason to create more cap space, Lewis represents a more affordable alternative for their fourth line. The 36-year-old would be a stopgap for the club if one of the players with the Hartford Wolf Pack, such as Jake Leschyshyn or Will Cuylle, needs time to gain experience in the NHL. GM Drury could agree to a one-year deal of up to $800,000 with Lewis.
Milan Lucic
Milan Lucic is another forward with size (6-foot-3, 240 pounds) that the Rangers could consider signing to a team-friendly deal this offseason. Castro writes that the presence of the veteran in New York's lineup would be akin to when the organization had Ryan Reaves playing for them. Lucic is an intimidating forward for the opposition to defend who does not shy away from inserting physicality into his game.
The Hockey Writers' Rob Couch writes that Lucic's playing style could be of use to the Rangers since the club lacked physicality in its first-round series versus the New Jersey Devils. Couch points out that the forward has more NHL experience than younger players in New York's system that could be considered for a bottom-six role on their opening night roster next season.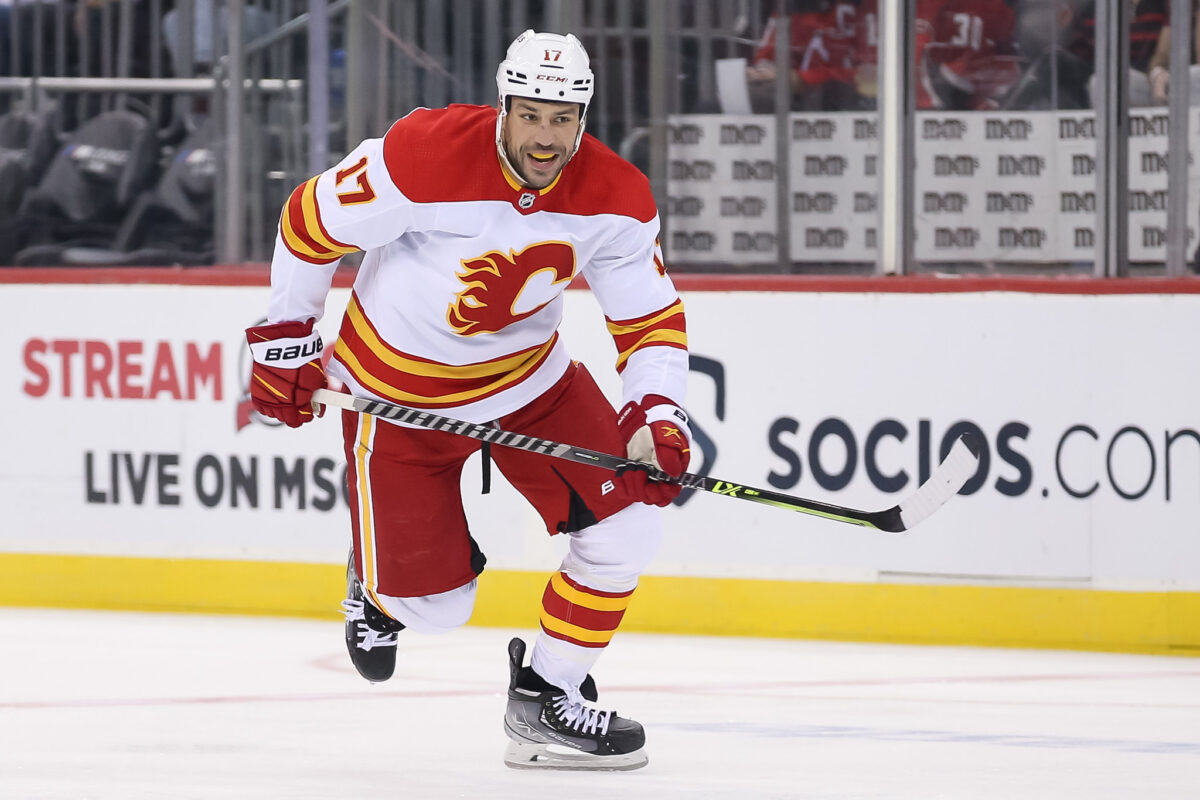 Like Ritchie, Lucic can use his size to win battles and set up screens in the offensive zone. At 34 years of age, he likely does not have many more playing years left in the NHL. After his most recent contract (seven years, $42 million) expired, his next deal could be much shorter, possibly for a maximum of two years.
GM Drury could offer Lucic a one- or two-year deal with an average annual value of between $1.5 – $2 million. The forward provides a physical presence on their bottom six, which they are lacking following the trade of 1 to the Minnesota Wild during the 2022-23 season.

The Flames have some unrestricted free agents that the Rangers could consider signing to a short-term deal to put on their bottom six for 2023-24. If GM Drury is looking to add an experienced player with size, he may look at Ritchie or Lucic as an option for one or two seasons. Lewis represents a veteran that could aid the transition of a younger player currently with the Wolf Pack that makes New York's roster with no previous or minimal experience in the NHL.