By the end of the 2019-20 season, the New York Rangers had concerns about their depth at center beyond Mika Zibanejad as the bonafide top center. Ryan Strome was entering the offseason as a pending restricted free agent, and with a few quality centers on the market, there was speculation the Rangers might bring in a new face to improve down the middle.
Outside of the top six, there were concerns with secondary scoring, as, down the stretch, the top two lines were the life of the Rangers offensively. Although New York did not make any significant changes at the position, they're still well off down the middle.
Last season, the biggest issue that Rangers' centermen faced was in the faceoff circle. New York was 30th in the entire league in faceoff win percentage, winning only 46.6% of draws. Since puck possession is so vital, they will need to improve at the faceoff dot. Zibanejad had the best faceoff percentage, and he won 49.2% of draws, but the team percentage was dropped primarily by Chytil's abysmal 38.5%.
They did bring in former Ranger Brad Richards to provide advice in fixing the issue, but it did not help much as they won only 47.22% of faceoffs en route to their early exit from the bubble back in August (from 'Rangers summon Brad Richards to help fix faceoff woes,' New York Post, 11/11/2019). Richards won 50.3% of draws over the last nine seasons of his career, as they were not tracked until the 2007-08 season. His experience should prove valuable to some of the younger centers. More practice, especially with Chytil, should yield results next season. 
The Top Six Remains the Same
The top two centers again look to be Zibanejad and Strome, the latter of which came off a career-high 59 points in 70 games. He showed the ability to play well alongside superstar winger Artemi Panarin. There is no reason to suggest they cannot replicate that success with a more offensive winger replacing Jesper Fast. Strome saw ice time in all situations and has gained a lot of faith in the eyes of his coach, David Quinn.
His defensive play leaves something to be desired but as long as he is kept in a more offensive role, he is just fine for the job. Strome has had a career resurgence since being traded to the Rangers and his play right after becoming a member of the Blueshirts suggests that this career year may not have been a fluke.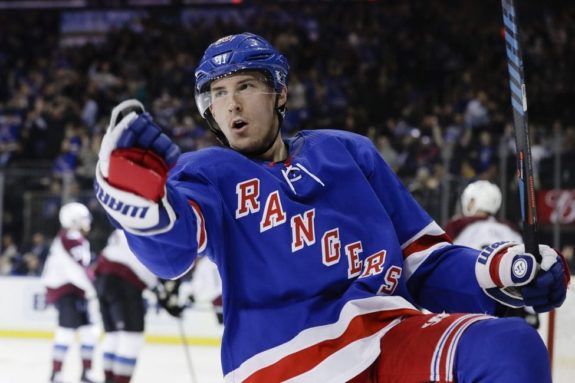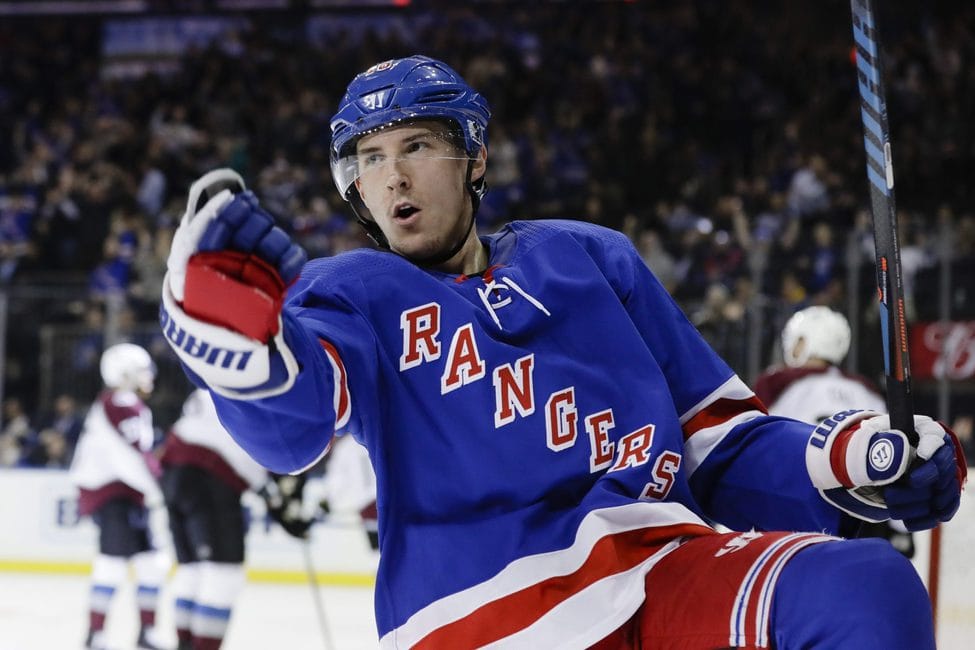 Zibanejad has been outstanding for the Rangers since taking over as the No. 1 center. He has excelled offensively and been one of their top defensive players. Zibanejad has been able to play and succeed in all situations and is one of the most important players on the team. His outstanding play for the Rangers earned him a spot in the top 10 centers in the NHL back in November. Zibanejad had a career high 41 goals in only 59 games and he had the highest goals per game in the entire league. He has turned into a two-way weapon for the Blueshirts and will continue to be an integral part of their success. 
Minor Tweaks to the Bottom Six
Chytil will more than likely stay on the third line where he finished last season after Zibanejad returned from injury. Chytil entered last season as a man on a mission, not happy with starting the season in the AHL, and he showcased all of the offensive skills that made him a first-round pick. He played alongside Chris Kreider and Pavel Buchnevich and the line was very dangerous, moving the puck with great skill. Chytil has improved each year and at only 21, still has plenty of room to grow. The Rangers should expect nothing less from Chytil going into next season.
Last year he showed a lot of confidence with the puck and skated very well with it on his stick. He only had 23 points which matched his rookie season in 15 fewer games but should be seeing plenty of ice time with No. 1 pick Alexis Lafreniere. If the two can find chemistry, expect his offensive numbers to increase. He will however need to improve drastically from his struggles in the faceoff circle and his defensive game could always stand to round out as well.
The fourth line spot will be contested between Brett Howden and Kevin Rooney. Rooney is a nice depth addition to help the team's defensive woes and add to the penalty kill. Howden had a sub-par sophomore season and was very weak defensively but he has also played wing. His ability to forecheck makes him useful and switching him to wing permanently could allow him to better use that ability while limiting his role defensively. It also allows Rooney to play in the role where his defensive skills are more brought to the forefront.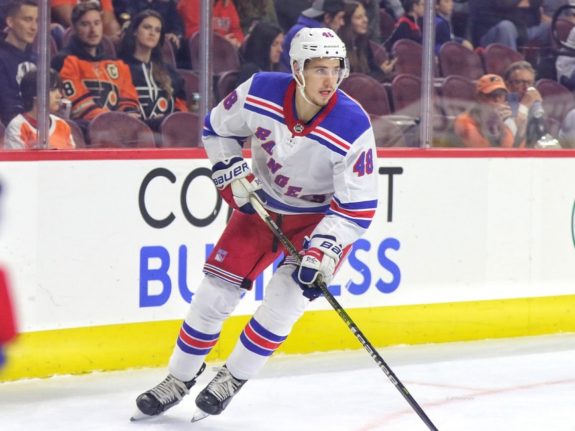 The Rangers also have one of their top prospects in Morgan Barron set to make his professional debut next season which only adds to the depth. The personnel looks to bring strong depth down the middle, especially offensively. Chytil and Howden are still young, as their development continues they will only get better. The Rangers did not make big moves at center because they did not need to. The current group of centers may not be the one that ends the 2020-21 season, with trade rumors likely to still circle around Strome, but it is a group the Rangers should feel confident going forward with.
---
---