After the New York Rangers fell short in the NHL Playoffs, team management wasn't sure what to do with a coach that had helped author a rise to championship contention, but carried with him whispers that he had become disliked in the locker room. After listening to players confirm that displeasure in exit interviews, the front office decided to make a change, parting ways in favor of a new man behind the bench.
The recently departed Gerard Gallant? Well … yes. The aforementioned situation, however, also describes what happened with former Blueshirts coach John Tortorella – and applies in varying degrees to the two coaches between them as well.
For good or bad, Rangers brass seems to have arrived in a place where the players hold significant sway when it comes to their coach's future. Gallant delivered 100-point efforts in his two seasons at the helm, his .662 winning percentage is the best in franchise history among head coaches who lasted at least 100 games and he led the Rangers to within two wins of the Stanley Cup Final last spring. All of that, however, didn't carry nearly enough weight to overcome the less-than-favorable reviews coming from at least some key players in their season-ending meetings with management. That resulted in coach and team "mutually agreeing to part ways" May 6.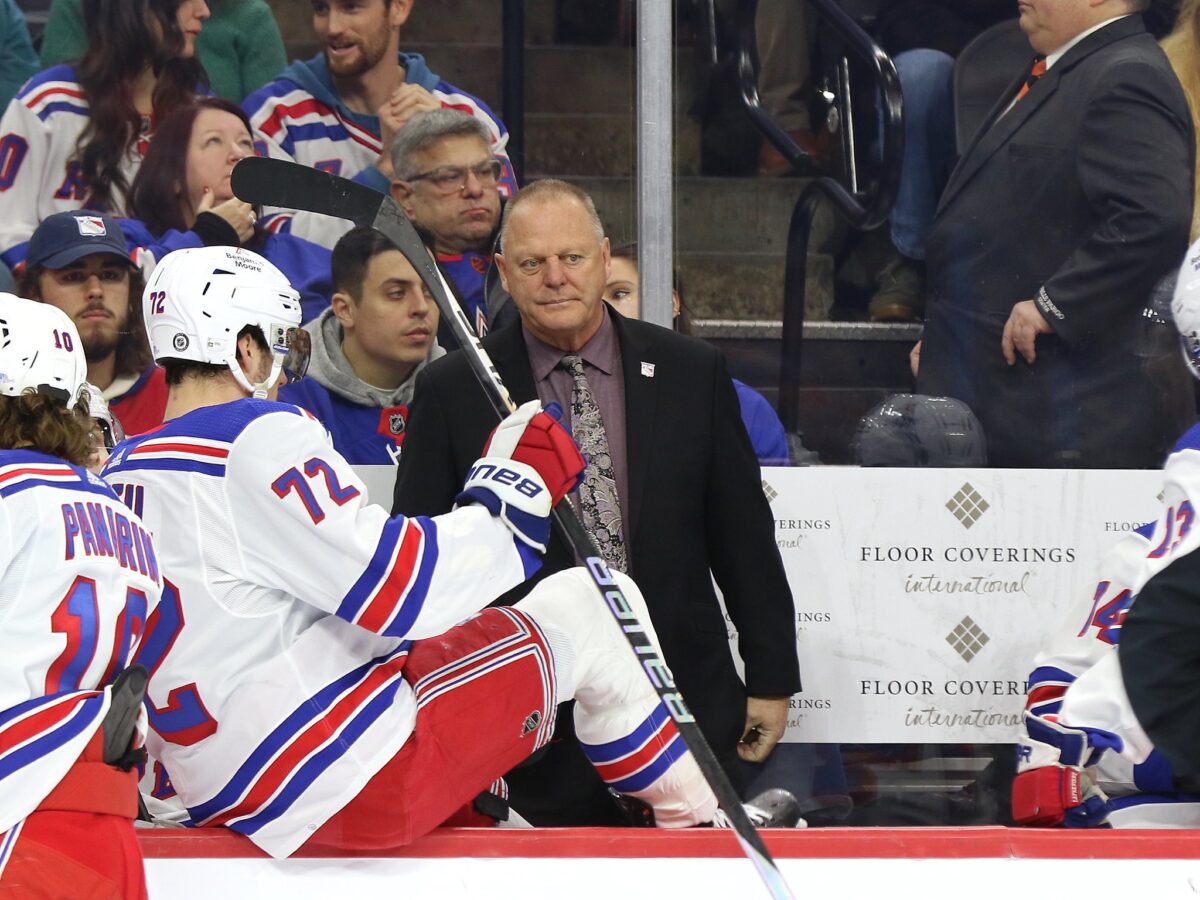 There are big positives that come from team executives listening to the players, of course. That kind of candid communication can be healthy for an organization and is precisely the reason why exit interviews are conducted. In the case of Tortorella in 2013, his hard-edged style had ground down the Rangers after four-plus seasons, an effect that has followed Torts throughout his successful but well-traveled coaching career.
On the fence about keeping him after an Eastern Conference Final appearance in 2012 was followed by a second-round loss the next season, Rangers management decided to let Tortorella go after the interviews with players revealed a group mentally exhausted with their coach's ways. The situation was similar this offseason in Calgary, with Flames coach Darryl Sutter getting fired when the postseason sessions exposed a locker room on the verge of mutiny following a season of major underachievement in 2022-23.
Rangers' Pattern of Coaching Changes Difficult to Ignore
In both of those instances, a change was likely warranted in order for each organization to move forward. The flip side to that coin, however, is that players can go from having a voice in who will lead them on the ice to gradually having more control of the situation than is warranted, creating an environment in which the coach is solely blamed for disappointing season results or problems within the team. The fact that Rangers seem to have rebelled to varying degrees against their last four coaches begs the question of whether the front office needs to reassert some of the control of who will lead the team, and for how long.
Chris Kreider is the only Ranger who was on the 2013 and 2023 season-ending rosters. Three (Kreider, Mika Zibanejad, Jimmy Vesey) were part of the group that thudded to the finish in 2017-18, the team having apparently stopped listening to the easy-going Alain Vigneault despite him having guided the Blueshirts to the 2014 Stanley Cup Final and Game 7 of the 2015 East Final.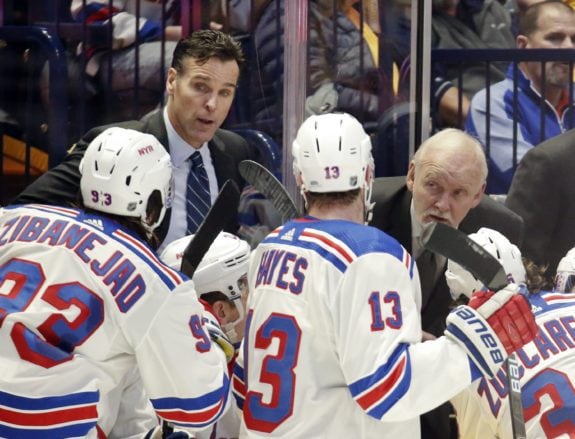 Vigneault would be dismissed after that season. He was replaced by David Quinn, whose supposedly overbearing methods eventually led to blatant on-ice rebellions by the Rangers, who in his Quinn's third and final season behind the bench ignored his attempts to get them to play a more straight-ahead style and often freewheeled in the offensive zone.
Then came Gallant, who unlike Quinn was not a rookie head coach and, also unlike his predecessor, brought with him a track record of winning. The two highly successful regular seasons and a run at a Cup, however, couldn't buy the 2018 Jack Adams Award winner as NHL Coach of the Year a third season on Broadway.
---
Latest News & Highlights
---
The pattern seems difficult to miss at this point. The roster might have completely turned over since Tortorella's tenure, but the message conveyed to the players by team management over a decade seems clear: If you don't like what the current coach is selling, you can effect change behind the bench.
Again, this isn't always bad. Where it appears problematic in this situation is the potential undercutting of a coach's authority as he tries to put his stamp on the team. The Rangers have been regularly undone in recent years by a conspicuous lack of structure and discipline in adhering to any semblance of an on-ice system. Quinn and Gallant, in particular, saw their attempts to get their players to play a north-south style consistently rejected in favor of east-west, high-risk, high-reward passes in the opponent's zone.
The question going forward is who will be able to convert these Rangers. Is it possible to get them to see the light the way the Tampa Bay Lightning did after years of playoff flameouts, before they finally climbed the championship mountain twice after embracing the kind of style that just doesn't seem to take with the Blueshirts? If Gallant, who guided the expansion Vegas Golden Knights to the 2018 Stanley Cup Final and 217 points over two seasons with the Rangers, can't do it, what available coach can? Will it only happen when the players see no other way but to change – much as it happened with the Lightning after their disastrous first-round sweep by the Columbus Blue Jackets in 2019?
Next Coach Faces Difficult Task in Leading This Team
It seems likely that the Blueshirts' roster, for all its talent, presents a big challenge for any bench boss. With a mix of established stars and high-end younger players, getting a total buy-in from such a diverse group could prove exceedingly difficult. Making it even tougher is the presence of star forward Artemi Panarin, an offensive artist whose brilliantly productive game is built upon improvisation and who won't be nearly effective if those creative talents are stifled – but whose game doesn't seem to translate to the playoffs.
Yet it should be abundantly clear to players, management and fans at this point that without embracing the kind of disciplined approach that's so vital to championship contention in today's parity-driven NHL (see: Carolina Hurricanes, New Jersey Devils, Lightning, etc.), these Rangers have probably gone as far as they're going to go.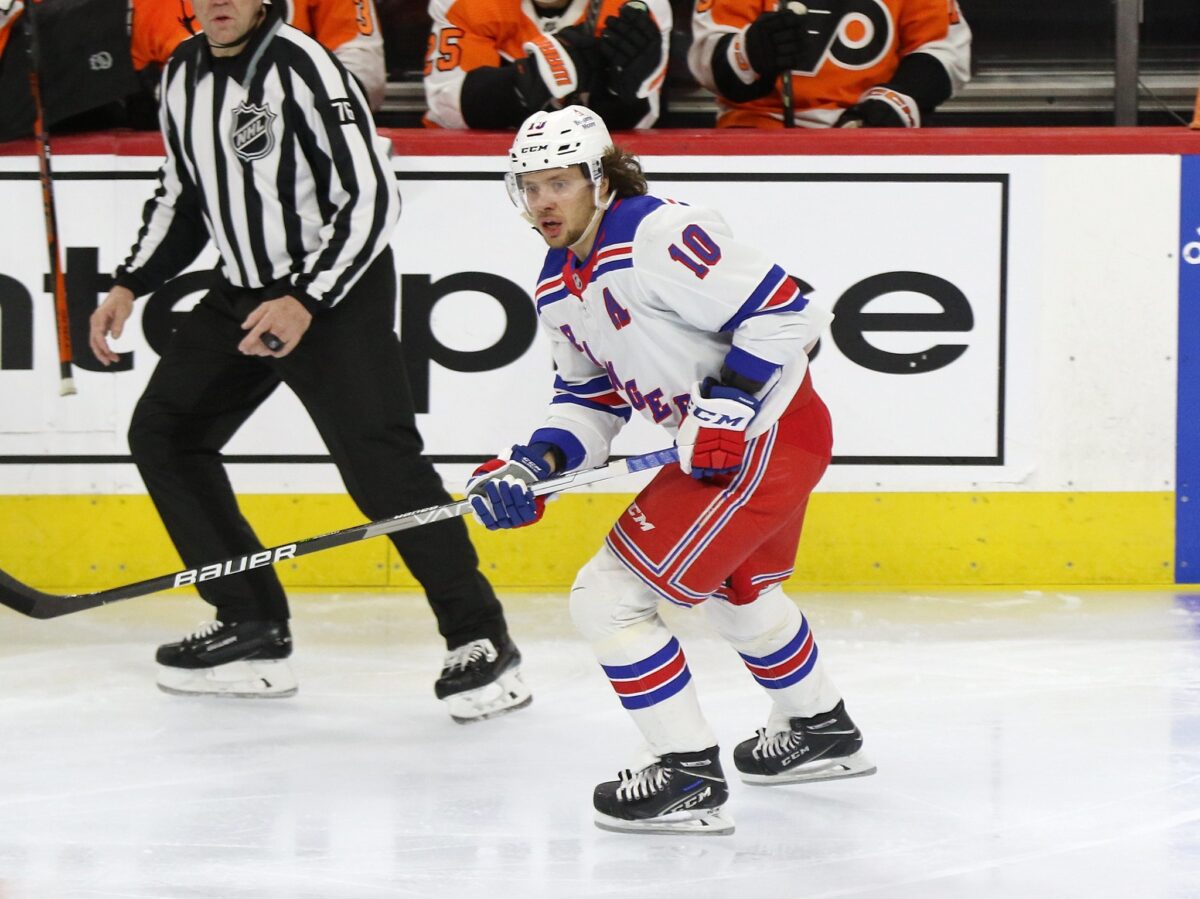 It seems as though for the second straight time, a coach was unable to get the Blueshirts to commit to such a system, paying the price with his job. The players, unhappy with a leader who nonetheless delivered big results, were able to get management to move on from him.
That might be vastly oversimplifying it, of course. Gallant was clearly outcoached by Devils counterpart Lindy Ruff in the team's seven-game loss in the first round of the playoffs. While the negative exit interviews have been reported, it's tough to say exactly how much weight they carried in the decision to let Gallant go, or if the front office had already been pondering a change before the interviews.
Related: Rangers' Kane Trade Was Flawed on Multiple Levels
Over 10 years and four coaches, however, it's obvious that Rangers players have begun to wield a significant degree of power regarding who runs the team on the ice; a culture that has become entrenched. Having some say in such a matter is hardly uncommon in the NHL or any major sport these days; the difference here is that a way of thinking may have taken hold in which all failures are blamed on the coach, who more often than not in the past decade has taken the fall.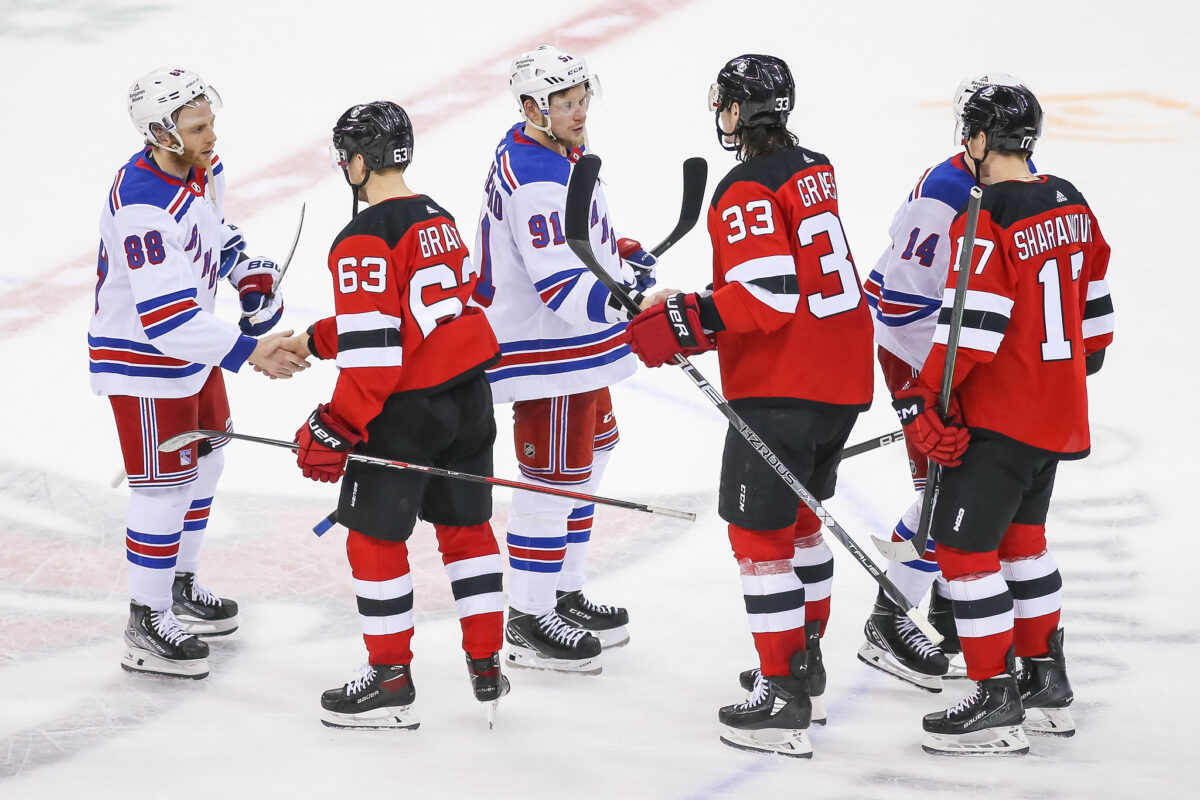 Gallant was handed a flawed roster assembled by general manager Chris Drury for the playoffs, one heavy on flash and light on the kind of grit, grind and defense so vital to postseason success. The Rangers were inexcusably flat in four of the final five games against the Devils, including a no-show performance in their 4-0 defeat in Game 7. Is that solely the coach's fault, or does a star-studded, veteran roster bear at least some responsibility for inexplicably losing the motivation to close out New Jersey after taking a 2-0 series lead?
Tight Relationship Between Drury and Next Coach Is Essential
The Rangers' shortcomings have been disguised for years by their amazingly good fortune in goal, with future Hall of Famer Henrik Lundqvist often carrying the club until early 2020 before passing the baton to all-world netminder Igor Shesterkin, the team's best player the past two seasons by a wide margin. Shesterkin was marvelous in the Devils series, but as Lundqvist often experienced before him, he didn't get much help.
Drury faces an obviously huge hire behind the bench this summer; in fact, it's probably the biggest moment of his still-young tenure as GM. Just as important, however, is finding a way to communicate to the players that the carousel that stopped spinning so quickly for the past two coaches is going to run longer this time. The GM needs to convey that refusal to embrace a more productive team concept will no longer be tolerated, that the next coach isn't departing after two years. That big contracts and no-move clauses don't include the ability to fire the coach – or ignore his program.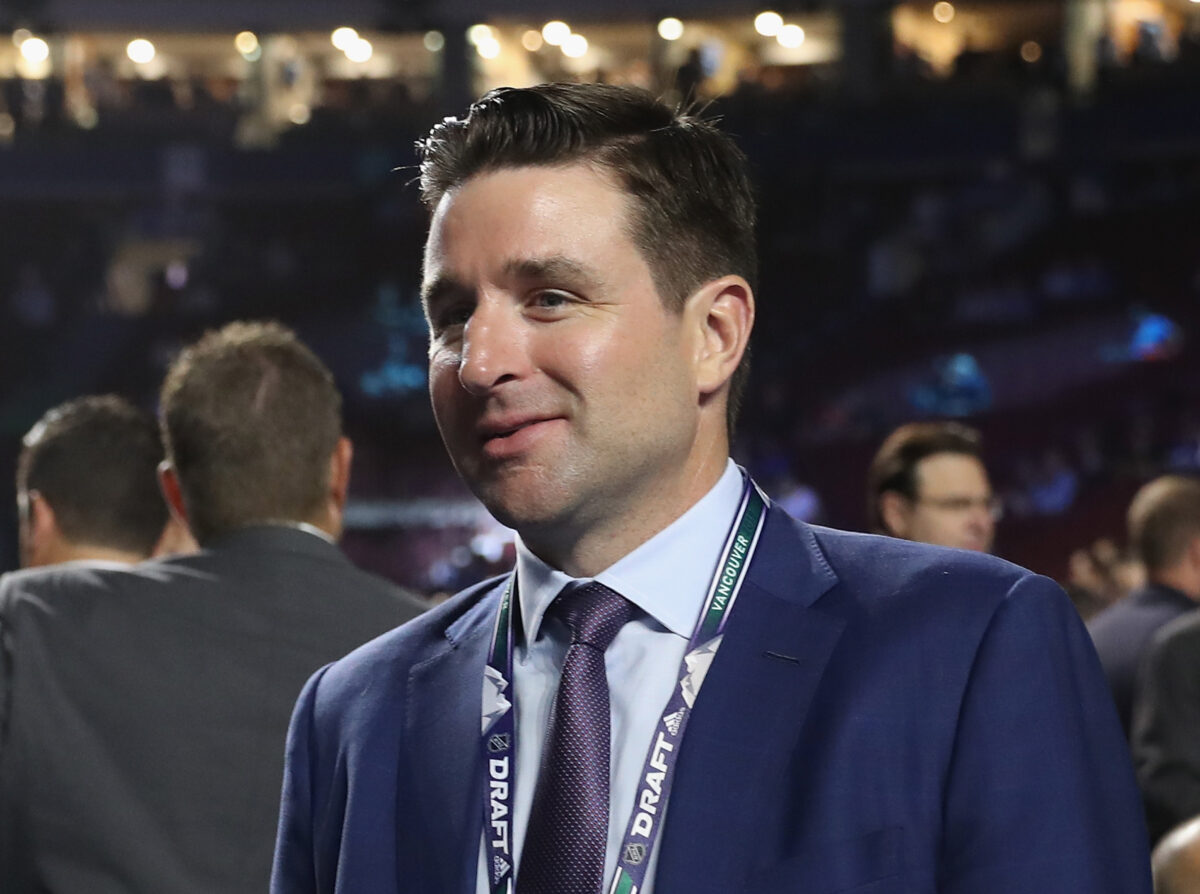 How best to do that? Drury has to make clear that he and the next coach are a team, on the same page with their plans for how to get the Rangers to a championship level. By the end of this season, players no doubt sensed that Drury and Gallant were at odds – if they didn't recognize it earlier.
It's time for a more shared burden of organizational responsibility, one that in theory would create a greater sense of harmony and singular purpose. That starts at the top, with Drury's next coaching hire. The GM should make it clear to the players that whoever it is will be around for a while.