The Quebec Major Junior Hockey League (QMJHL) Final is gearing up to be the most exciting matchup within all of the Canadian Hockey League (CHL). It doesn't happen often, but this Final features a matchup between the top two teams in the overall standings, the number one Quebec Remparts and the number two Halifax Mooseheads; only two points separated them in the standings.
Related: Halifax Mooseheads Smother the Sherbrooke Phoenix
It is nearly impossible to determine a favourite, as they are closely matched. Both have been dominant in their division, in the league and in the playoffs.
Quebec swept all three of their series so far, going 12-0 en route to the Final. Halifax needed six games to dispatch the favoured Sherbrooke Phoenix, going 12-3 on their way to their second Final appearance in four years. The Mooseheads did, however, win both head-to-head matchups against the Remparts this season, so this should be a long, exciting series with the winner earning a spot in the Memorial Cup tournament.
Quebec Remparts Notes
Regular Season Record – 53-12-1-2 – 107 pts, 286 GF, 160 GA
The Remparts are all-in for the second consecutive season, and it looks to be worth the effort, as they have reached the Final for the first time since 2015. This gives head coach Patrick Roy another chance to bring a League Championship back to the city of Quebec for the first time since 1976.
They got to this point by relying heavily on a veteran lineup led by a 106-point season from captain Theo Rochette, 50-goal scorer Zachary Bolduc, and Anaheim Ducks prospect Nathan Gaucher. Added to that firepower is the defense top-pairing of Evan Nause (Florida Panthers prospect) and Jeremy Langlois (Arizona Coyotes prospect). Between the pipes, they have William Rousseau, who has consistently been capable of earning wins with a record of 35-8-1.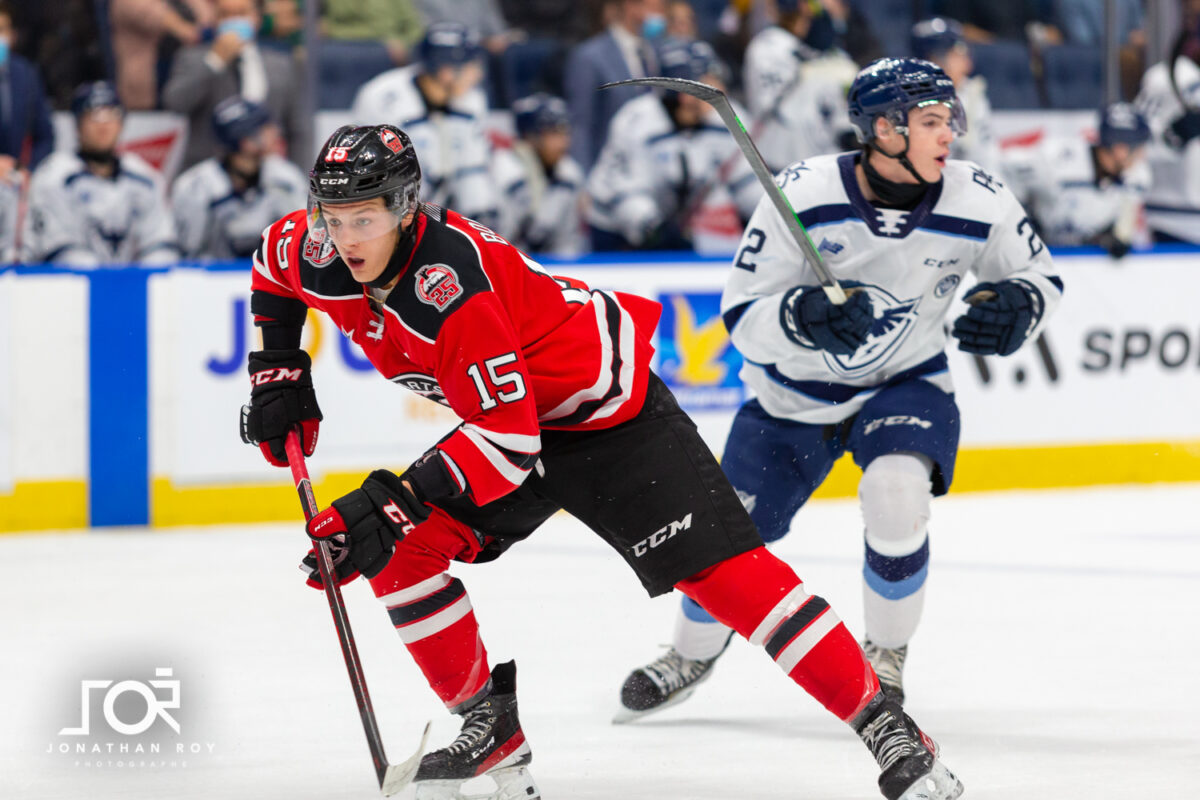 Will this be Roy's swan song before he departs for the NHL? Following the news that Gerard Gallant and the New York Rangers have parted ways, NHL insider Kevin Weekes posted two images on Twitter, the first of the New York skyline and the second of the Hall of Fame goaltender, maybe a hint that the former teammate of Rangers general manager Chris Drury will be replacing Gallant.
Halifax Mooseheads Notes
Regular Season Record – 50-11-4-3 – 107 pts, 335 GF, 196 GA
The Mooseheads haven't gone all in this season, as they have instead decided to build themselves to contend for a title for both this year and next. This season, Halifax is led by Columbus Blue Jackets prospect and 140-point scorer Jordan Dumais up front. With him are three 30-plus goal scorers in Josh Lawrence, Markus Vidicek, Mathieu Cataford and Alexandre Doucet.
On the blue line, they are led by 19-year-old Jake Furlong (50 points) and partner Brady Schultz (42 points). They headline a defense that, as a group, is capable of playing a very sound positional defensive style and excels at playing in transition. In net, Mathias Rousseau has been the biggest bright spot in the playoffs. The 18-year-old has started all 15 of Halifax's games, winning all but one while sporting a 1.96 GAA, a .935 SV%, and one shutout.
Mooseheads vs. Remparts
Head-to-head, the Remparts hold home-ice advantage in this series, and that may be the difference, as their stats are similar in every major category. However, it's worth noting that the Mooseheads have not lost a game on the road in these playoffs.
Goaltending
Despite sharing a family name, Rousseau, the two starting goaltenders are not related. In the playoffs, both have 12 wins, a goals-against average under 2.00, and both have save percentages hovering around .930. Above all other matchups in this series, the goaltending duel may prove to be the difference.
Offense
Halifax has four 30-plus goal scorers, providing support to Dumais, a 54-goal scorer. Zachary L'Heureux may have been in that mix had he not missed half of the season with several suspensions. This all adds up to the QMJHL's most potent offence, with 335 goals for (GF). However, the Remparts are no slouch offensively, as Bolduc's 50 goals lead the way for the QMJHL's fourth-ranked offence, which scored 286 goals this season.
There is some concern that Dumais has been listed as day-to-day, missing the final three games of the series against the Sherbrooke Phoenix, and they are hoping he can return.
Defense
This defensive matchup is a mirror image of the offensive matchup, with Quebec finishing first in the QMJHL, allowing only 160 goals against (GA), while Halifax ranked fourth, allowing only 196 GA. Both defences are strong in their own zone, but Halifax has a slight edge in physicality with Dylan MacKinnon's gritty play. Halifax is also hoping that Calgary Flames prospect Cam Whynot can return to solidify the blue line, as the Rempart's defence is healthy and performing like a well-oiled machine.
Special Teams
Other than goaltending, special teams may be the biggest factor in this matchup. On the penalty kill, both squads finished tied for third in the league at 81.0 percent, and that high level of performance has continued throughout the playoffs as Halifax sits at 92.2 percent and Quebec at 91.9 percent.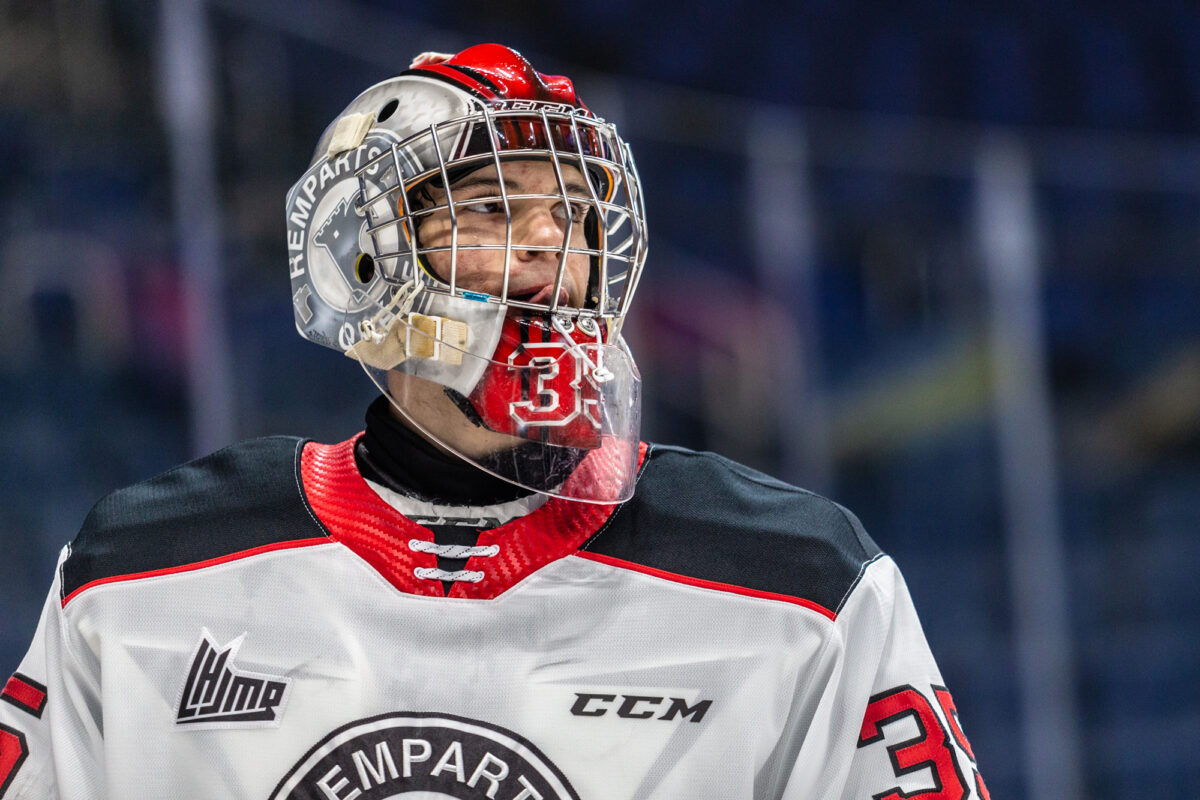 The power play (PP) during the regular season for both teams was also similar; Halifax finished second in the QMJHL with 27.1 percent, while the Remparts were fourth at 26.6 percent. The performance in the playoffs, however, has seen a bit of separation between the two teams. The Remparts have been able to remain steady on the PP, improving incrementally to 26.8 percent. While Halifax has gained momentum from its PP even when it fails to score, it has dipped in its effectiveness to 20 percent.
Finally, Halifax has faced and overcome adversity in this playoff run, losing key players to injury and mounting a comeback in their series against the Phoenix after falling behind two games to none. Meanwhile, the Remparts have been far too dominant and healthy to have had to deal with any adversity. Anyone expecting a short series will likely be very disappointed. Having the top two QMJHL teams facing off in the Final in front of sold-out crowds in Quebec and Halifax should make for a long and exciting series.
---
---