The Tampa Bay Lightning will have a representative in the upcoming 2023 IIHF World Championship, which Tampere, Finland, and Riga, Latvia, will co-host. Nick Perbix was named to the 2023 U.S. Men's National Team for the upcoming Men's World Championship, which begins on May 12.
Perbix just finished his rookie season with the Tampa Bay Lightning playing in 69 regular season games scoring five goals and 15 assists. He joins the Winnipeg Jets' Dylan Samberg as the only two blueliners with NHL experience. The USA roster currently comprises players who spent last season primarily in the NCAA or American Hockey League (AHL). That could change once teams are eliminated from the NHL playoffs, but this tournament will give a great opportunity for Perbix to continue his development, especially in a leadership role.
Building on a Solid Rookie Season
It has been quite the ride for the native of Elk River, Minnesota. Within the past year-and-a-half, Perbix was a Division I athlete (St. Cloud State University), an Olympian (Team USA in Beijing), and a minor league player (AHL's Syracuse Crunch), finally culminating in a rookie season with the Lightning that included some NHL playoff experience. He will now add the 2023 World Championship to this resume. As one of the few players with NHL experience, this tournament will give him valuable experience in a leadership role for the young Team USA squad.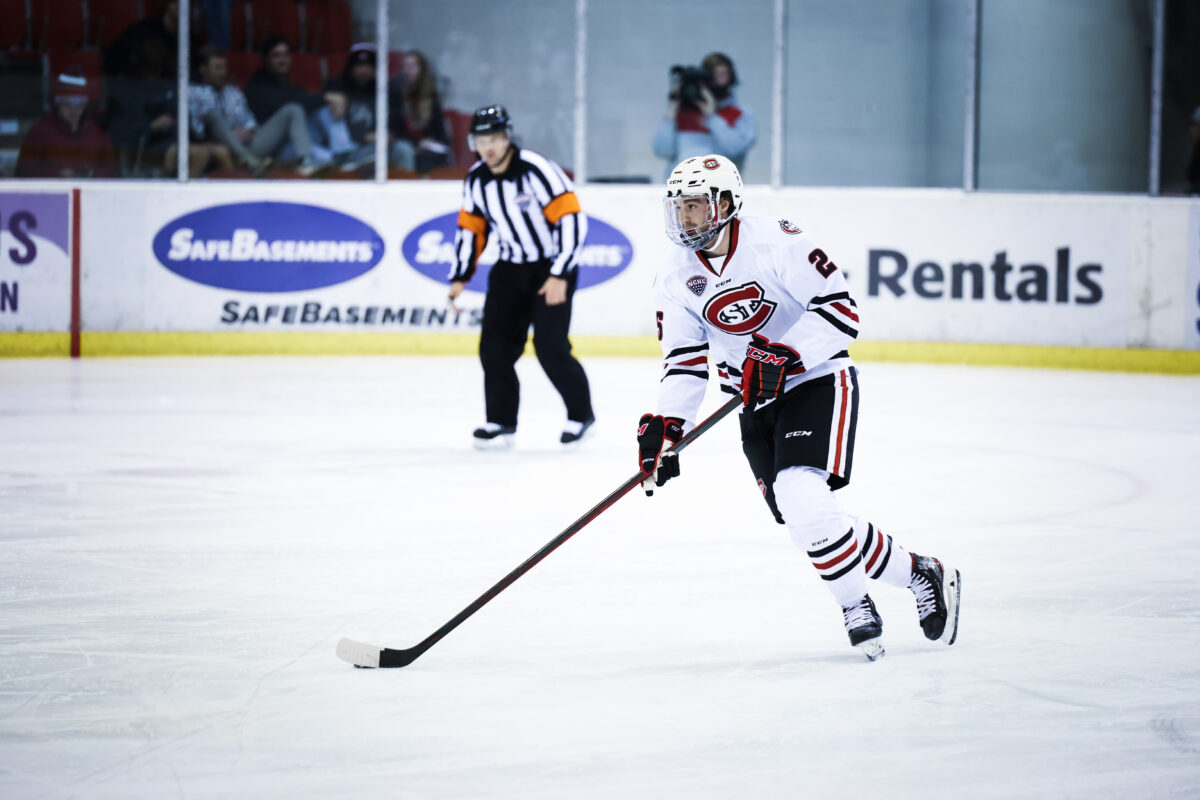 His rapid development was not unnoticed by the Lightning, who signed Perbix to a two-year contract extension worth an average annual value (AAV) of $1.125 million in January. Even though he was one of the last cuts coming out of training camp, it did not take long for the 24-year-old to get a shot on the Lightning roster. Just two games into his AHL season, he earned a promotion to the Lightning and played in 69 games, teaming up primarily with Victor Hedman. He finished the 2022-23 season a plus-11 with five goals and 15 assists.
Developmental Success Story
During the tenure of head coach Jon Cooper and general manager Julien BriseBois, the Lightning have had great success with later-round draft picks. As a sixth-round pick in the 2017 NHL Entry Draft, Perbix continues that tradition of the Lightning finding talent with those later picks. Even though he has been described as a late bloomer, Brett Larson, his coach at St. Cloud State, recognized Perbix's potential. "He wasn't the best prospect in Minnesota," Larson said. "He just kept getting better. He's a great story for players to watch because it doesn't always happen that way. He believed in himself, and he couldn't have been more right" (from "Nick Perbix's rise from 6th round to Lightning's top pair: 'He's proven a lot of people wrong'", The Athletic, Dec. 22, 2022).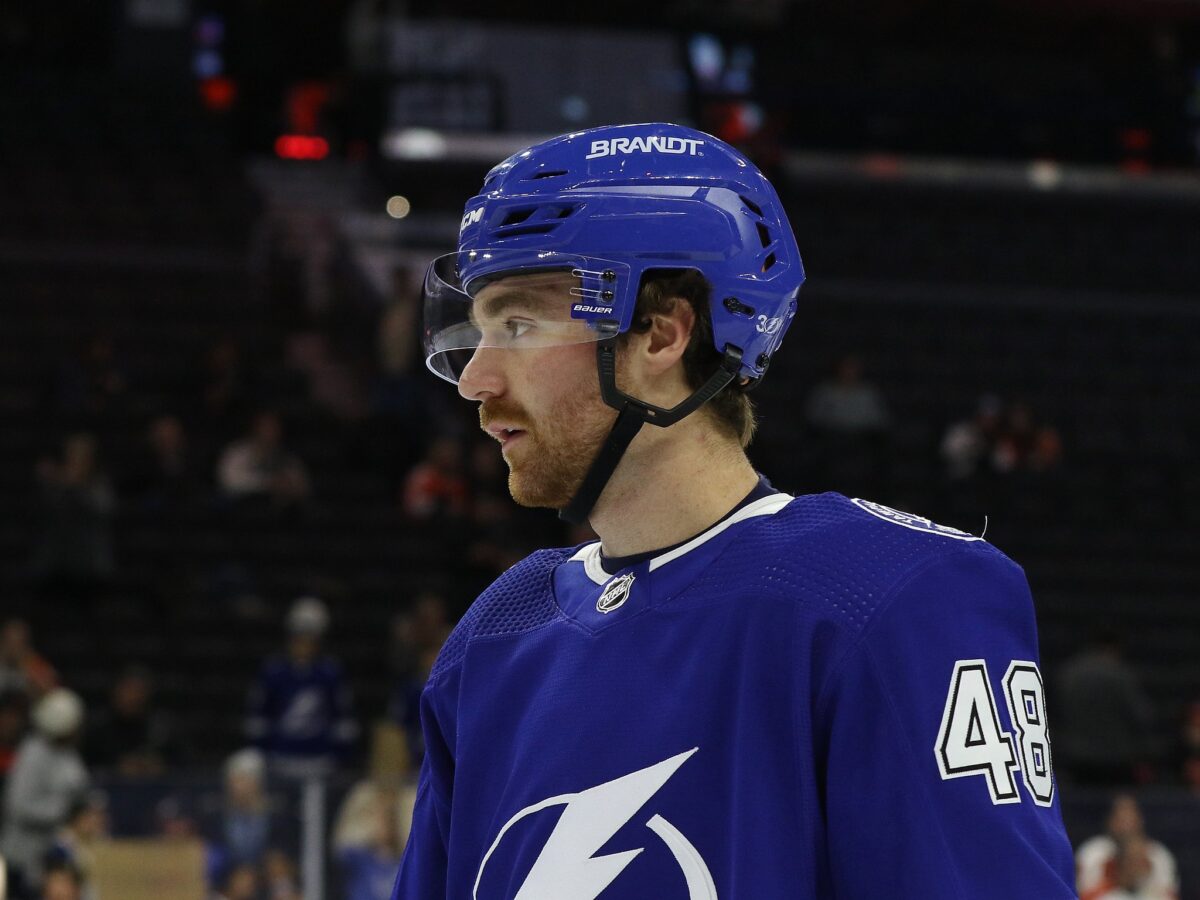 His steady development led him to join the Crunch after his NCAA and Olympic participation was over. Crunch head coach Ben Groulx knew right away that he was destined for the NHL. "To play in the NHL, you've got to have some attributes. I think one of the attributes you need to have or at least it's very helpful is the hockey sense and Perbix got that." Groulx was proven correct as Perbix was called up and played his way onto the Lighting roster with only 19 games of experience at the AHL level (from 'Lightning rookies Perbix, Raddysh emerge as developmental success stories', Tampa Bay Times, May 9, 2023).
Opportunity For More High-Level Hockey
After his first NHL playoff experience, Perbix will have an opportunity to further his development by playing more high-level hockey in the World Championship. His coach for Team USA will be current San Jose Sharks head coach David Quinn, who also coached Perbix in the 2022 Beijing Olympics. Despite some issues during his tenure with the New York Rangers, Quinn has a reputation for doing well with young players, going back to his days as the head coach of Boston University. One of the players that Quinn has been praised for is the development of Adam Fox, who won the Norris Trophy in just his second season in the NHL.
Related: Lightning Signing Eyssimont May Signal Significant Roster Shift
---
Latest News & Highlights
---
In addition to the playing experience, Perbix will pick up some valuable leadership experience as one of only two defensemen on the roster with NHL games under their belt. Playing in this environment should continue to build off the success of a promising rookie season and should make the pairing with Hedman an even stronger duo on the blue line for the Lightning next season.
Perbix will not be the only Lightning skating in this tournament, as it was recently announced that Mikey Eyssimont has been named to the roster as well. Team USA's first game is on Friday, May 12, when they face the host nation, Finland. Preliminary round action concludes on Tuesday, May 23. Although Team USA is expected to contend for a medal, an even more important outcome in this tournament would include the continued development of Lightning rookie Nick Perbix.
---
---