After being eliminated from the NHL playoffs last week, the Tampa Bay Lightning wasted no time assembling their roster for next season by re-signing Mikey Eyssimont to a salary cap-friendly two-year deal. The 26-year-old impressed Lightning management late in the season by bringing speed and energy to the roster. His play late in the season was rewarded when head coach Jon Cooper inserted him into the lineup in Game 5 of their playoff series against the Toronto Maple Leafs.
Eyssimont was rewarded for his play with a $50,000 raise, but the contract is cap-friendly for the Lightning as they signed him to the two-year, one-way contract worth an average annual value (AAV) of $800,000 on Tuesday (May 2). The Littleton, Colorado native skated in 15 regular season games with the Lightning, posting a goal, two points, and 22 penalty minutes. His most impressive performance came in Game 5, as he tallied a goal and an assist in the Lightning victory.
Wasting no time with this signing may indicate that the Lightning may significantly alter their roster's makeup for the 2023-24 season.
Lightning Roster May Get Younger
After Essyimont, the Lightning now face five unrestricted free agents (UFAs) that could hit the market: forwards Alex Killorn, Corey Perry, and Pierre-Edouard Bellemare, defenseman Ian Cole and backup goaltender Brian Elliott. In addition, Ross Colton and Tanner Jeannot are arbitration-eligible restricted free agents. All five of the UFAs are in their mid-to-upper 30s. Colton is 26, Jeannot is 25, and both are expected to be extended qualifying offers. With the Lightning's salary cap restrictions in place, this could mean that the Lightning, whether they want to or not, may have to look for younger players to fill out their roster next season.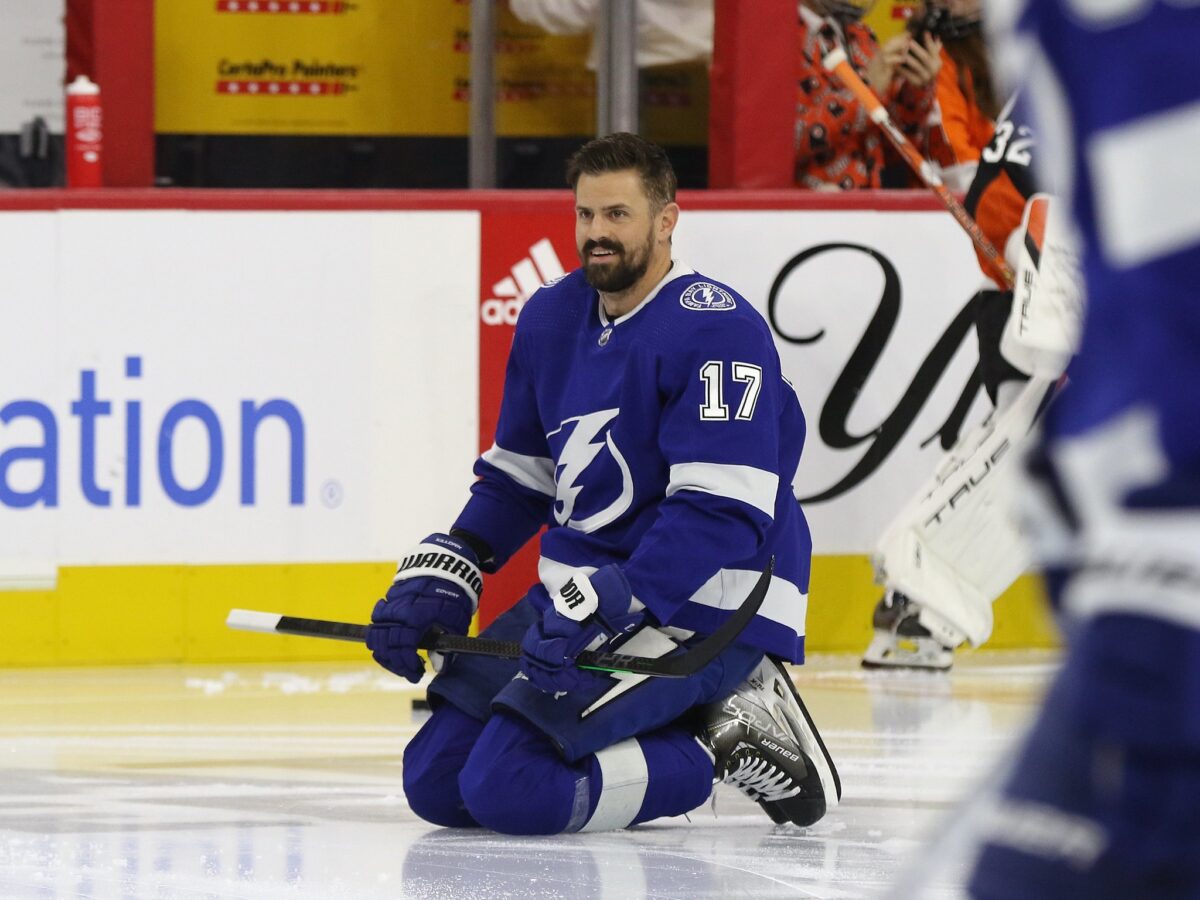 CapFriendly indicates Killorn is completing his seven-year contract with an AAV of $4.45 million, which means that unless he takes a very big hometown discount, the Lightning will not be able to afford him. Also, the current NHL CBA stipulates that the minimum salary will increase to $775,000 for the 2023-24, 2024-25, and 2025-26 seasons. Given the constraints, the Lightning will be hard-pressed to keep Killorn and/or any of the other remaining UFAs, forcing them to look at younger and more affordable options for next season.
Lightning May Look to Syracuse
Based on the success of Darren Raddysh after his call-up from the Lightning's American Hockey League (AHL) affiliate in Syracuse, this may be the time that some current members of the Crunch could get a good, long look in next season's training camp. Even after their disappointing elimination in the Calder Cup Playoffs, the Crunch had four players who continued impressive regular season efforts into the playoffs. Forwards Alex Barre-Boulet, Gace Goncalves, Simon Ryfors, and defenseman Trevor Carrick all had strong performances that would make the Lightning feel comfortable with adding them to next season's roster.
---
Latest News & Highlights
---
Barre-Boulet, who has played in 32 NHL games, had an outstanding regular and postseason. The Montmagny, Quebec native became the Crunch franchise's all-time leader in goals, assists, and points over the course of this season. In their Game 5 loss, he logged far more ice time than any other player to help the Crunch overcome a three-goal deficit to force overtime. Carrick scored his first playoff goal in the series with 30 seconds left in the game to force overtime. The play of the Crunch will give general manager Julien BriseBois, who was scheduled to attend Game 5, many options if the Lightning lose players in free agency.
Lightning May Need Free Agent Bargains
In compiling next season's roster, the Lightning are sure to look at the free-agent market to see what is available and at what price. It is anticipated that quite a few big names will hit the market, which gives the Lightning an opportunity to find some bargains. One position that they will have a decision on is whether or not they want to sign the veteran Elliott to back up Andrei Vasilevskiy. While he has been stable in his backup role, they may want to move toward a younger goalie who can handle a larger workload. After the season was over, Vasilevskiy, who had already played quite a few games over the past few seasons, revealed that he was dealing with nagging injuries this season, and the Lightning may want to rest him more in 2023-24.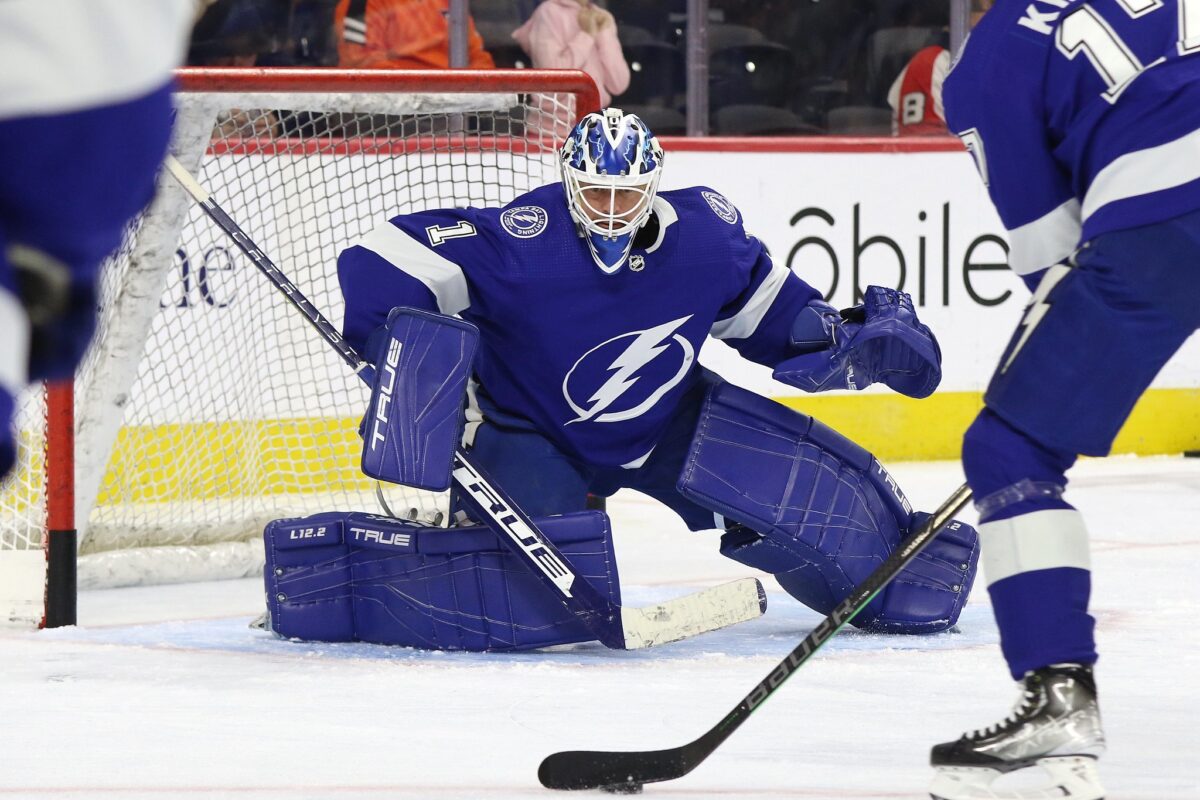 Other possibilities for bargains in the free agent market may come from some of the core Lightning themselves, who could possibly recruit friends and acquaintances that want a shot at the Stanley Cup by signing with the team. Players may be willing to take less money for one more or last chance to win, especially if they have been in an organization that does not have a strong chance of winning next season, such as what Mark Giordano did with the Toronto Maple Leafs.
Related: With Avs Exit, Lightning Back-to-Back Cups Even More Impressive
After this season's exit interviews, BriseBois stated that the decisions that he would make between now and the start of the season will make sure that they are a Stanley Cup contender for not only next year but beyond. The signing of Eyssimont could signal that in order for him to accomplish this goal, the Lightning will need to get a little younger for the 2023-24 season.
---
---